No matter how you celebrate, Oktoberfest is always something special in New York City. It's sure to be a good time, whether it's the crisp autumn weather, the smell of sausage, the ice-cold beer, or just spending time with friends and family. New York is bringing an extended Oktoberfest celebration to the city this year. Authentic German beer will be flowing, complemented by traditional Oktoberfest food and entertainment for the whole gang. There are a lot of reasons to love Oktoberfest in New York, the lederhosen, the beer (of course), and the incredibly GIANT and tasty pretzels to name a few. If you can't make it to Germany this year, New York has you covered with everything that makes Oktoberfest great.
History of Oktoberfest
Oktoberfest is one of the most well-known celebrations in the world, yet not many people are familiar with its origins. Its annual festival in Munich, Germany is held over a two-week period and ends on the first Sunday in October. The festival originated in 1810, in celebration of the marriage of the crown prince of Bavaria to Princess Therese von Sachsen-Hildburghausen. The future king then invited the entire city to attend a celebration and feast, beginning on October 12th, and culminating on October 17th with a horse race, becoming an annual tradition. Today Oktoberfest is a celebration of German culture, food, and (you guessed it) beer. The only beer served at events comes from the original six breweries in Munich, and the celebration begins with the mayor tapping the keg in as few swings of the hammer as possible. Besides the food and beer, people flock to the festival to enjoy traditional Bavarian music, open-air performances, parades, vendor tents, and clothing such as Dirndls and Lederhosen.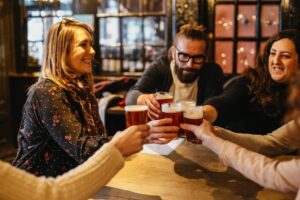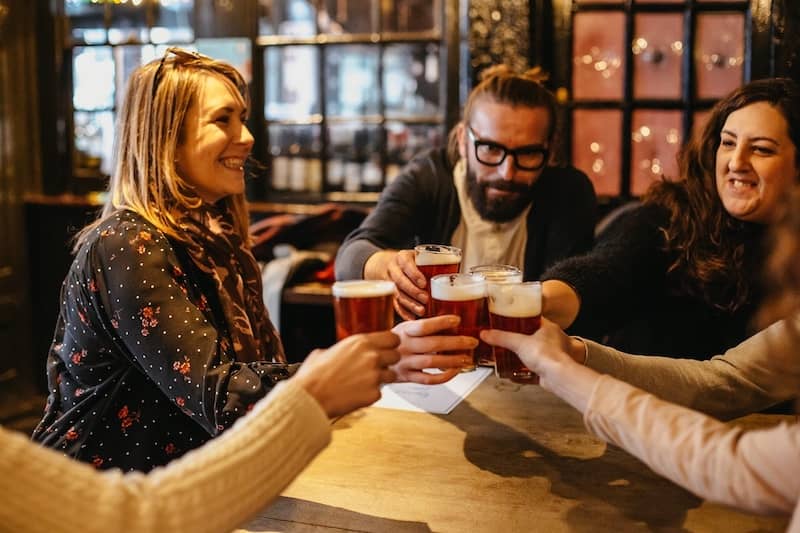 Raise a Stein and Say "Prost!" to German Food and Drinks in New York
Not sure what to do to celebrate Oktoberfest in New York? Lucky for you, NYC hosts some of the best, boozy, musical sausage fests in the world! With brewery bashes and waterfront parties with plenty of German (as well as local) beer to get the party started! So, raise your stein and explore where to keep the party going this season.
Brew with Your Crew with City Cruises New York
Experience Oktoberfest on the water with New York Alive After Five Oktoberfest complete with beer, giant pretzels, and breathtaking views! Grab a pint on the rooftop deck with a live DJ and deck games. Enjoy iconic sights and plenty of Oktoberfest-themed décor, the perfect backdrop for photo ops for the gram. Hit the Hudson River with this one-of-a-kind experience and get ready for an epic "hoppy" hour on this two-hour cruise with amazing views of the Manhattan skyline.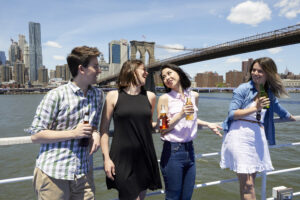 A beer-focused waterfront bar was unveiled on Pier 15 with sea-inspired bar bites like fish-and-chips, crab cakes and shrimp, and lobster rolls. Soak up the autumnal breezes near the water with skyline views and steins of German beer, with mini kegs also available for order. Supersized pretzels and brats should not be missed to celebrate the season, all in the open air. Reservations are recommended and lederhosen are strongly encouraged!
With rustic wood benches and exposed brick walls, a modern German aesthetic is created. Customers can quench their thirst with wimple beers from Weihenstephaner – the world's oldest brewers – as well as 11 other German-inspired breweries on tap. Kolsch, hefeweizen, lager, and IPA are just a few of this beer garden's offerings. Feeling festive for pumpkin beer? Why not drink it from a pumpkin-shaped keg while in a Biergarten modeled after a classic German pub? This season's celebrations offer free beer keg tapping and pig roast tastings every weekend. Not a beer fan? Not to worry – they will mix up some specialty cocktails or pour a glass of wine (begrudgingly).
This festival is known as the place to be for all things Oktoberfest. Drawing more than 7,000 people in past years with its imported beer, authentic Bavarian food, and oom-pah band that the festival founder Sylvester Schneider actually plays in, makes every day feel like Oktoberfest. Be sure to get your tickets early. There are lots of options, VIP seating, reserved tables, and all-inclusive packages.
One of the largest celebrations in New York City on one of Manhattan's oldest streets packs the crowds in every year. German beer, themed food, stein-holding contests as well as live music and games, and a staff all decked in traditional dirndls and lederhosen make you feel like you're in the streets of Munich. Throw in the fact that it's free, and beer lovers will sniff it out and come in droves.

Enjoy Oktoberfest in New York City
Autumn is one of the best times to visit New York. The temperature is comfortable, tourist levels drop, and it's a perfect outdoor climate for exploring the city. The Oktoberfest celebrations are among the best in the country, featuring waves of beer and tasty authentic German foods. Soak up the suds and glimpse the fall foliage at New York's beer gardens, restaurants, and dining cruises to celebrate some of the best delights in the city. New York knows how to bring fun to fun people, so Prost! And a good time for all.