Host your next event aboard a unique floating venue! Customize your party package to fit your budget.

Summer Corporate Events - unwind and connect for the perfect employee outing this summer.
What People are Saying

The weather was beautiful and it was a quiet and peaceful way to spend an hour on the water and it was a really unique way to see the city at twilight. - Carrie D.
Great experience. Even learned a few things about Baltimore we didn't know. The crew was very helpful. Nice length not too long or too short. Doesn't burn your whole day. - Kevin G.
This is a really nice sightseeing trip! Purchasing tickets online was easy and I was able to use a QR code for them so I didn't have to print anything out. - Catie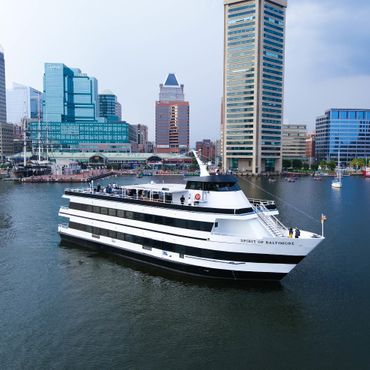 A Baltimore Networking Event Done Right
September 14, 2023
Almost everyone attending a networking event intends to build their relationships and make new connections. In a world where online social networks have become the standard, hosting a networking event
Frequently Asked Questions
What are the top things to do in Baltimore?
Top things to do in Baltimore
There are a lot of great things to do in Baltimore in 2022 and 2023. Visit the National Aquarium, take a harbor cruise, check out the view from Top of the World Observation Level, tour Fort McHenry, shop at the Inner Harbor, visit the Maryland Zoo in Baltimore, see a show at the Hippodrome Theatre, stroll through Camden Yards, explore the American Visionary Art Museum and learn about history at the Maryland Historical Society. Whatever you're interested in, you'll find something to love in Baltimore! 
What are the top activities near Baltimore?
What do I need to know before visiting Baltimore?
When planning a trip to Baltimore, there are a few things to keep in mind. First, decide what kind of trip you want to take. Are you interested in exploring the city's history and culture, or do you want to focus on its many attractions and activities? Once you know what you'd like to do, start researching hotels and restaurants in the area. You should also look into transportation options, as Baltimore is a large city and getting around can be difficult if you're not familiar with the area. Finally, be sure to budget for your trip so you don't end up spending more than you can afford. With a little planning, you'll have a great time in Baltimore! What do I need to know before visiting Baltimore?  If you're planning a trip to Baltimore, there are a few things you should know before you go. First, the city is large and can be difficult to navigate if you're not familiar with it. Be sure to research your transportation options before you arrive so you can get around easily. Second, Baltimore is home to a number of attractions and activities, so make sure to plan your trip accordingly.