Your National Park on The Bay!
Discover The Cellhouse On An Alcatraz Island Day Tour

Alcatraz Cruises is the official concessioner to the National Park Service, offering tickets and transportation to Alcatraz Island. Do not be fooled by unauthorized sellers offering Alcatraz tickets at inflated prices. Alcatraz Cruises cannot be responsible for tickets purchased through other sources.
Experience the beauty, history and infamy of Alcatraz Island on San Francisco Bay. You will be astounded by what you see and learn.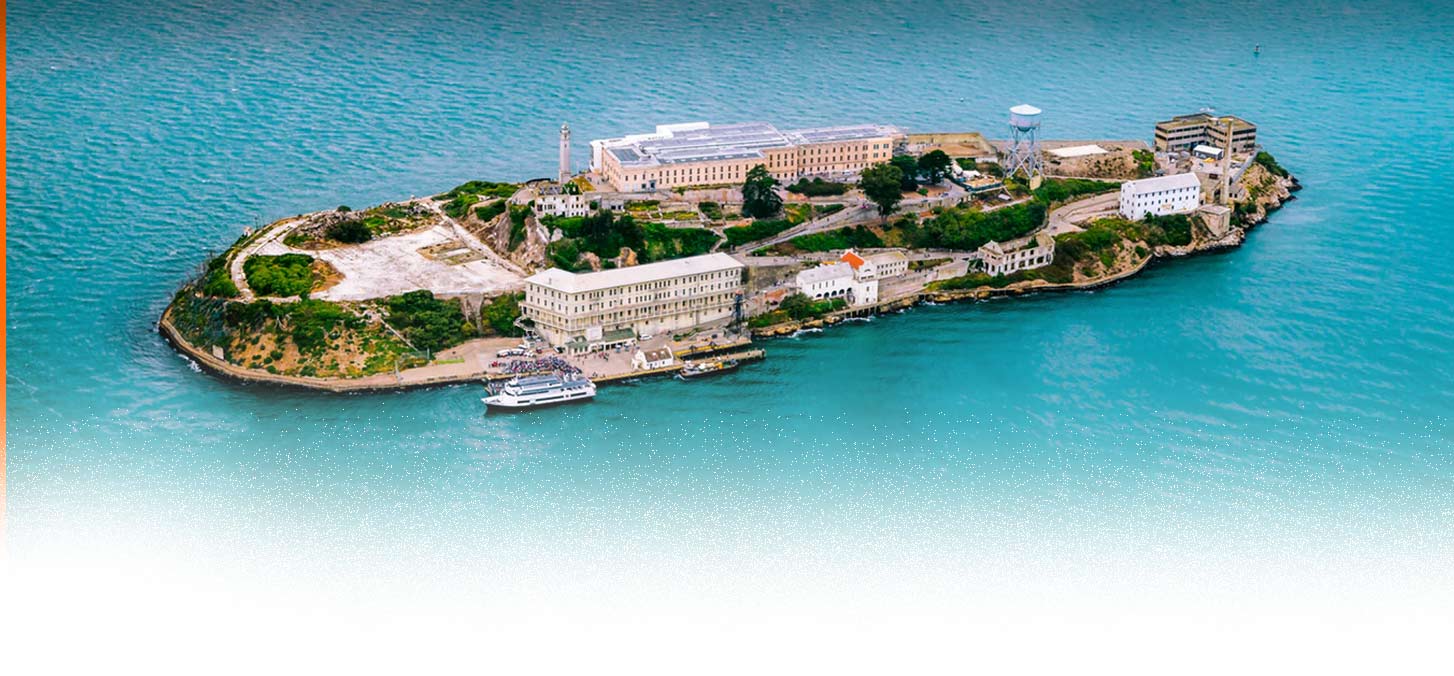 Alcatraz City Cruises: The Complete Historical Experience
Experience it all on "The Rock"!
1934 - 1963
Alcatraz and history go hand in hand
Once home to some of America's most notorious criminals, the federal penitentiary that operated here from 1934 to 1963 brought a dark mystique to "The Rock". The presence of infamous inmates, like Al "Scarface" Capone and the "Birdman" Robert Stroud, helped to establish the Island's notoriety. Yet, many people are unaware of the historical significance before and after it was one of the world's most legendary prisons.
1969 - 1971
The 20th Century
Civil War-era buildings, cannons, and subterranean rooms give insight into the 19th century when the Island served as both a harbor defense fort and a military prison. As you dock at Alcatraz Island, visible reminders of the American Indian Occupation, which began in 1969 and ended in 1971, remains etched on "The Rock", recognizing an important milestone in the American Indian rights movement.
Today
Today, restoration of the first lighthouse on the Pacific Coast, the historic gardens, and the recently renovated Model Industries Building shed new light on an abundance of stories still locked away. Alcatraz Cruises' selection of tours reveal those insights directly from the legends.

Departure to Alcatraz Island
Directions to Pier 33 Alcatraz Landing
All Alcatraz Island tours depart from and return to Pier 33 Alcatraz Landing, located along San Francisco's northern waterfront promenade, on The Embarcadero near the intersection of The Embarcadero and Bay Streets. We are located approximately 1/4 mile from San Francisco's beloved Fisherman's Wharf. Walk, bike, ride public transportation, or drive (as a last resort)…easy access from anywhere around the Bay!
Featured Blog Post
Lessons 2020 Brought To 'The Rock'

January 4, 2021

How Alcatraz Island Transformed During The Pandemic   The 2020 Pandemic forced the tourism industry into survival mode. In California, attractions and hospitality businesses still face looking for any opportunities to innovate, while …
Alcatraz Island Named #1 Landmark in the U.S.
in 2015 & 2018 by TripAdvisor Reviews