Parking Garages & Lots
The Best Locations For Your Vehicle
Parking Map
Please be aware there is no parking on Pier 33 Alcatraz Landing. While there are more than 3,000 parking spaces in the nearby commercial parking lots, Alcatraz City Cruises strongly suggests you take public transit or arrange to be dropped off and picked up at Pier 33 Alcatraz Landing.
To see specific garage details such as current pricing or height specifications, please hover over the garages in the map and click on "More Details About the Lot".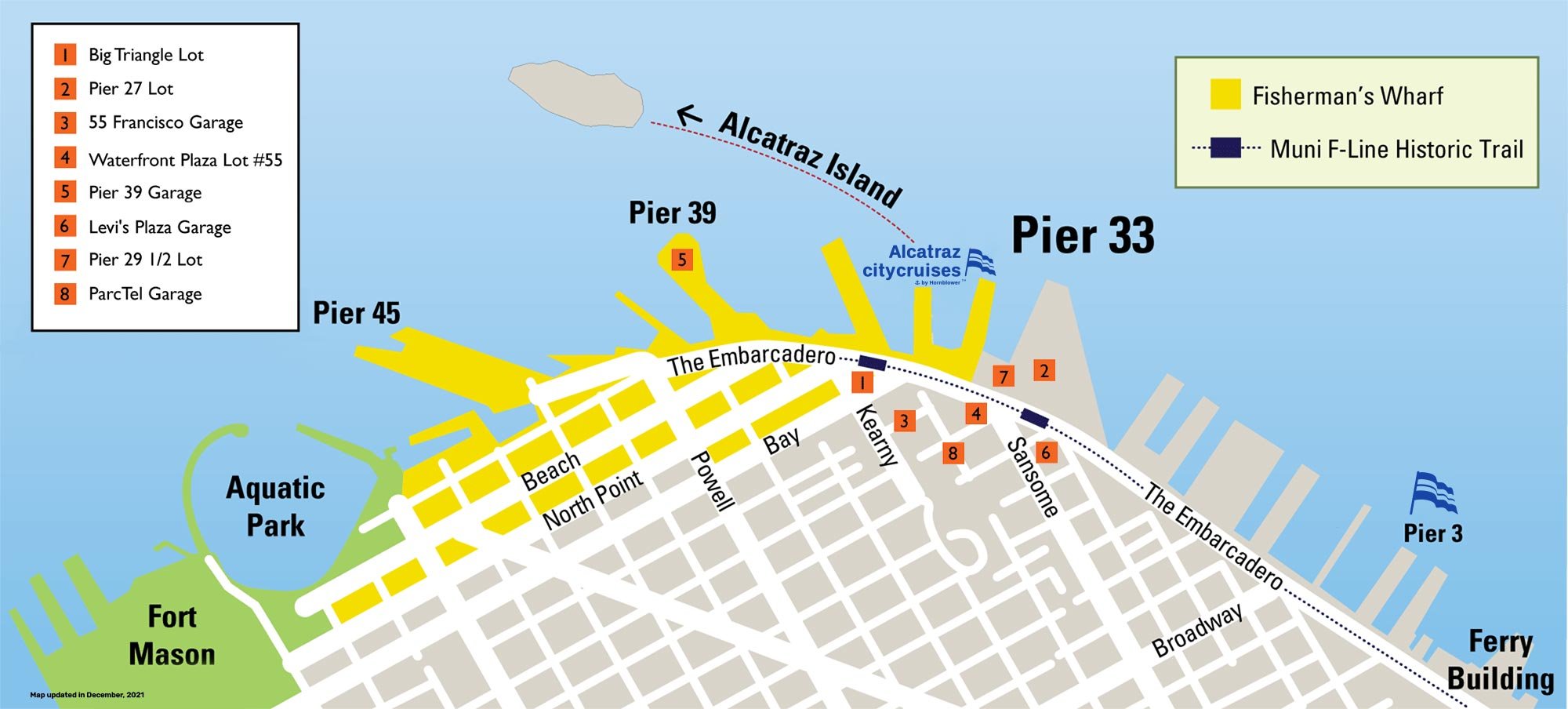 *Updated as of December 2021. Subject to change
On-Street Parking
On-street parking in the Fisherman's Wharf area can be difficult to find, especially during the peak summer visitation season and nearly every street space has a parking meter with day of the week and hourly restrictions.
Visitors should be aware that most meters in San Francisco have a two hour time limit. (A visit to Alcatraz and back takes a minimum of 3 hours.) Hours and rates vary so check the meter for hours of operation and rate. Most meter rates are between $2.00 and $3.50 per hour. All parking meters in San Francisco accept payment by coin, pay-by-phone, credit cards (Visa, MasterCard and Discover) and the SFMTA parking card. There are two special types of meters: green-capped meters and red- or yellow- capped meters. Green meters have either a 15 or 30 minute time limit. Red and yellow meters are designated for commercial loading; yellow for all commercial vehicles and red for vehicles with six or more wheels. For more detailed information visit https://www.sfmta.com/getting-around/parking/meters.
Commercial Recreational Vehicle Parking Lots
There are four recreational vehicle (R.V.) commercial lots. Please note that these RV lots, however, are not within walking distance to Pier 33 Alcatraz Landing.
Candlestick R.V. Park
650 Gilman Ave, San Francisco, CA 94124; 800.888.2267
San Francisco R.V. Resort
700 Palmetto Ave, Pacifica, CA 94044; 888.841.5636
Treasure Island R.V. Park
1700 El Camino Real, South San Francisco, CA 94080; 650.994.3266
City of Sausalito Municipal Parking Lot – Only Lot #3 has space for RV's
Lot #3 is across the street from the Casa Madrona Hotel, on the same block as the Visitor Center. The entrance to Lot #3 is on Humboldt Street at Bay Street. This is an unattended lot. Payment is required from 8:00AM – 10:00PM, 7 days a week (including holidays).