Discover Fisherman's Wharf
San Francisco's Historic Waterfront District
After visiting Alcatraz, be sure to plan a visit to the other historic, cultural and edible attractions in the Fisherman's Wharf area, an easy five or ten minute stroll along the waterfront promenade. Fisherman's Wharf is still a working fishing marina for San Francisco and an example of how the historic era still influences the present-day culture, events, sights, and sounds.  Known for its historic waterfront, delicious seafood, spectacular sights and unique shopping, Fisherman's Wharf offers a wide array of things to do for all ages.
In addition to the views at Fisherman's Wharf, there are plenty of things to do and excursions that depart from the area. Enjoy a bay cruise under the Golden Gate Bridge, take a sport fishing excursion to catch salmon, walk the decks of the tall ships at Hyde Street Pier, take a Hornblower Classic Cable Car hop-on/hop-off City tour, or watch the sea lions frolic in the bay near PIER 39.
Wharf Dining
From Shrimp Louis to Dungeness Crab, Fisherman's Wharf is known for its fresh seafood. Stroll along the Wharf and grab clam chowder in a bread bowl for lunch or sit down to a gourmet dinner with all of the extras at one of the many local restaurants.  Not only will you find great food in Fisherman's Wharf, you will also find amazing views of the bay. For more information on dining visit 
Fisherman's Wharf dining
.
San Francisco Maritime National Historical Park
Located at the west end of San Francisco's Fisherman's Wharf, the San Francisco Maritime National Historical Park includes a fleet of historic vessels tied up at Hyde Street Pier, a visitor center, and a library/research facility. Visitors can step aboard turn-of-the-century ships, visit the maritime museum's exhibits and ship models, and learn traditional seafaring arts like boatbuilding and woodworking. Visitors to this National Park can also participate in a variety of educational, music and craft programs designed for all ages. Explore more information about current exhibits, programs, classes, and projects at all 
San Francisco National Parks
 and closeby, within the 
Bay Area
.
Wharf Lodging
Fisherman's Wharf offers over 2,500 rooms, ranging from full service hotels to smaller lodges and inns. Whether you are traveling on business or pleasure, you could not ask for more comfortable or convenient accommodations. For more information on lodging visit 
Fisherman's Wharf hotels
.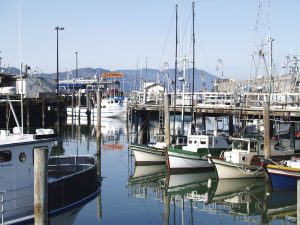 Biking
If you want to be active, rent a bike to take you up and down the hills or across the Golden Gate Bridge, visit the aquarium, or walk the world-famous Ghirardelli Square. And then get off your feet and jump on a historic trolley for a ride along The Embarcadero, hop on a cable car that has been carrying passengers for over 100 years, or just people watch while dining al fresco at any of the many famous restaurants. For more ideas, visit 
Fisherman's Wharf
.