If you live in New York City or are a commuter, chances are you have spent time at Grand Central Terminal.  But even many New Yorkers are not familiar with the building's storied history. That included me until I took the Official Grand Central Terminal Tour. Now I know why the New York Times once referred to Grand Central as "not only the greatest station in the United States, but the greatest station, of any type, in the world."
No matter what door you enter the terminal—located at 42nd street and Park Avenue–it's a unique sensory experience; people are bustling from all directions. It also feels like a time warp. As Conde Nast Traveler Magazine notes: "Grand Central Terminal is more than just one of the busiest train stations in the world, it's a window into old New York…" Before you meet your tour guide to get transported into that world, you'll walk across the lively main concourse. It's a sight to behold as you can't help but try to take in everything you see: the people, the famous clock at the information booth, the famed ceiling, the windows. You just don't want to miss anything.
A Tour for Everyone, from New Yorkers to Visitors
I was part of a small tour group led by Sara, the English-speaking guide for the Grand Central Terminal Tour. Not only was she welcoming and friendly, she's a native New Yorker who wore her New York pride on her sleeve. She immediately spoke highly of Grand Central Terminal, as if it was a family member. And because it's such a part of New York City, it is like family in many ways.
Sara regaled us with fascinating tidbits of history while pointing out the Tennessee marble stone under our feet as we walked. We also learned that the majority of the building structure is made of granite.
When it first opened in 1913, Grand Central Terminal was the first all-electric building of its size anywhere in the world. There was not one gas lamp in sight either. We followed Sara and strolled to the old waiting area where in days past, women and men were separated into different areas.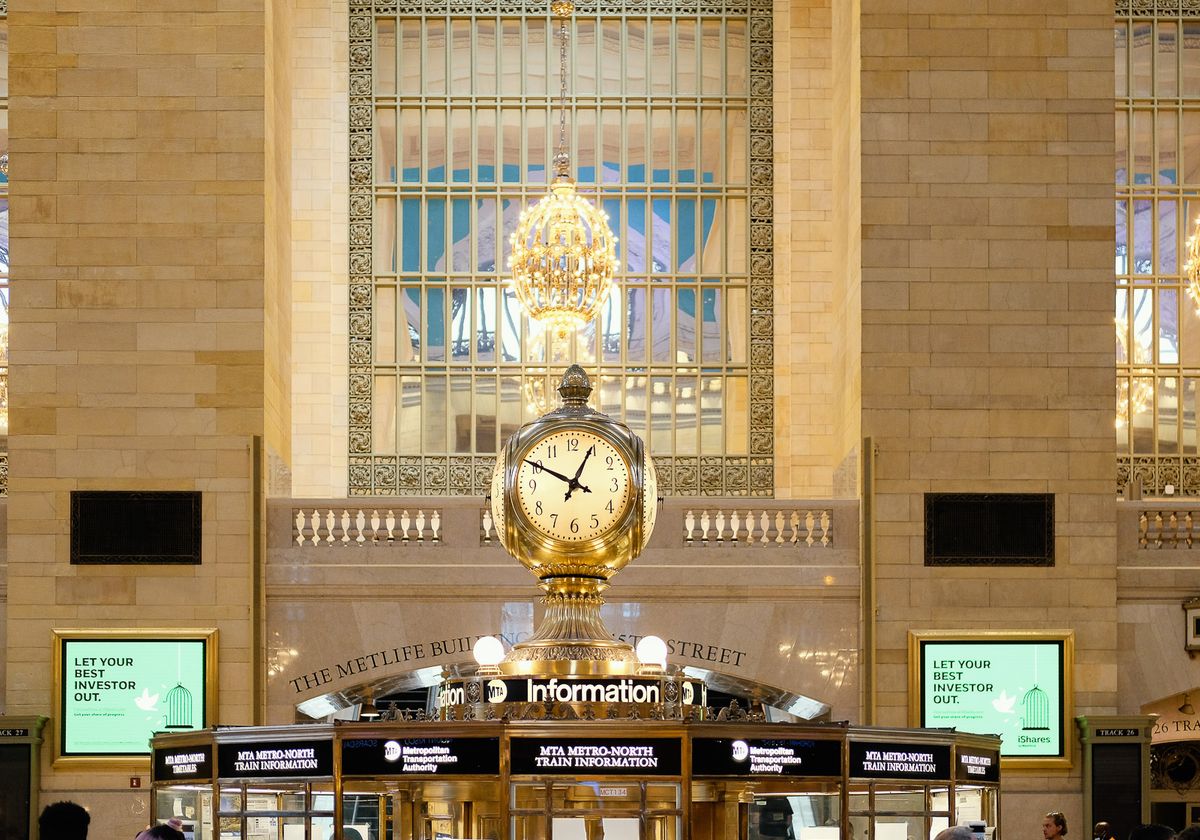 A Little History of Grand Central Terminal
How did Grand Central Terminal come to be? The legendary Vanderbilt family was at the heart of this spectacular structure. It started with Cornelius Vanderbilt. Born in 1794, Cornelius had big dreams and high hopes when it came to transportation.
Cornelius came to be known as the Commodore for the ferry he would run to ship goods. Eventually that ferry became what we now call the Staten Island Ferry. He also was the mastermind behind what was originally called Grand Central Depot. He had bought controlling stock in it all – except for New Haven – in what is now known as Metro-North Railroad. A second building was completed in 1900 but was considered obsolete by 1902.
Today, the third building stands on the grounds we know of as Grand Central Terminal and was built by the children and grandchildren of Commodore Vanderbilt. Construction began in 1908 and was completed in 1913.
You'll also find out about how during the 1980s the building was in such disarray that Jacqueline Kennedy Onassis came to the rescue to help get it deemed a landmark. She organized a clean-up and protest to help save the architectural gem from being demolished.
Grand Central Terminal's Highlights
The tour will take you outside the building and across the street to Pershing Square Plaza where you can gaze on the largest Tiffany clock in the world and a statue of the Commodore himself on horseback.
Back inside the terminal, we walked the concourse again and passed the famous Oyster Bar, which fell to ruins in the mid-20th century. It was later refurbished by a restauranteur who in 2017 sold it to the staff. The Oyster Bar is now one of the most prominent employee-run restaurants.
Things You Didn't Know About Grand Central
The latter-day reinvention of Grand Central Terminal as a commercial and foodie hub makes it a delight to be in. (There are now 68 shops and 35 dining options.)  For example, we walked past one of the old waiting and information areas of the terminal, which is now a dining concourse that offers food for the entire family.
We continued to walk back past the dining area and came upon one of the New York City four remaining pay phones and then onto the Grand Central Terminal Lost and Found. It's one of the largest in the world, totaling 20,000 items a month. But it's got a great track record as 80 percent of the items are said to be reunited with the owners of the lost goods.
Next to the Lost and Found is Grand Central Terminal's very own police station to ensure the safety of visitors. The terminal also has its own dedicated fire brigade!
Grand Central Charm and An Experience to Behold
There's so much neat history packed into the 90-minute Official Grand Central Terminal Tour. It's easy to stand just about anywhere in the majestic building and imagine where the past meets you at every corner. The charm and grandeur of Grand Central Station will stay with you long after the tour ends. And if you start to miss that hustle and bustle, there's a fun way to be reminded of it back home or at the office.
Your tour guide will answer questions you've always wondered about and make you ask even more about its secrets. You'll even learn about a famous train track. Make sure to wear those comfortable shoes because you'll get lots of steps at this magnificent place that is transportation meets history meets opulence.