With its endless array of traditional trattorias, cozy osterias, and laid-back street vendors, any lover of Italian food will be in seventh heaven eating their way through the Eternal City.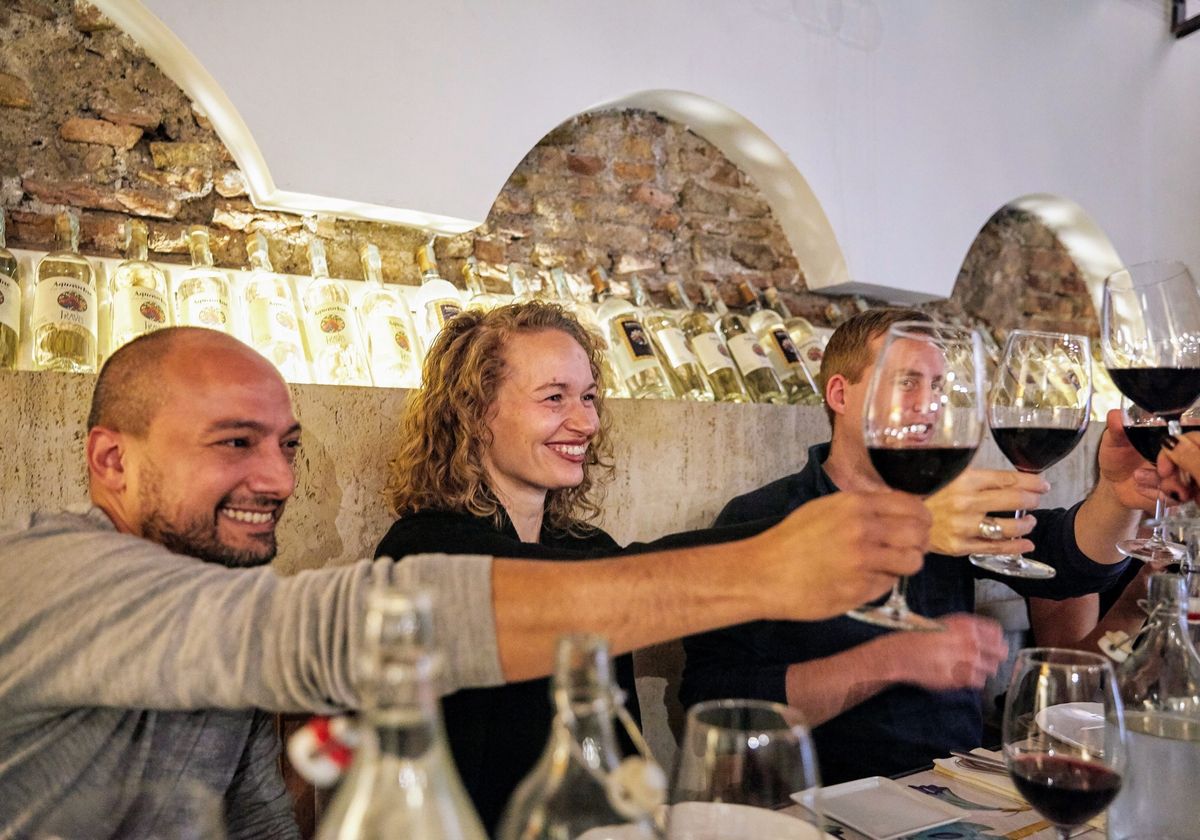 Italian cooking is much more than pizza and pasta (though those are also a treat!), and Roman cuisine drives this point home.
Whether you pop 'round for a hearty plate of carbonara at a traditional Roman trattoria or a quick snack washed down with a glass of wine at an enoteca, we've rounded up the foods not to be missed on a visit to Rome—and provided a bit of historical context to help you enjoy them in full.
What did the ancient Romans eat?
Ancient Romans ate a lot like Romans eat today: with an emphasis on high-quality ingredients, simply combined with minimal seasoning. Fresh vegetables, olive oil, and seafood were very important to ancient Roman cuisine and remain so in the modern day.
Although it lost its popularity over the years, a fermented fish sauce called garum was widely used in ancient Rome, and many contemporary Roman chefs are starting to reintroduce garum into their menus today.
What is the best way to taste Roman food?
The Rome Street Food Tour & Pizza Making experience is a great way to get a taste of authentic Roman food. Street food has been a local tradition since ancient Rome, and it's still one of the most popular (and economical) ways to chow down on some seriously delicious Roman foods.
On this tour you'll have the chance to explore the culinary landscape of Rome's historic Jewish Quarter and Centro Storico before trying your hand at making traditional Roman pizza.
Our signature Trastevere Rome: Gourmet Food & Wine Tour is another excellent way to get introduced to Roman cuisine. On this culinary tour you'll have the opportunity to try a variety of traditional Roman foods, such as local meats and cheeses, seasonal veggies, and gourmet bruschetta, as well as diverse Italian wines. Plus you'll learn all about the history of the city's fascinating Trastevere neighborhood with its many picturesque streets and interesting architecture.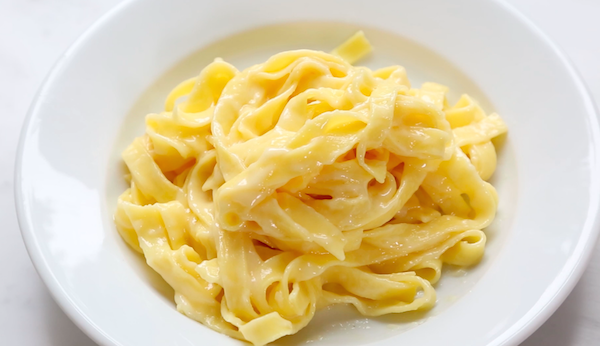 What are the top dishes to try in Rome?
1. Pasta carbonara
Hands down, pasta carbonara is the queen of all Roman pastas. The marriage of the simplest of ingredients somehow makes for a perfect plate of heaven. This traditional dish combines cured pork jowl (guanciale), egg yolks, and pecorino cheese with a generous helping of freshly-ground black pepper, all heaped on rigatoni or spaghetti.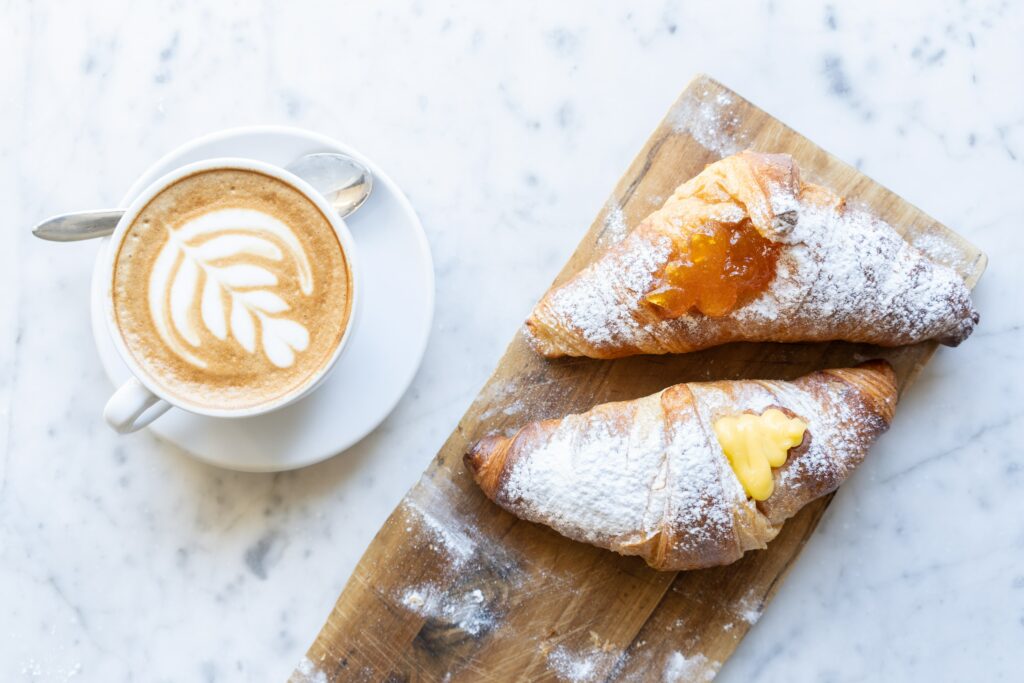 2. Maritozzi
Today the typical Italian breakfast consists of a margarine- or cream-filled pastry called a cornetto, washed down with a strong espresso or frothy cappuccino.
Before cornetti took precedence, Romans would eat sweet treats called maritozzi for breakfast. Sweet leavened buns filled with whipped cream, maritozzi can still be found in the Italian capital if you know where to look. A safe bet is to head to the historic Pasticceria Regoli, located just shy of Piazza Vittorio. Come for the maritozzi, stay for the excellent coffee and people watching.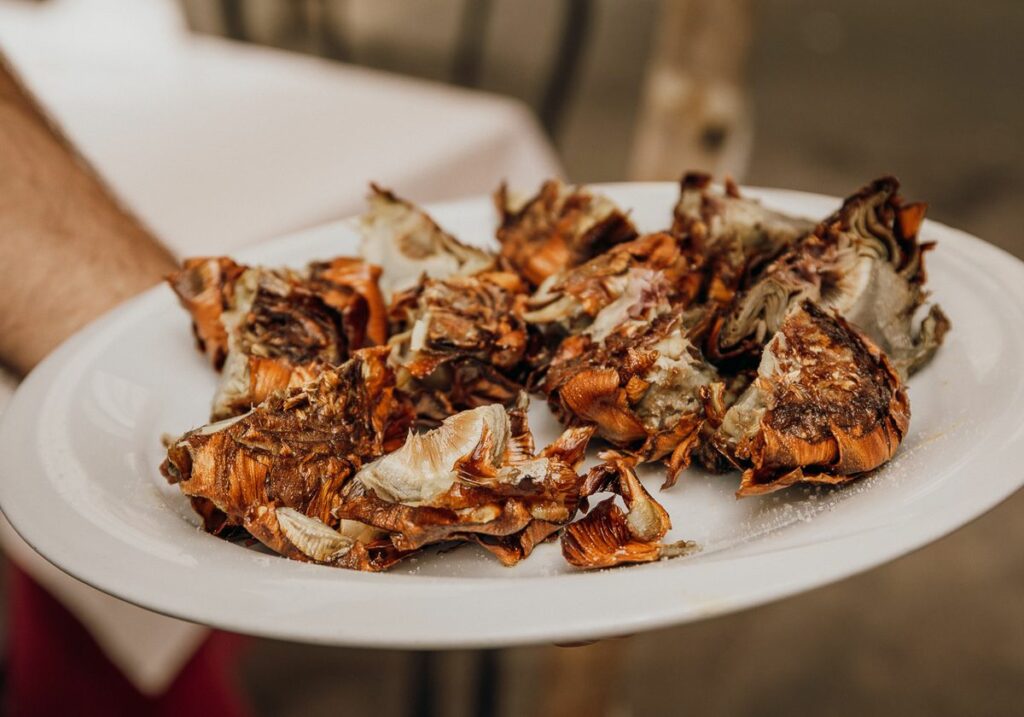 3. Carciofi alla Romana and carciofi alla Giudia
You can't visit Rome and not try Roman artichokes. Artichokes are practically synonymous with Roman cuisine. You'll find them prepared simply, cooked in hot oil or butter, in almost any Roman trattoria—and you won't be disappointed.
4. Filetti di baccalà fritta
Baccalà, or Italian salt cod, is another Roman delicacy. Roman eateries generally serve it as a starter to a meal, fried in a mouthwateringly light and crispy batter.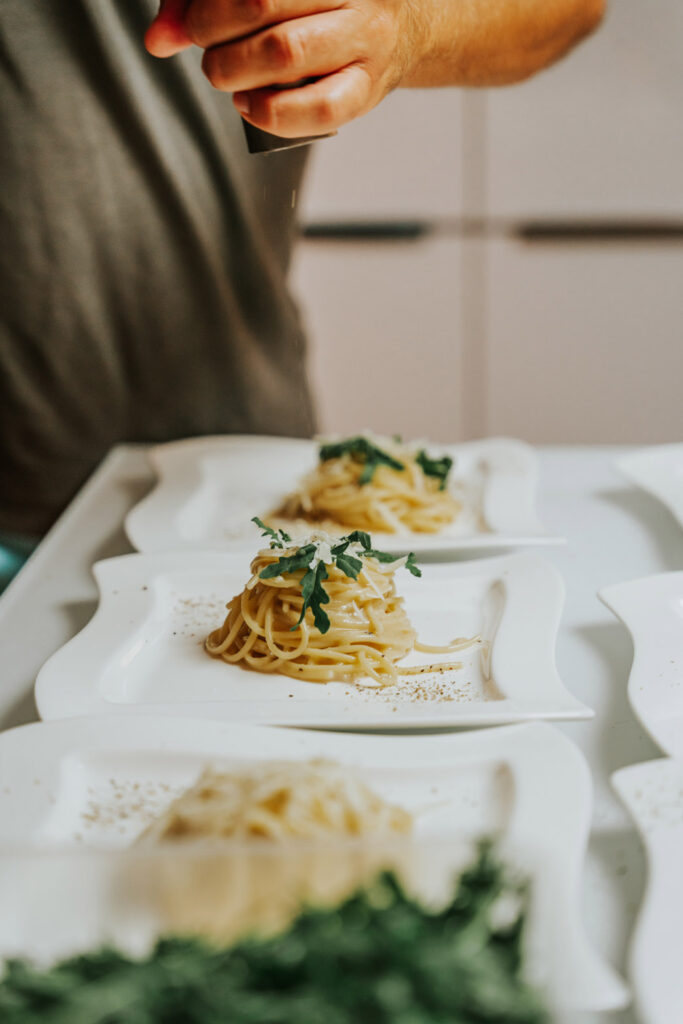 5. Coda alla vaccinara
Coda alla vaccinara (oxtail stew) is considered by many to be the crème de la crème of Roman food. To prepare this hearty dish, oxtail is cooked in a tomato-and-wine broth infused with a mixture of pine nuts, raisins, fresh-ground black pepper, cloves, and sometimes chocolate.
6. Trippa alla Romana
Roman tripe (trippa alla Romana) is another local favorite. Fresh tripe is simmered in a thick tomato sauce flavored with mint, then served with a generous heaping of freshly grated pecorino cheese. It's pure divinity for seafood lovers.
7. Cacio e pepe
Another iconic dish among Roman pastas is cacio e pepe. Everything you need to know about this basic yet delicious concoction is in the name: "Cacio" is the word for pecorino cheese in the local dialect, and "pepe" is the word for black pepper.
Local lore claims that the dish was concocted for Roman shepherds, who needed a simple, filling dish to whip up while herding their roaming sheep.