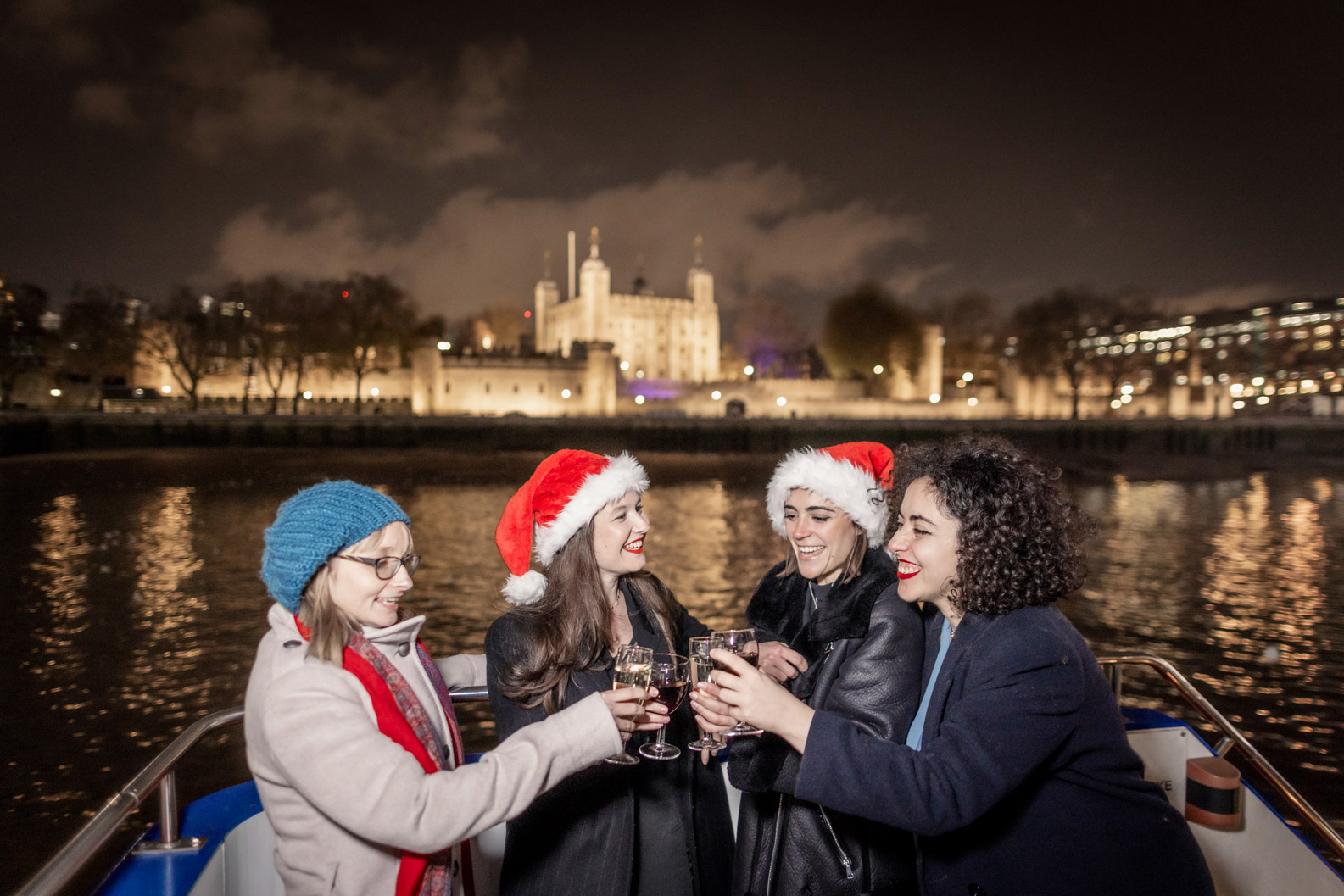 Christmas Cruises in London
Tis the season to be jolly and there is nothing merrier than our Christmas Party Cruises to get you in the festive mood! Join us for a simply wonderful Christmas lunch or dinner party cruise. If you have been put in charge of the office xmas party or looking to jingle all the way with friends and family, we have you covered.
With a welcome drink in hand followed by a traditional Christmas menu, get ready to rock around the dance floor feeling merry and bright! Or are you looking for something truly special on the big day itself? You can sleigh down the river on a sightseeing cruise as we are the only operator running on the river on Christmas Day! Or take your seat for a Traditional Christmas Day Lunch Cruise – It really is beginning to look a lot like Christmas!
Featured Christmas Cruises
Ideal for Christmas Parties

Ideal for Christmas Parties
Looking for a Private Christmas Party?
Host a special Christmas Party on the River Thames. Whatever you're looking for, our expert team will be there to assist you. Make it an unforgettable party that everyone will be talking about until the next Christmas Party!
–
Christmas Gift Cards
Our digital gift cards are the perfect way to give your loved one an experience that lets them schedule their adventure whenever they want to!
–
Which products do you offer on Christmas Day?
We are the only company operating boats on Christmas Day and that gives you an opportunity to experience the Thames on its quietest day.
We provide two different products on Christmas Day. Our Christmas Day Lunch Cruise which is a 3 hour and 15mins river cruise coupled with a 4-course Traditional Christmas Lunch and a welcome glass of sparkling wine when you board.
On the other hand, if you are just looking for a sightseeing experience we offer a one hour Christmas Day circular sightseeing cruise. Both the Christmas Day Lunch Cruise and the Christmas Day Sightseeing Cruise depart from and return to Westminster Pier.
What pier do your Christmas Cruises depart from?
Our Christmas Cruises depart from Westminster Pier, Victoria Embankment, SW1A 2JH
How do I get to the pier?
What time should I arrive at the pier?
Our customers are advised to arrive at the pier 30 minutes before departure.