Though Washington, DC, doesn't have an official food, the Council of the District of Columbia declared the humble cherry its official fruit in 2006 — and you're likely not the only one scratching your head about the decision. Perhaps the Council was anticipating cherry-blossom season around the capital's Tidal Basin?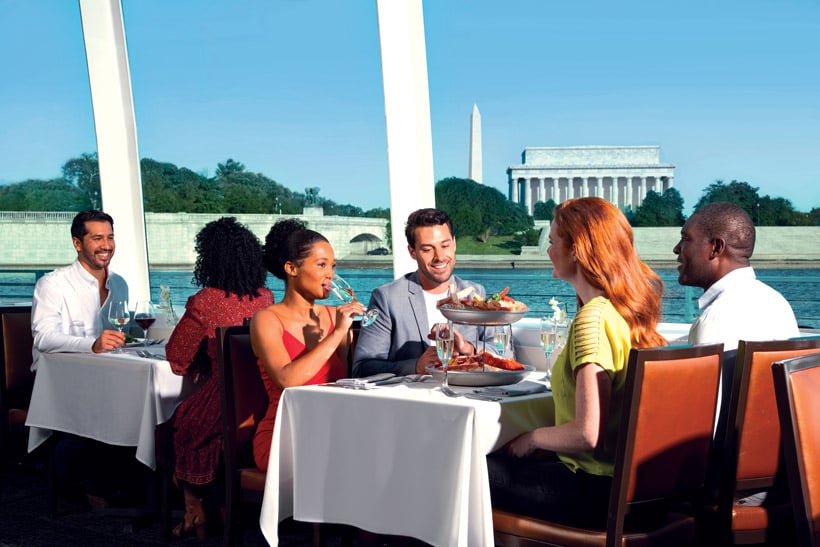 In Washington, DC, famous food options—such as mumbo sauce, half-smoke sausages, and Peruvian chicken—are worthy of wider recognition, not to mention all the fabulous Salvadorian and Ethiopian food scattered about the city. Here are five of Washington, DC's most iconic dishes to tickle your tastebuds.
Is Washington, DC, a Foodie City?
Frequented by diplomats and visitors from across the globe, it's no wonder the food scene in the nation's capital is so diverse. Across Washington, DC, much like landmarks and monuments, famous food abounds, which is why we should not only be looking at the city as a top tourist destination, but a one-of-a-kind foodie destination too!
The city has a lot to offer foodies looking to chow down, from seafood to soul food, spicy Korean noodles and kimchi ramen to fennel-sausage ragù and margherita pizza. In DC, the world is your oyster — and if it's a Chesapeake Bay oyster, it might just be on your plate.
For a taste of DC with unique views from the water, hop aboard a signature City Cruises lunch or dinner cruise, or upgrade to one of our premier brunch or dinner cruises on the Potomac River, where you can savor DC out on the water in style. It's one of the few experiences where you'll enjoy a delicious chef-prepared meal, creative cocktails, and live entertainment while sailing the Potomac River, seeing all the sights that the nation's capital has to offer from a whole new perspective.
What Food is Washington, DC, Known for?
Much like deciding which monuments are considered a signature symbol of DC, topic of DC's signature dishes is fiercely disputed. We're calling it a toss-up between mumbo sauce and half-smoke hot dogs, with pupusas, oversized pizza slices, and Chesapeake blue crabs and oysters hot on their heels. These famous DC foods that will have you "cised" (local slang for "excited") to grab a bite in the nation's capital.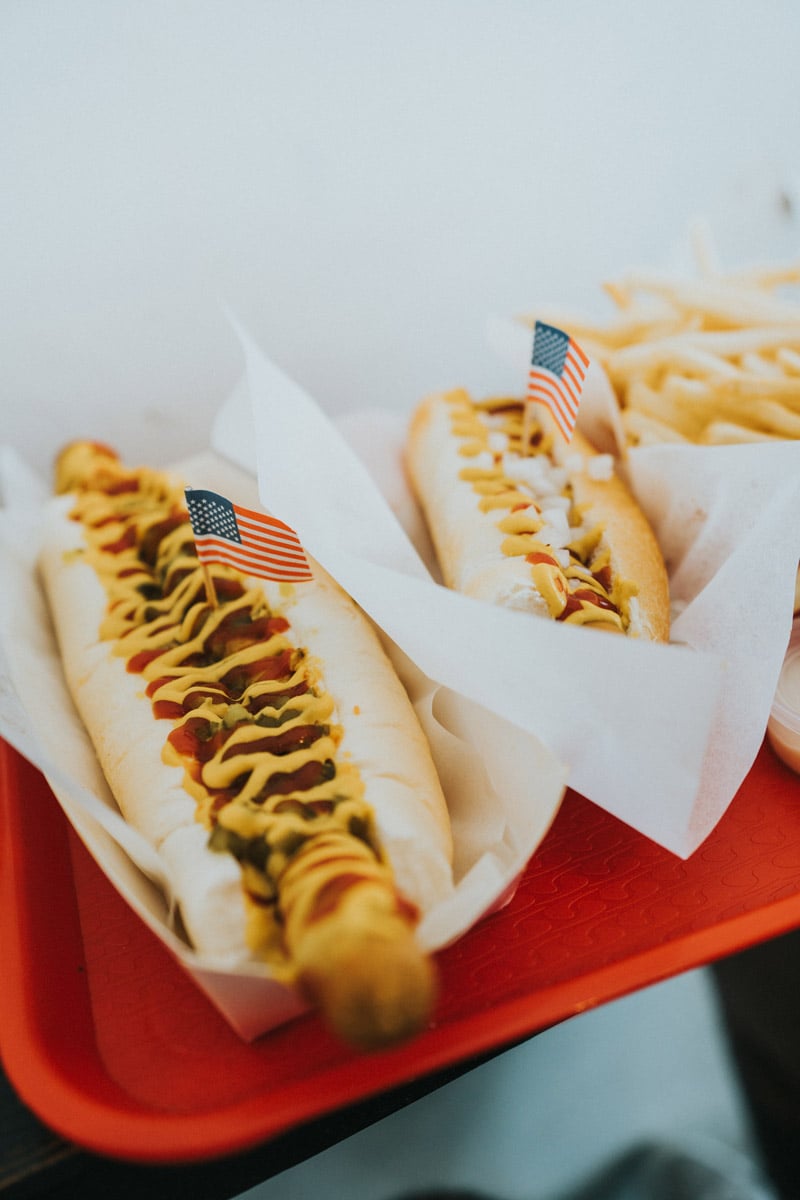 Head to Ben's Chili Bowl for an Original Chili Half-Smoke
A strong contender for DC's signature dish is the humble half-smoke. A beef-and-pork sausage with a hint of hot pepper and some fiercely guarded secret spices, half-smoke hot dogs pack a punch in part due to their casings, which give a pleasingly crisp snap when you tuck in.
You're likely to find vendors on any given corner offering grilled half-smokes on a bun, topped with onions and classic yellow mustard or smothered in chili and cheese. But any visit to the nation's capital is a miss if you don't stop by the delightfully kitschy Ben's Chili Bowl to chow down on an original chili half-smoke, washed down with the DC institution's best-known dessert, Virginia's favorite banana pudding. Don't forget the french fries!
Douse Everything on Your Plate with Mumbo Sauce
Similar to barbecue sauce but a touch sweeter, mumbo sauce is a delicious, tangy, red-orange condiment that's smothered over just about anything you can smother, from french fries and fried rice, to ramen noodles and fried chicken. You're likely to find it at restaurants and food trucks — and anytime you open a local's fridge.
In 2018, DC mayor Muriel Bowser sparked outrage when she took to Facebook to rant about how "annoyed" she was at people considering mumbo sauce as "quintessential DC," even going so far as to say she "was a full grown woman before she  had heard of mumbo sauce!"
The apparent publicity stunt was meant to give locals "something to discuss on Thanksgiving beyond the midterm elections, backup quarterbacks and holiday shopping deals," per the mayor's press secretary, and it certainly sparked a healthy debate. Oh, to be a wallflower at a DC Thanksgiving dinner that year….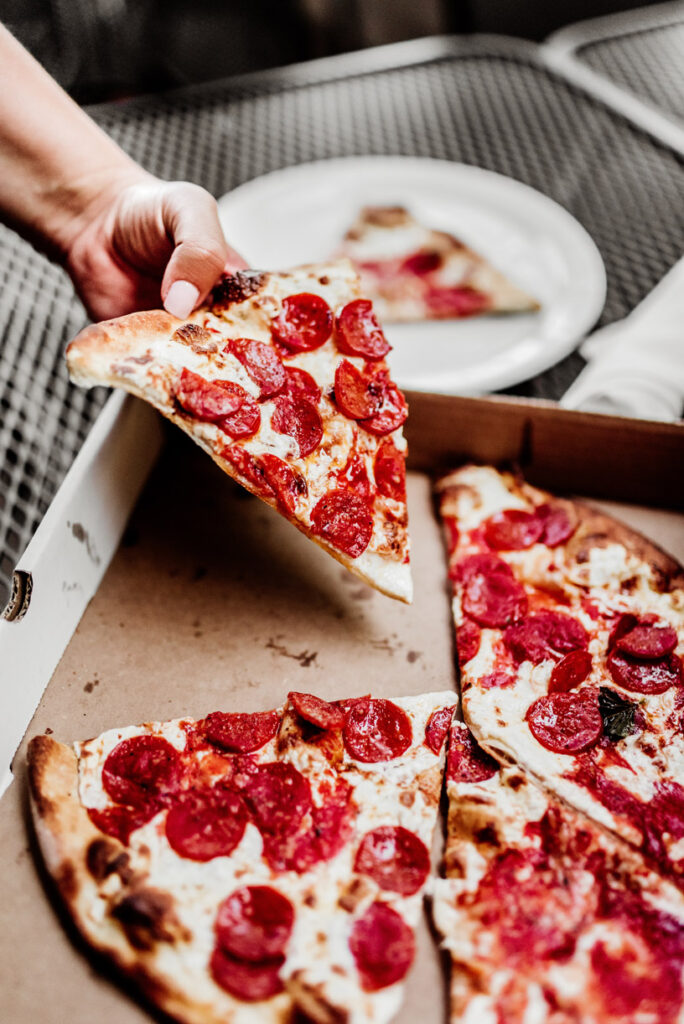 Seek Out a Jumbo Slice After a Big Night Out
Tell a DC local you need a fix after an epic night out on the town,  and they're likely to send you out to find a jumbo slice of pizza, so big it's served on two paper plates. Ask that same local for the best place to eat a jumbo slice, and they're certain to send you to Pizza Boli's, where the slices are bigger than your head — and sometimes even bigger than your headache the next morning.
Sample the Pupusas at Spots Across the City
DC has a sizable and vibrant Salvadoran immigrant community, so it's no surprise that cuisine has had a major impact on the culture and local food scene, an influence seen most visibly in the ubiquity of pupusas across town.
One of the city's more affordable dishes, pupusas are essentially pancakes made with corn flour, which generally come stuffed with chicharron, refried beans, Oaxacan cheese, and crispy pork-skin cracklings, and served with a side dish of curtido cabbage slaw, made with grated onions and carrots, Mexican oregano, apple cider vinegar, and a touch of hot pepper sauce.
Do yourself a favor and stop at El Tamarindo to taste some of the best pupusas DC has to offer, including vegan and vegetarian options.
Chow down on Chesapeake Bay Blue Crabs and Oysters
Shellfish and bivalves aren't exactly what you'd call a signature dish, but Chesapeake Bay blue crabs and oysters have a flavor specific to their terroir and are technically some of the only food native to DC on this list.
Once steamed and coated in Old Bay seasoning or baked into a crab cake, the blue crabs here take on a distinctive flavor, one you'll forever associate with the U.S. capital after you've had your first taste.
Your best bet for chowing down on some top-notch crabs is to head over to Captain White's at the Maine Avenue waterfront, where you'll find all manner of fresh seafood, including oysters, another of the region's native shellfish.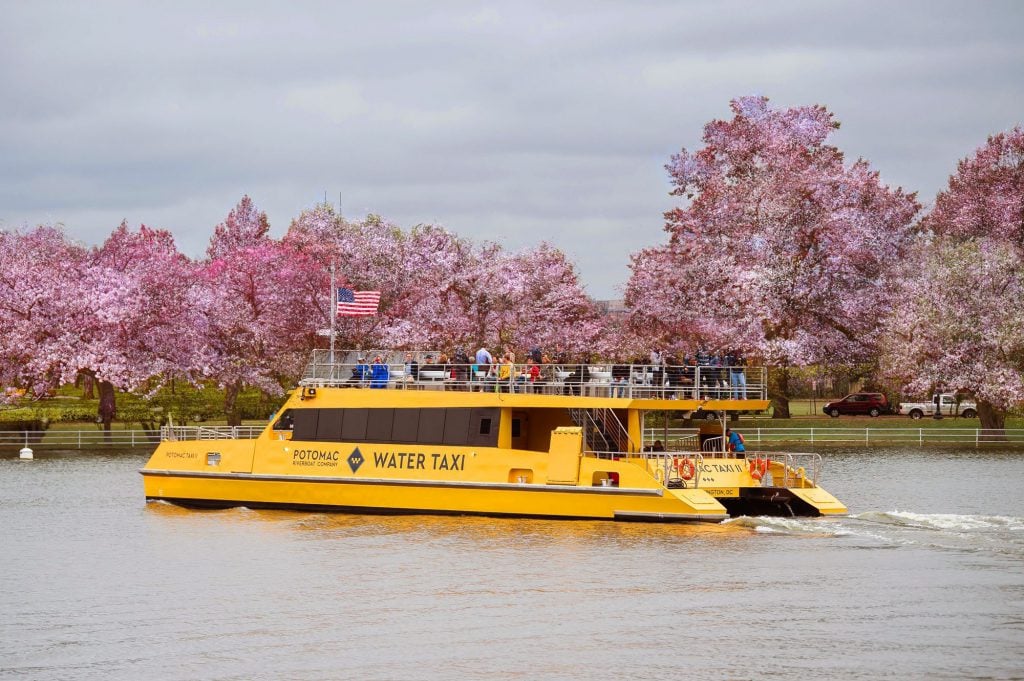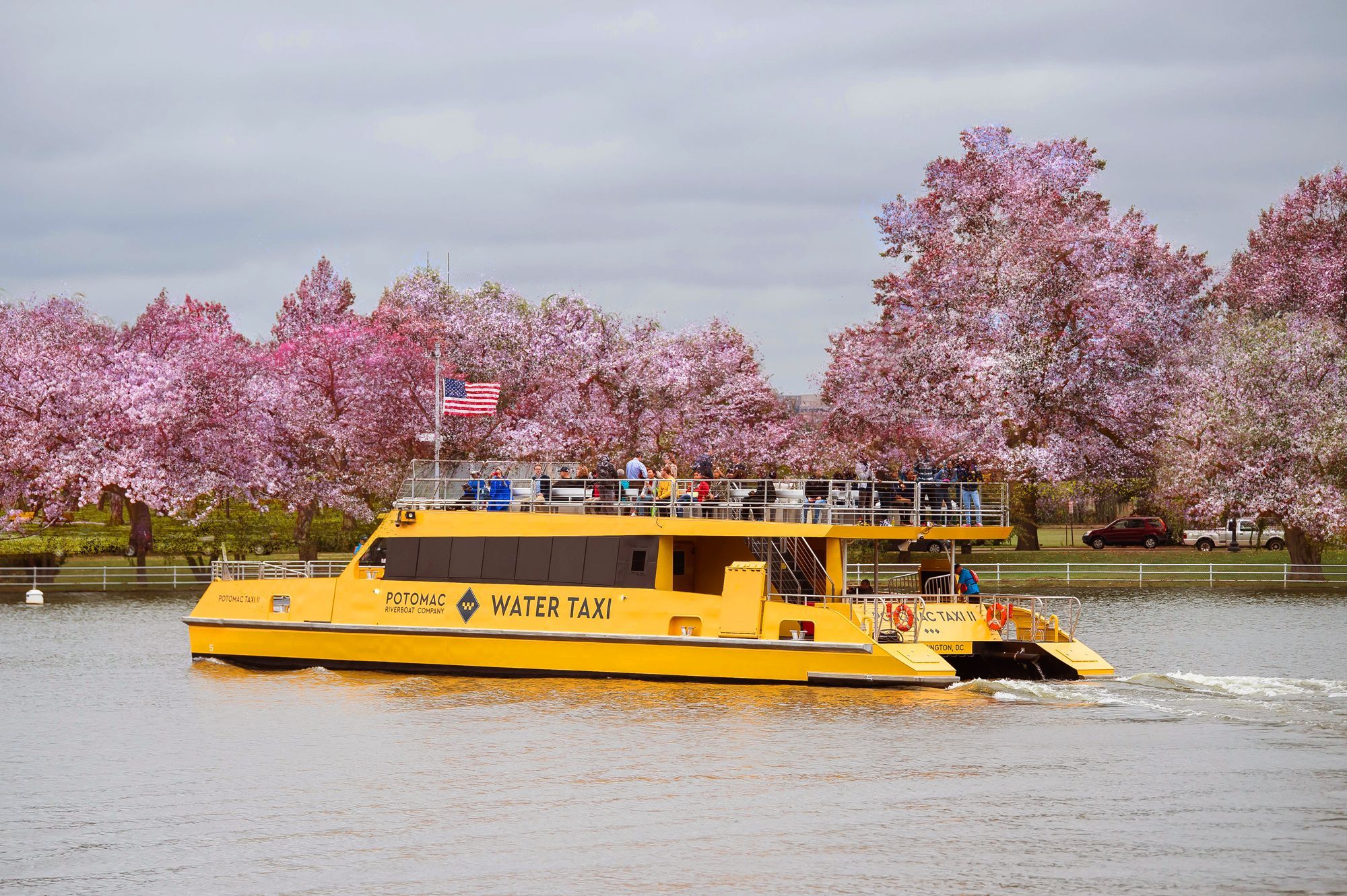 More Than Monuments and Museums
Washington, DC, is more than just a top destination for museum-goers and history buffs. This melting pot of a city is ready to be viewed as a top foodie destination! Now that you have an idea of where you need to go, and what experiences you need to try, the next step is making a plan. And what better what to get around DC than the Potomac Water Taxi? Whatever you plan to do, just plan to bring an appetite too!
Original post date: November 17, 2022