Happy birthday! Offering everything from a thrilling nightlife scene to outdoorsy adventure just minutes from the city center, San Francisco is a fun, festive, and endlessly exciting birthday party destination.
No matter how the birthday person wants to celebrate their special day, the City by the Bay has plenty of activities to choose from.
Celebrate in style with these fun and original San Francisco birthday ideas
Whether it's eating your way through the city's fantastic food scene or going on a sightseeing cruise of the Bay Area, you—and all your friends—are guaranteed to have such a great time and so much fun with these San Francisco birthday party ideas.
1 Hike among the redwoods in Muir Woods National Monument 
If you want to spend your special day out in nature, the great outdoors is just a short car ride away.
Roughly 45 minutes across the Golden Gate strait lies the breathtaking redwood forests of Muir Woods National Monument, with scenic overlooks, hiking trails, and picturesque drives.
If you're looking for something closer to the city, the Marin Headlands and Golden Gate National Recreation Area are within 10 to 20 minutes of downtown. With our Muir Woods Redwood Forest and Sausalito Tour, you'll explore Muir Woods and stop in the quaint bayside town of Sausalito for lunch before returning to San Francisco.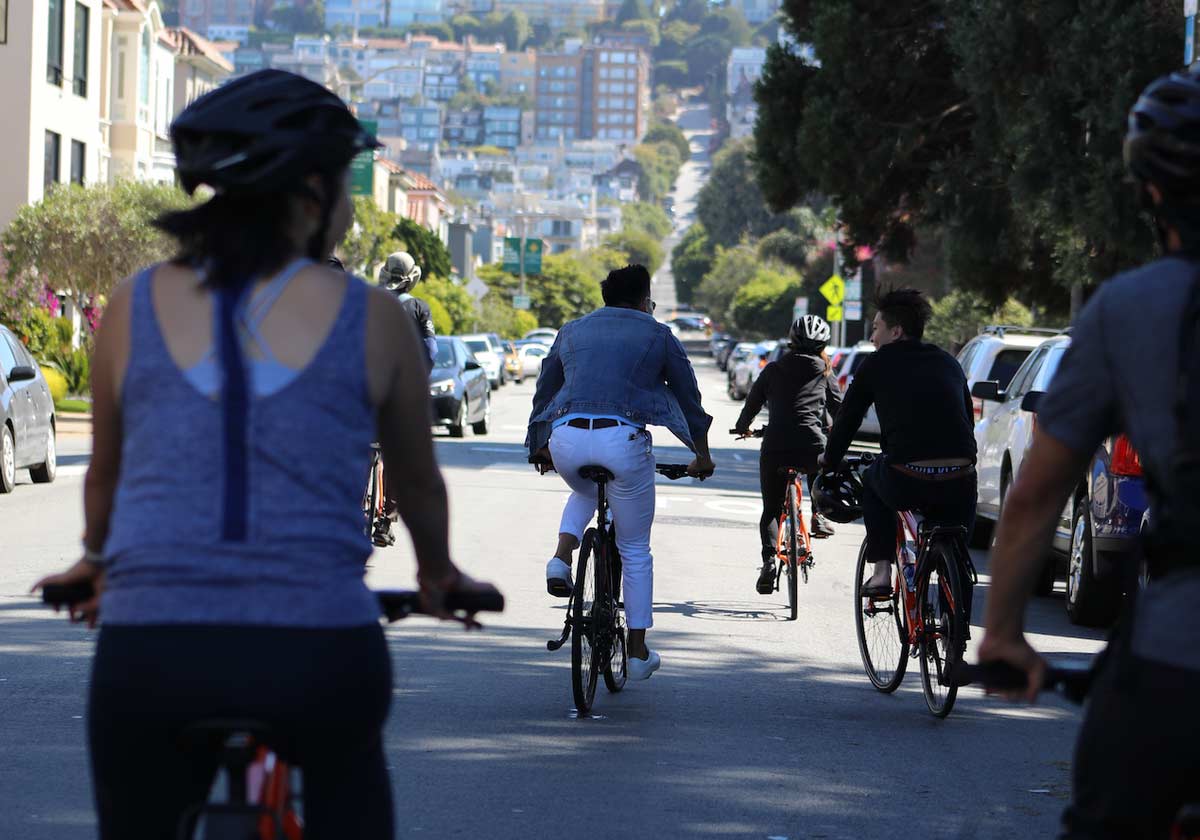 2 Take a bike tour around the City by the Bay
Looking for a birthday activity for an active, sports-loving friend? Going on a sightseeing bike tour is not only a great way to explore the city and see famous buildings and monuments, but all those steep hills will definitely help you get in a workout!
Choose between a City Highlights bike tour to see the city's best sights on two wheels, like Ghirardelli Square, Haight-Ashbury, and Alamo Square (home of the Painted Ladies houses), or go all out on a bike ride across the Golden Gate Bridge itself.
3 Have a birthday picnic at Golden Gate Park or the Presidio
Packing a picnic lunch with a birthday cake, snacks, and drinks and taking it to one of San Francisco's lovely city parks makes for a perfectly relaxed birthday activity.
Home to the San Francisco Botanical Garden, Golden Gate Park is a picturesque option close to Haight-Ashbury, while the Presidio offers beautiful bay views and beach access.
4 Go wine tasting in Sonoma
A wine-tour birthday party? Why not! With more than 400 different wineries producing varietals like chardonnay, pinot noir, and cabernet sauvignon, Sonoma wine country is only an hour north of San Francisco, making it a great option for a birthday-party day trip.
5 Do the ultimate "San Francisco in a day" tour
Playing tourist for the day and visiting the city's greatest hits can provide a deeper appreciation for the City by the Bay, whether you're a first-time guest or a long-time resident.
On our San Francisco in a Day tour, you'll see the highlights, including going for a bay cruise, taking a cable-car ride, and heading up Coit Tower for its city views.

6 Soak up the nightlife
From drag shows to speakeasy bars, San Francisco has one of the most legendary nightlife scenes on the West Coast. As the sun goes down, an array of craft-cocktail bars, dance clubs, stand-up and improv shows, drag extravaganzas, and more provide near-unlimited options for birthday parties.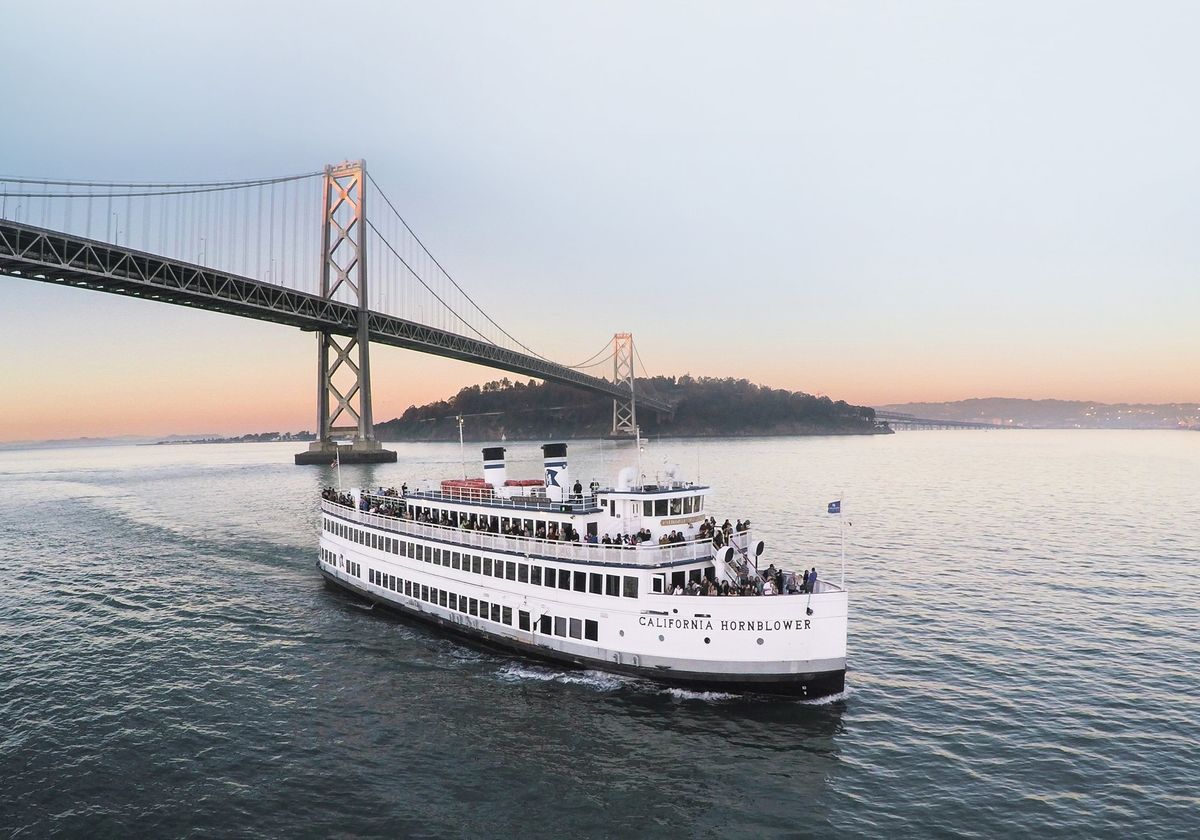 7 Go on a dining cruise around San Francisco Bay
Two of the best ways to have a birthday celebration are going out for a special meal and doing a fun, out-of-the-ordinary activity, and going on a dining and sightseeing cruise around the bay  ticks all the boxes.
Celebrate the special day on a scenic, several-hour cruise around the bay, complete with a delicious buffet meal, plenty of birthday drinks, DJ entertainment, and unforgettable views of the San Francisco skyline, Alcatraz, and the Golden Gate Bridge.
Depending on your mood, you could also kick things off on a Signature Brunch Cruise with plenty of bubbly, unwind during a leisurely lunch aboard the Signature Lunch Cruise, or see San Francisco all lit up at night on the Signature Dinner Cruise.
8 Take a tour of the city's best foodie spots
From fresh seafood to traditional Chinese dishes to boundary-pushing Michelin-starred restaurants, San Francisco's food scene is one of its top draws. If the guest of honor is a foodie, you can't go wrong with a San Francisco excursion with Devour Tours.
On the Ultimate San Francisco Food Tour, you'll pop into restaurants and eateries throughout several of the city's best foodie districts, like Chinatown and North Beach, sampling dim sum, tacos, seafood stew, and much more, all while learning about the multicultural population that gives San Francisco its diverse culinary culture.
9 Dive into the cultural scene at historic monuments and museums
San Francisco's wealth of cultural institutions will greatly appeal to arts and culture lovers. Tour the historic island prison with Alcatraz City Cruises, view priceless works of art at the San Francisco Museum of Modern Art, and dive into an underwater world at the California Academy of Sciences.

Celebrating your birthday in San Francisco
Marking another trip around the sun with a celebration? San Francisco has something for everyone—and City Experiences is here to help you have the best birthday ever, with fun tours, outings, and so much more.