Along with visiting the seal and sea-lion colonies in La Jolla, one of the best wildlife-spotting activities for people visiting San Diego is a whale-watching tour with City Cruises.
The warm, safe waters off the coast of sunny San Diego in southern California are the year-round home of humpback, minke, and fin whales, with chances to spot migratory gray whales in the winter and blue whales in the summer. It's also possible to see pinnipeds, dolphins, birds, and other marine life.
These creatures call the Pacific Ocean home, but for the San Diego Natural History Museum's Sue Emerson, it's her office. A member of the City Experiences family for the past nine years, Sue volunteers aboard the Adventurer Hornblower as an educational naturalist, sharing her passion and love for marine wildlife with City Cruises guests.
Whale watching with Sue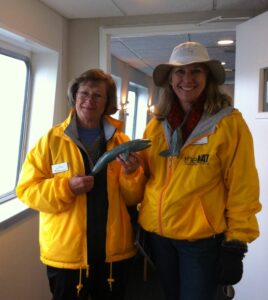 Sue came to City Experiences from a lifetime working as an educator in marine ecology, with a Master's degree in the subject. Now retired, she considers volunteering on board the Adventurer Hornblower through her work with the Natural History Museum the perfect retirement activity.
"I would like guests to have a deeper appreciation for the marine environment and cetaceans in particular," she says. "If I can impart just a fraction of the love I have for the whales, I can consider my day a success. I love the squeals of excitement when our guests see a whale or dolphin for the first time in the wild."

A day in the life of a volunteer naturalist
After an all-important cup of coffee, Sue heads to the docks, where she helps prepare for the day's tours. "My day begins with greeting guests waiting to board," she says. "I introduce myself and talk about what we may see offshore."
While onboard the whale-watching boat, she tailors her remarks according to what guests might see that day. For example, during the spring and winter months, she'll talk more about the gray-whale migration. She also answers general questions, helping guests identify different animals and explaining their behaviors.
"Whales have many interesting characteristics to point out, such as barnacles and feeding behavior," Sue says. "To enhance [the guests'] experience, I use models, photos, and biofacts, such as baleen and vertebra." During her talks and while chatting with guests, Sue also stresses the importance of conservation efforts—and that we can all do our part to help protect the ocean and everything that lives in it for the future.
Working on whale-watching tours also gives Sue the opportunity to enhance her own personal knowledge of these incredible creatures. "It is amazing to see marine mammals on a regular basis," she says. "I have been able to observe many amazing behaviors that a one-time experience couldn't."
Apart from the whales, one of Sue's favorite aspects of her volunteer work is getting to meet and chat with people from all over the world, who come to San Diego to enjoy the unique treasures and experiences to be found in this "beautiful, multicultural, and action-packed" city. To visitors, she also recommends checking out Balboa Park and, of course, heading to the San Diego Natural History Museum.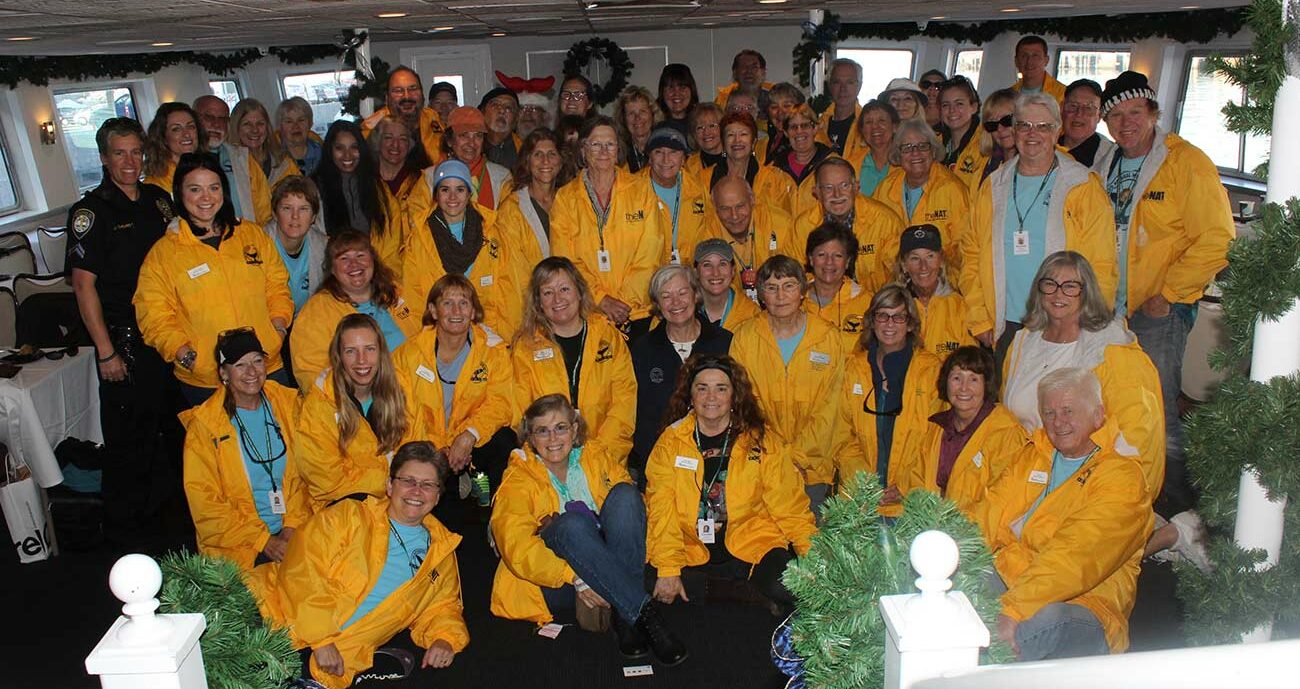 Marine adventures at home and abroad
Sue's love of the ocean and its creatures has taken her all over the world on adventurous whale-spotting travels, leading to unforgettable encounters like sighting bottlenose whales in Iceland, watching Hector's dolphins off the coast of New Zealand, and catching glimpses of Southern right whales in South Africa. And that's just to name a few!
But San Diego and its great outdoors will always have a special place in her heart. "San Diego is a coastal city with nearly perfect weather," she says. "That makes it an ideal location to be outside enjoying nature, especially on the water."
When not traveling around the world or expanding guests' knowledge of whales and the marine environment on whale-watching tours, Sue enjoys spending time with her family, reading, playing with her dog, and gardening. She also volunteers for a group supporting arts education and is an outspoken supporter of science, technology, engineering, arts, and mathematics (STEAM) education.
On a City Cruises whale-watching excursion, you can go whale-watching with Sue and hear more about her global adventures, as well as see and learn more about whales. Best of all, if you don't see any whales on your tour, you'll receive a pass to come back for another chance to see these magnificent mammals in their natural habitat—on us!