From the food scene to Broadway shows to history and architecture, everyone has their own reasons for wanting to visit New York City.
Although it is half the size of London, New York has more historic events than some entire countries. This cultural capital offers something for everyone when visiting so make sure that you plan accordingly to see all the best that the city has to offer. Looking to truly connect with the energy of the city? Explore the concrete jungle on foot, with a walking tour tailored specifically to your interests.
Picking your perfect NYC walking tour
Visiting the Big Apple, you'll find tons of NYC walking tours to choose from. Here's how to pick the best one for you, based on what you want to see, do, and learn.
There are a multitude of tours and tons of walking tour companies. There are free tours, food tours, neighborhood tours, and private walking tours, so do your research before making any plans.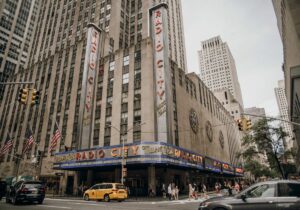 1. The best sightseeing tours for NYC highlights
New York City is huge, with so many iconic monuments and attractions it would be impossible to see them all in a single day. But for that classic New York experience, some places are a must, including Central Park, Washington Square Park, the Empire State Building, and the Brooklyn Bridge.
Doing a general walking tour (with a local guide for the real inside scoop) is a great starting point for your NYC adventure, as it gives you a good overview of the city and hits those highlights.
Consider starting with a Manhattan walking tour. You'll hit many of the top attractions in NYC's most famous borough, like Radio City Music Hall, St. Patrick's Cathedral, Grand Central Terminal, and the Chrysler Building.
all in two hours. This heart-stopping and bustling city can seem intimidating, but your local New Yorker will accompany you in taking in the sites you may have only seen on TV and provide you with details only the locals know.
Checking out the Statue of Liberty is another must-do. Hop aboard a Statue City Cruise to reach the island and you can enjoy skyline views, learn about NYC immigration history at Ellis Island, and tour the statue itself. You will hear the story of how Lady Liberty came to be and gain a true understanding of just how important this monument truly is. You can visit early to skip the crowds on a VIP Access Tour as well by hopping aboard the very first boat of the day out to Liberty Island. Hear history come alive with your licensed New York City tour guide amongst a small group allowing you personal time to explore.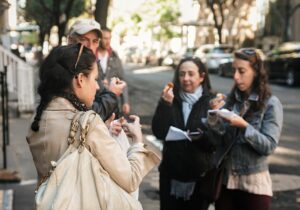 2. The best NYC walking tour for foodies
New York City is one of the best food cities on the planet, making food tours a must for any NYC-bound gourmand.
One of the best ways to do a food tour in New York is to concentrate on a particular neighborhood or district, like the West Village or the Lower East Side. With certain immigrants and cultures putting down roots in specific areas, you can sample tons of phenomenal cuisines and dishes from around the world in compact, walkable areas, like Chinese food in Chinatown or Italian food in Little Italy.
Located in Lower Manhattan, Greenwich Village is one of NYC's best food neighborhoods, with world-class Italian cuisine, excellent coffee, and classic NYC pizza joints. Our Greenwich Village Food Tour gives you a taste of some of New York's most authentic and delicious Italian food.
3. The best walking tours for New York City history
From its founding in 1624 to the present day, NYC is constantly evolving and changing. The city's past is one of its most fascinating features, from historic architecture to the history of Wall Street, and there are plenty of walking tours around town that delve into different eras.
Located on Manhattan's West Side, the High Line is a great example of how the city changes. The High Line is an old elevated railway line that was converted into a trendy walkway and hang-out spot with dining, shopping, and entertainment. You can learn all about its transformation on the Highlights of the High Line tour.
Taking in New York City's history can also mean revisiting painful memories—and learning about the best and worst of humanity. On a 9/11 Memorial Tour, you'll visit the World Trade Center and other key sites, both to learn about that fateful day and to honor its victims and the heroic first responders.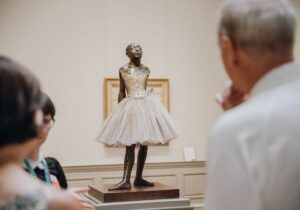 4. The best NYC walking tours for fans of arts and culture
In addition to being a hub for business, industry, cuisine, and history, New York City is one of the world's great centers for art and culture.
If you enjoy visiting museums to view priceless works of art, try an immersive guided tour of the incredible Metropolitan Museum of Art. To make the most of your time, you can either opt for a specially curated experience on a Meet the Met tour or cut to the chase and just hit the museum's highlights.
With 41 professional Broadway theaters, visiting New York City is a dream for theater fans. In addition to attending live performances of musicals and plays, you can get an exclusive behind-the-scenes glimpse of Broadway's historic theaters to see how the magic happens.
NYC is also an iconic filming location for movies and TV shows, which you can learn about on sightseeing tours of filming sites around Manhattan, visiting famous spots from movies like Breakfast at Tiffany's.
What you need to know before going on New York City walking tours
Aside from choosing the type of walking tour you want, there are some other important factors to keep in mind when exploring the Big Apple on foot.
First and foremost, you'll want to wear comfortable shoes that you can walk in for long periods of time. Bringing sunscreen, a water bottle and a light jacket is also recommended, depending on the weather.

Take a walking tour to see the Big Apple on foot
Hitting the streets with a walking tour is the best way to see and experience NYC as it was meant to be shared. Locals will tell you to treat sidewalks as roads and always stay to the right, as you must keep it moving in this bustling city!
Original post date: December 20, 2022