Recommended Experiences
in Chicago
What People are Saying

Booked the architectural cruise to celebrate our 24th wedding anniversary. Upon boarding we were led to our table adorned with a rose petaled heart which was a nice touch. The food was delicious, the service was attentive, and the architectural commentary was both informative and humorous. We had a wonderful time and felt very special. 100% recommend this cruise!!! - Joceline Paczoski
My husband and I did this for our 5 year anniversary. We had a lot of fun. Sunset was beautiful. The food and drinks we amazing. We danced to our wedding song. David was great and funny. Amanda made the best drinks. - Kerry Davies
We had our wedding reception on the Odyssey Chicago River and they completed exceeded my expectations. The service, food, décor set up, ambiance, and overall execution of our plan was absolutely perfect. We couldn't have asked for a more unique and fun venue that our guests will never forget. - Dallas Johnson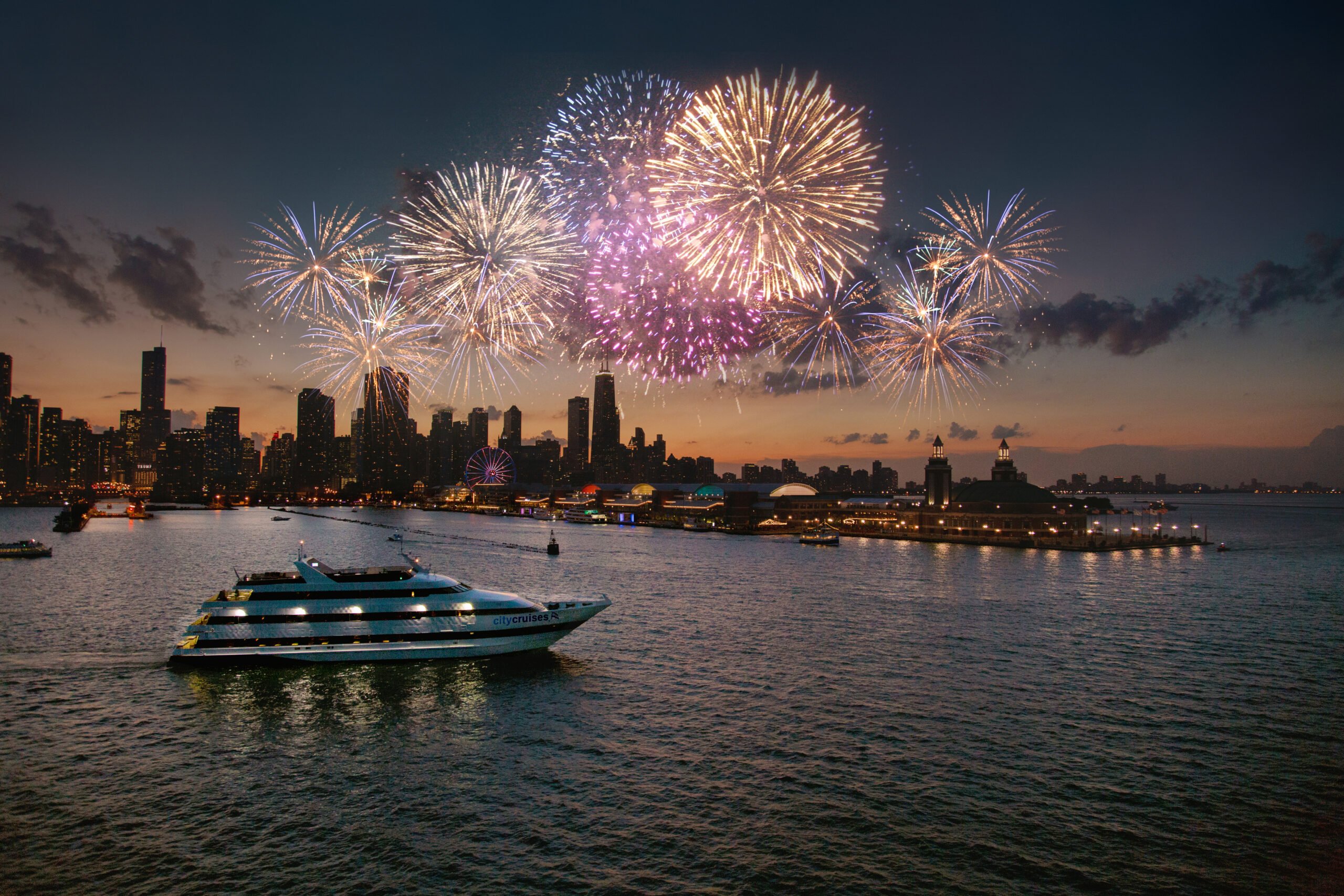 Celebrate New Year's 2024 in Chicago
November 10, 2023
Chicago is a city known for many things, from its incredible cuisine and its unforgettable skyline to its storied past, numerous sports teams, and much more. With so much to
Frequently Asked Questions
What are the top cruises in Chicago?
More about the best boat tours in Chicago
There are many great boat tours in Chicago that offer a variety of different ways to see the city. Some of the most popular boat tours include the Architecture River Tour, historic boat rides, and a Chicago sunset cruise. These tours all offer a unique way to see Chicago and its many famous landmarks. Lake Michigan boat rides are also popular, as they offer a great way to relax and take in the beauty of the city. Whichever type of boat tour you choose, you are sure to have a great time exploring Chicago from the water.
Are private boat charters in Chicago available?
Which landmarks and famous sights can you see on a Chicago cruise?
On a Chicago River cruise, you can see some of the city's most iconic landmarks, including the Willis Tower, the John Hancock Center, and the Wrigley Building. You'll also get great views of the skyline and the river itself. If you're lucky, you might even see a boat race! If you take a boat ride on Lake Michigan, sights to see include the Chicago skyline, the Willis Tower, Navy Pier, and Buckingham Fountain. You might also spot some of the many birds that call the lake home, such as seagulls, pelicans, and herons.