When in Venice, why dine inside when you can dine outside, pairing a meal of classic Venetian dishes and full wine glasses with magical views of the canals, basilicas, palaces, and pastel-colored houses of this floating city?
From cozy back-alley trattorias to grand terraces with Grand Canal views, these are the best places to dine alfresco in Venice.
Get your bearings with a food tour 
To immerse yourself in this city's vibrant food culture, Devour Tours offers two experiences in the Floating City. The Venice Gondola, Market & Food Tour is a three-hour sojourn that kicks off at the Rialto Fish Market, stops at a bacaro (Venetian wine bar) for snacks (cicchetti), and wraps in the neighborhood of Cannaregio over a plate of seafood pasta. 
The Dine Around Venice: Authentic Food Experience is also a three-hour walk, but this one focuses on the San Polo neighborhood, hitting a variety of bacari for cicchetti and drinks, including wine, locally produced prosecco, and a spritz or two. You can even ask your tour guide for their dining recommendations! 
The best restaurants with outdoor seating in Venice 
Whether you want a laidback lunch at a small canal-side trattoria or a high-end fine-dining experience at one of the best restaurants in town, you'll enjoy delicious Venetian cuisine along with magical views at these outdoor-dining restaurants.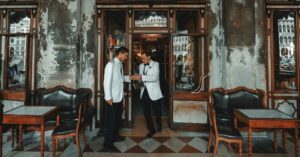 Terraza Danieli 
Located on the rooftop of the Hotel Danieli, the Michelin-starred Terrazza Danieli offers diners an incredible panoras of the city, served with tasting menus that highlight local ingredients in upscale takes on traditional Venetian dishes. 
View-wise, the rooftop location overlooks St Mark's Basilica, the Doge's Palace, and the Church and Belltower of San Giorgio Maggiore across the canal. 
Grand Canal Restaurant 
The refined outdoor seating area at the Grand Canal Restaurant at Hotel Monaco sits canal-side with views of gondolas, the Grand Canal, and the Baroque domes of Basilica di Santa Maria della Salute. 
Specializing in Venetian seafood dishes like fresh fish of the day, the tasting menu is grounded in traditional recipes like bigoli in sauce with innovative twists and creative platings.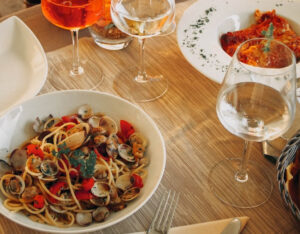 La Zucca 
Meat dishes are a mainstay of Italian cuisine, but La Zucca—a traditional osteria in the non-touristy Santa Croce district—specializes in vegetarian options. (La Zucca means "the pumpkin" in Italian, so it's only fitting.) The ever-changing menu has a strong focus on vegetarian-friendly renditions of homestyle Italian cooking, made with fresh ingredients and paired with good wine. 
While the restaurant does have indoor seating, you can't beat the charming sidewalk seating. Some tables are even right by the canal. Osterias are traditionally low-cost, and that's the case here—you'll find filling, hearty meals at reasonable prices. 
Ristorante da Alvise 
With views of the Venice Lagoon, the glass-blowing island of Murano, and the island of San Michele with its famous 1800s cemetery, this traditional trattoria is a fantastic spot for a laidback waterside meal. 
Along with Venetian classics like seafood, da Alvise is well known for its pizzas, including gluten-free options.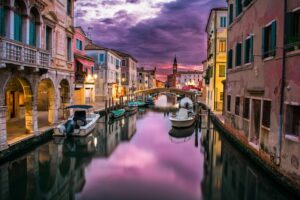 Ristorante Glam 
Set back in a lush, enchanting garden shaded by magnolia trees and surrounded by flowers, dining outdoors at the two-Michelin-star Ristorante Glam is a retreat from the hustle and bustle of the city. 
The fine-dining menu focuses on imaginative, modern renditions of classic Venetian fare, allowing you to taste the traditional flavors of the city in elaborate, artistic, and unexpected forms. 
Club del Doge 
With its gold accents and classical decor, the opulent indoor dining room at Club del Doge makes for a truly special meal out. 
But the alfresco terrace blows the indoor space out of the water. Situated right along the canal, the view from the Gritti Terrace includes Venetian icons like the Punta della Dogana and the Basilica di Santa Maria della Salute. 
The terrace is open from breakfast to dinner, but it boasts the best views at nighttime as the city lights up. 

Trattoria al Gatto Nero 
With a cozy atmosphere and charming canal views, this family-run restaurant, which dates from 1965, is best known for its homemade pasta dishes and fresh-caught seafood. Along with affordable Italian homestyle dishes, you'll also find a wonderful wine list courtesy of the owner's son, who turned his passion for wine into a role as the restaurant's sommelier. 
Located on the island of Burano, Trattoria al Gatto Nero is very much off-the-beaten-path. Make it a day trip to discover the island's colorful houses and lace-making traditions. 
The best new outdoor restaurants in Venice 
Venice has an abundance of historic trattorias and osterias that have been around for years, but you'll also find plenty of newer restaurants to try. One great new addition to the local outdoor-dining scene is the one-Michelin-star Ristorante Wistèria, where the outdoor terrace is shaded with lovely wisteria vines.