With its compact neighborhoods tightly packed together on the promontories and peninsulas of Boston Harbor, Boston's city center is a great place to explore on foot. It's occasionally even called the city of neighborhoods on account of the incredible variety squeezed into such a small space.
Each unique district is within walking distance of the others, allowing you to go from historic neighborhoods full of Revolutionary War landmarks to vibrant, modern areas in a matter of minutes. Here's everything you can see and do in these walkable Boston neighborhoods. 
Explore Boston on a guided walking tour
Along with taking in the sights solo, going on a guided tour of central Boston is a great way to learn about the city's key role in the Revolutionary War. The 2.5-mile Freedom Trail connects 16 important historic sites, and our Freedom Trail Walks Tour visits more of them than any other tour—and passes through many of Boston's top walkable districts in the process.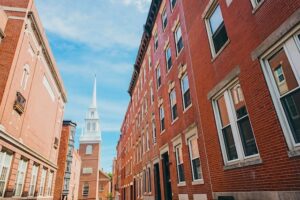 See Revolutionary War landmarks in North End
Boston's own Little Italy with the best Italian restaurants in town, North End is located in the very heart of the city, near where the Charles River meets Boston Harbor. As one of the oldest neighborhoods in Boston, you'll find beautiful historic buildings situated along narrow, winding streets.
North End is also a fantastic neighborhood for history buffs, with numerous landmarks from the Revolutionary War dotted throughout, like the Paul Revere House and the Old North Church.
Enjoy the arts scene in South End
Stroll past Victorian row houses and lush city squares in this vibrant, artistic district, home to galleries, eclectic stores, and nearly 30 parks. Between the historic architecture and magnetic arts scene, you'll instantly see why South End is one of Boston's most popular neighborhoods, especially for young professionals. With tons of acclaimed restaurants, cafes, and food trucks, it's also one of Boston's top foodie destinations.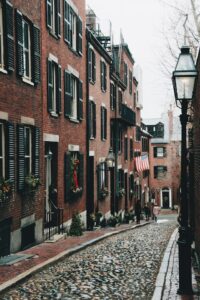 Wander the cobblestone streets of Beacon Hill
First built in 1795, Beacon Hill's stately red-brick row houses and cobblestone streets instantly transport you back to colonial times. Here you'll find popular Acorn Street, a narrow alley that looks like it hasn't changed in hundreds of years. From there, the verdant gardens, statues, and ponds of Boston Common are a short walk away.
Beacon Hill is also the home of the Massachusetts State House, the Black Heritage Trail, and a modern-day icon, the Cheers bar on Beacon Street. In such a compact district, you truly do feel like everybody could know your name.
Go shopping in Back Bay
You could spend hours wandering Back Bay's romantic, tree-lined residential streets, admiring the Victorian brownstones and soaking up the river views at the waterfront Charles River Esplanade.
While the beautiful architecture alone is enough to make Back Bay a must-visit on your Boston itinerary, this upscale neighborhood is also one of the city's premier shopping and dining destinations. Along Newbury Street, you'll find trendy boutiques, high-end restaurants, cute cafes, and luxury designer brands.
Hit the highlights in Downtown Boston
Past, present, and future collide in the dynamic downtown area, where historic buildings like Faneuil Hall and the Old State House are juxtaposed against modern skyscrapers and City Hall—the latter a renowned example of Brutalist architecture.
Within a tightly packed 1.5-square-mile area, you can go shopping at the Boston Public Market, view sea life at the New England Aquarium, and catch a live show in the Theatre District, all just a few blocks apart.
Learn about Bunker Hill in Charlestown
Known for its brightly painted clapboard houses, graceful brownstones, and Irish-American heritage, the Charlestown neighborhood in North Boston holds the distinction of being the oldest neighborhood in the city.
This is where you'll find Bunker Hill, a key stop along the Freedom Trail. At the Bunker Hill Monument, you can learn all about the Battle of Bunker Hill in 1773, during which American and British armies faced off for the first time. Afterwards, pop over to Main Street for a beer and grub at one of the many cozy taverns and eateries.
Catch a game in Fenway-Kenmore
Even if it's not baseball season yet, you can't come to Boston and not pay a visit to the famed Fenway Park, home of the beloved Boston Red Sox. Even if you can't catch a game, this lively neighborhood still makes for a great outing, with packed restaurants, bustling streets, and a lovely rose garden. It's also the home of the Museum of Fine Arts and Boston University, so you're likely to encounter both sports fans and students around the district.

Discover the true Boston in its walkable, historic neighborhoods
Meandering around Boston's city center on foot is one of the best ways to see and experience this walkable large city's top attractions and destinations, as well as get a taste of its rich, storied history. But it's also worth exploring further afield, considering other walkable neighborhoods like Central Square.