Peak Bloom: What to Do at DC's National Cherry Blossom Festival
The first sign of spring will soon be coming to the capital, as the cherry blossoms begin to bloom. It's a tradition over a century old 
Washington, DC's 2022 National Cherry Blossom Festival marks the 110th anniversary of the 1912 gift of 3,000 cherry trees from Tokyo, Japan's, Mayor Yukio Ozaki, to the US capital.
This year's Cherry Blossom Festival will be held from March 20th to April 17th, with the National Park Service predicting peak blooms from March 23rd to March 25th. DC expects to welcome 1.5 million people to this year's festivities.
The festival kicks off on March 20th with a special night of performances at DC's Warner Theatre, featuring taiko drum player, Toshihiro Yuta, and samurai artist, KAMUI, followed by acclaimed Japanese group, The Minyo Crusaders, who combine traditional Japanese folk songs (Minyo) with Latin and Afro-Cuban rhythms.
On April 9th, you can join the National Cherry Blossom Festival Parade along Constitution Avenue Northwest to see the amazing cherry blossom-inspired floats, DC celebrities, and marching bands in an exciting display of local talent and the enduring friendship between the US and Japan.
April 16th is the day for family fun at the National Cherry Blossom Festival Petalpalooza, an all-day celebration of art and music with plenty of kid-friendly activities and a beer garden along the Anacostia River. The ending ceremonies culminate in an amazing, choreographed fireworks show that always brings the house down.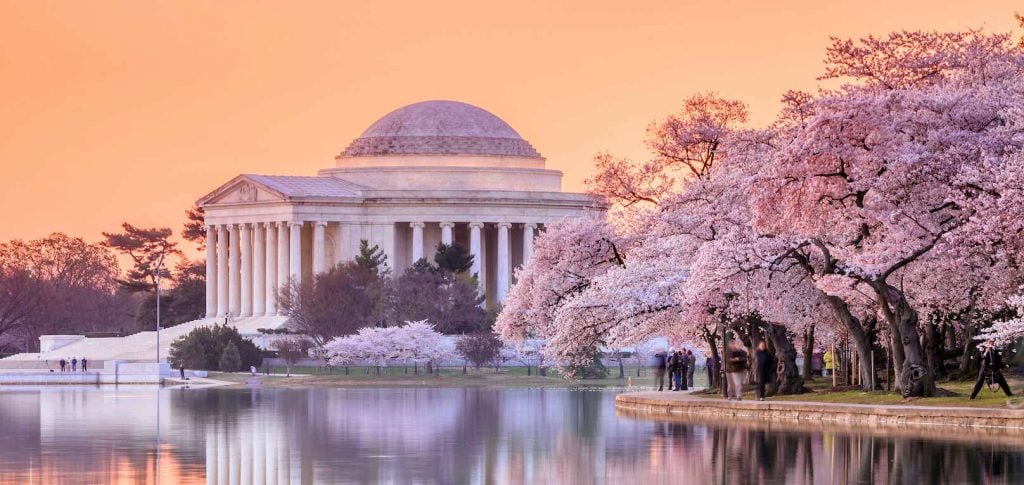 For peak blossom pics, it's worth a visit to Tidal Basin, the man-made reservoir between the Potomac River and Washington Channel. Come in the early mornings, before it gets busy, for beautiful views and more photo ops at the nearby Martin Luther King, Jr. and Franklin Delano Roosevelt Memorials.
Check out City Cruises, DC to see the cherry blossoms (and all of DC's beautiful spring) from the water on a brunch, lunch, or dinner cruise. Avoid the crowds and enjoy a cocktail or mimosa while cruising all of DC's iconic sights.
Throughout the festival you can take the Cherry Blossom Water Taxi from The Wharf to Georgetown, Old Town Alexandria, and National Harbor for up-close cherry blossom views, whether for a beautiful commute or an easier way to get around DC. Check the schedule to find departure times nearest your location.