As the United Kingdom's largest metropolis, London has a wealth of history and culture. The city is known as a hot spot for museums, restaurants, pubs, shops, iconic landmarks, and local attractions (we see you, Big Ben). As you relax on one of its celebrated double-decker buses, there's something else just as engaging visitors will discover about this destination.
Fancy a guess? Here's a hint: It's visually appealing, sometimes provocative, and something people often pass by during their daily travels (and no, we're not talking about the city's signature retro red telephone booths). Instead, the amazing street art of London is designed to make viewers pause and reflect and can be seen and experienced almost everywhere you go. The best part? These stunning murals are free to marvel at any time—for as long as you like—and are considered modern masterpieces for the spectacular colors and subjects they feature.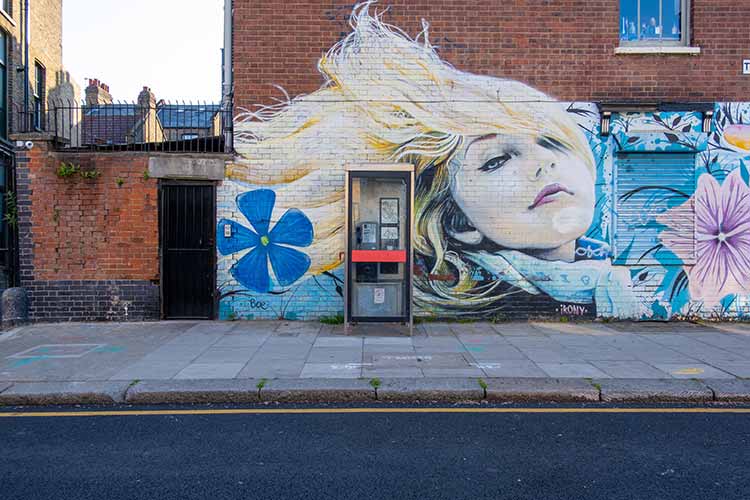 Creative Endeavors
When you think of street art, bold and beautiful are two words that come to mind. Nowhere is that more apparent than in London. Vibrant walls can be found in a host of areas and styles, whether its psychedelic examples (like Project Zero, an ocean conservation mural on Carnaby Street) or art installations inspired by real-life events (like Zabou's "I Miss You" in Tottenham). There's so much to discover, but let's start with East London where flower power is in full effect through "Gucci ArtWalls: Ken Scott" on Brick Lane.
Developed for the celebratory launch of its new Epilogue Collection, this work features the dynamic hues and patterns of Ken Scott, the American designer affectionately known as "Fashion's Gardener." His Pop Art–style prints flourished in the '70s and grew into accessories, bags, and ready-to-wear interpretations from the House of Gucci.
Heading to Harrow, street art enthusiasts will find that "Love Always Wins" at Harrow & Wealdstone Station—which is clearly stated in the vibrant work of Yinka Ilori. Situated around the corner from the artist's former studio, this multicolored mural reinvigorated the red brick walls of this location, and the result is artistic bliss.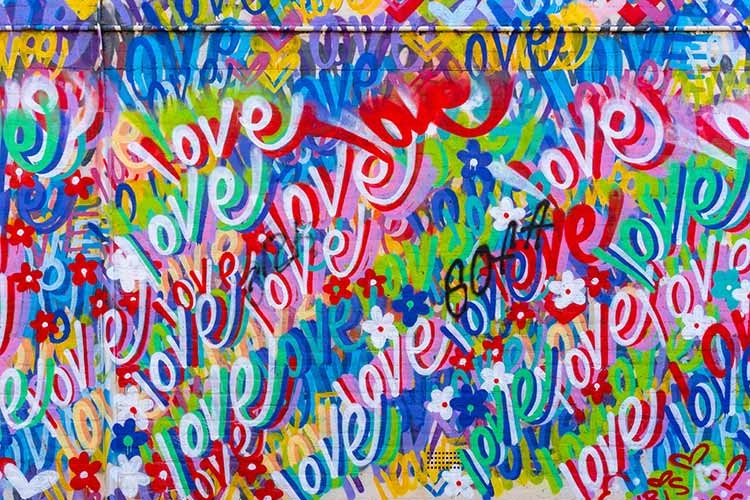 For those who want to continue a playful path, Edward Crooks' "Rosebank Arcade" in Waltham Forest scores big points. What was previously just another busy pedestrian passage has been elevated to bright heights with neon murals boasting colors of blue, pink, and yellow, and patterns that provide lots of motion in the mind. For 20 meters, this walkway becomes an immersive experience complete with windows that beckon to the building's former life.
And speaking of lives, let's look at how serious London is about its street art because it's committed to creativity. So much so that in September 2020 the first ever London Mural Festival (LMK) took place. More than 150 artists from around the world painted 50-plus, large-scale walls across the city, and this public gallery brought art, hope, and pride to the people during a time when they needed it most. The pandemic couldn't stop the joy this work provided. It was so popular that there's talk of another iteration of LMF coming to town in 2024.
Of course, we'd be remiss not to mention at least one of the major works that sparked so much jovial wonder—Camille Walala's "Walala Parade" in Leyton. The London-based artist has a history of heartening works all over the city (see the "Dream Come True" mural in Shoreditch for one), but "Walala Parade" is one of the largest public art projects found in the metropolis. Its alteration of Leyon High Road into a dazzling color-blocked display of numerous patterns entices passersby to explore its walls and find inspiration all along them.
Yet why stop at Walala? To end your day on a high note, life your spirits and set your sights on Brick Lane where you'll find Luke Smile's "Happy Go Lucky." This mural provides double happiness as it runs across the shutters of two adjacent shopfronts. The words are presented in a typeface that's three dimensional to offer plenty of depth and drama on the backdrop of some serious smiles.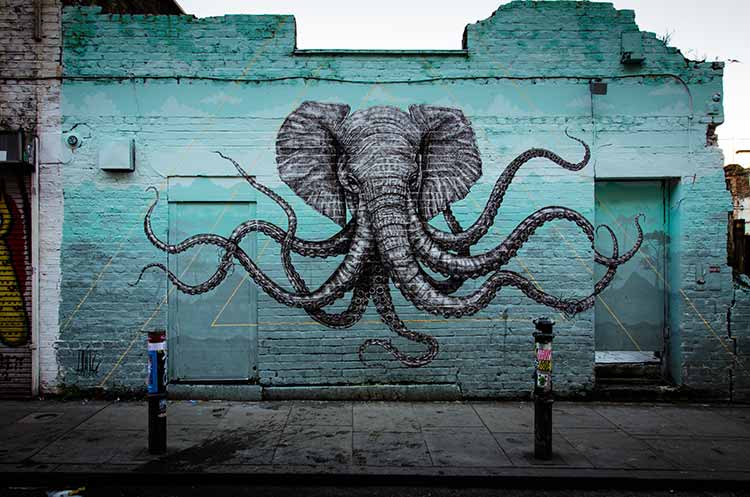 Creative Eats
After packing in a day full of street art that's nurtured your soul, it's time to satisfy your other senses. The ideal way to do it? Let someone else steer the ship so you can sit back and indulge in some great food and music. Jazz aficionados hit all the right notes (with no need for noodling) during a dinner cruise on the River Thames. It features fab drinks, a three-course meal, and songs that span mainstream Swing and Latin—as well as classics tunes—as the soundtrack to an excursion that serves to showcase a host of iconic sites including the Tower Bridge and Canary Wharf (among others) in the best possible light.
For those who opt for rock and roll, a cruise fit for a king is exactly what they need to embark on and the Elvis Tribute Cruise delivers. It commemorates our American royalty in style with song, dance, and top-notch food and drink led by an award-winning tribute artist who gets audiences all shook up for a memorable night of fun.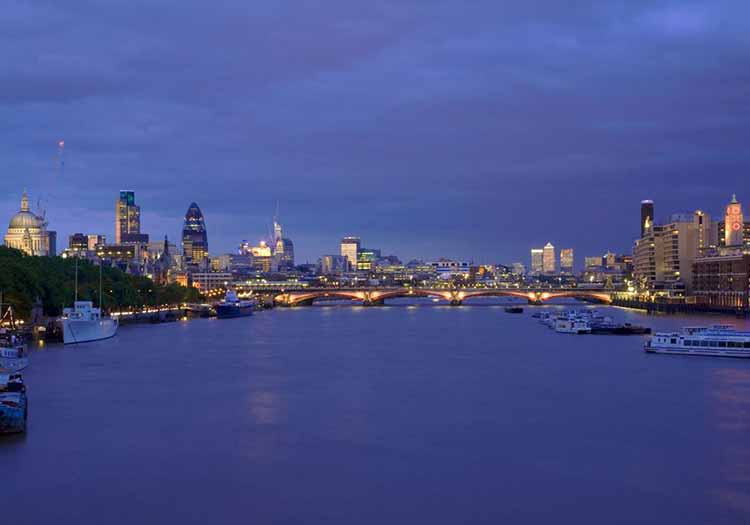 While this is only a small sampling of the street art that you might find in London, resources remain easy to access and keeping your eyes wide open for new work is a large part of what makes the city such a vibrant place to visit. Just make sure you've got your camera or phone at the ready because you won't want to miss an opportunity to capture what you can.