Springtime in Washington D.C. means one thing: Cherry Blossoms. Signaling the start of warm weather and dubbed the nation's greatest springtime celebration, the capital hosts the National Cherry Blossom Festival annually. More than 1.5 million people gather to enjoy cultural and art programming provided through NCBF during this scenic time.
City Cruises is delighted to be a sponsor at the 2023 National Cherry Blossom Festival., which will run from March 20-April 16 and include tons of fun events for you to enjoy during this joyous, time-honored tradition.
There are many opportunities to behold the beautiful cherry blossoms while avoiding the crowds and influx of tourists. One way is to come aboard with us! We offer a variety of cruises during cherry blossom season, in which you can enjoy the breathtaking scenery and festivities with loved ones and friends.
One of our favorites is the Cherry Blossom Premier Brunch Cruise. Treat yourself to a historical tour of Washington D.C. while observing some of the most iconic landmarks in the country like Old Town Alexandria, the National Harbor, and the Washington Monument. These sites provide a stunning cherry blossom backdrop for Instagram-worthy posts. Sit back, relax, and enjoy a cocktail or mimosa while cruising all of D.C.'s amazing sights.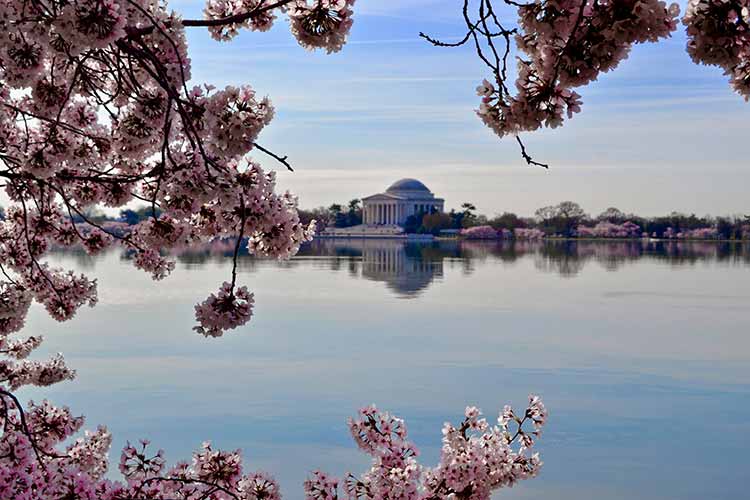 What do during the 2023 National Cherry Blossom Festival
The National Cherry Blossom Festival this year kicks off on March 25th with its signature Opening Ceremony—a tribute to the longstanding friendship between the United States and Japan, and which features artists with ties to both countries.
A parade will be held on April 15, 2023, along Constitution Avenue. Onlookers will enjoy colorful helium balloons, marching bands from across the country, elaborate floats, and celebrity entertainers. These performances and celebratory music will help usher in the arrival of spring in Washington, D.C.
The Blossom Kite Festival held on March 25th is a day of family fun. All ages can enjoy a day of traditional Japanese music, activities, competitions, and performances.
Celebrate spring at Petalpalooza, April 8th, with a full day of live music and activities for all. This all-day event brings art and music to multiple outdoor stages, family-friendly activities, DC sports mascots, and a cashless beverage garden along the banks of the Anacostia River. Finish the night with a spectacular National Cherry Blossom Festival Fireworks Show set to music starting at 8:30 PM.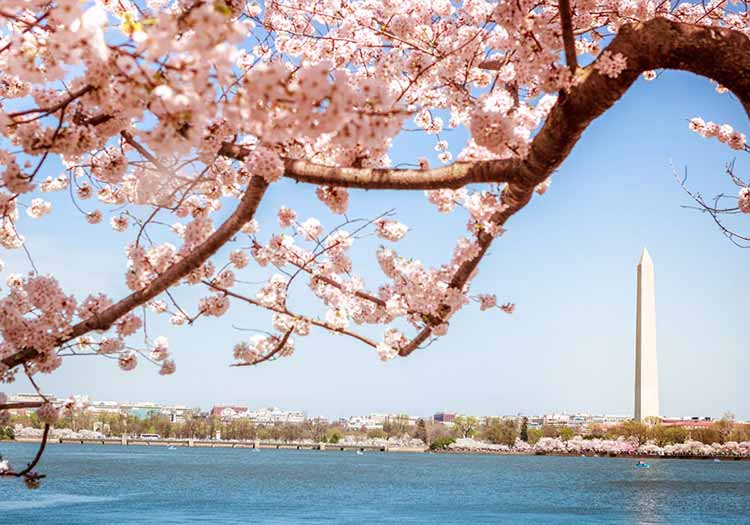 The fascinating backstory to How Cherry Blossoms came to Washington D.C.
The capital's first Cherry Bloom festival took place in 1935, but the seeds for it were planted decades earlier when  Eliza Scidmore, the first female board member for National Geographic visited Japan and fell in love with the beauty of cherry blossom trees. Wouldn't it be wonderful if the nation's capital was adorned with such beauty every Spring, she had wondered aloud. When Scidmore's sentiment fell on deaf ears among the city's elite, she wrote a passionate letter to  Helen Taft, the wife of President Taft. The first lady, having previously lived in Japan, was familiar with the beauty of the flowering trees and embraced Scidmore's idea. Then she set the wheels in motion. Mrs. Taft felt that not only would Cherry Blossom trees serve as a lovely beautification to the Capital, but also as a bond of America's friendship with Japan—where the Cherry blossom is an iconic part of that country's cultural heritage
Soon after, Dr. Jokichi Takamine, a chemist from Japan visited D.C. and offered the cherry trees to the First Lady. They arrived at their destination, but the Department of Agriculture quickly discovered that the trees were infested with harmful insects and needed to be destroyed. Japan then made a second donation and on March 26, 1912, the new cherry tree saplings arrived and were planted along the Tidal Basin. That day, the first lady, Helen Taft, and Viscountess Chinda, wife of the Japanese Ambassador, planted two cherry saplings on what is now Independence Avenue. The First lady presented Viscountess Chinda with a bouquet of "American Beauty" roses at the conclusion of the event. What eventually sprouted from this simple ceremony is The National Cherry Blossom Festival, which is now a treasured national tradition.
In the spirit of gift-giving, in 1952, the United States National Park Service reciprocated the gesture and shipped budwoods from the same cherry tree descendants back to Japan—to help restore the original grove when parent stock for Washington's first trees had fallen in decline in Tokyo near the Arakawa River during World War II. This symbolized the cycle of giving and friendship.
In 1954, rededication of this lasting friendship between nations was commemorated on the 100th anniversary of the first Treaty of Peace, Amity, and Commerce, with the presentation of a 300-year-old Japanese Stone Lantern to the City of Washington. This lantern is one of two; the other remains in Ueno Park in Tokyo, Japan. The Japanese Stone Lantern weighs approximately two tons and stands eight feet high. The lighting of this lantern officially opens The National Cherry Blossom Festival every year.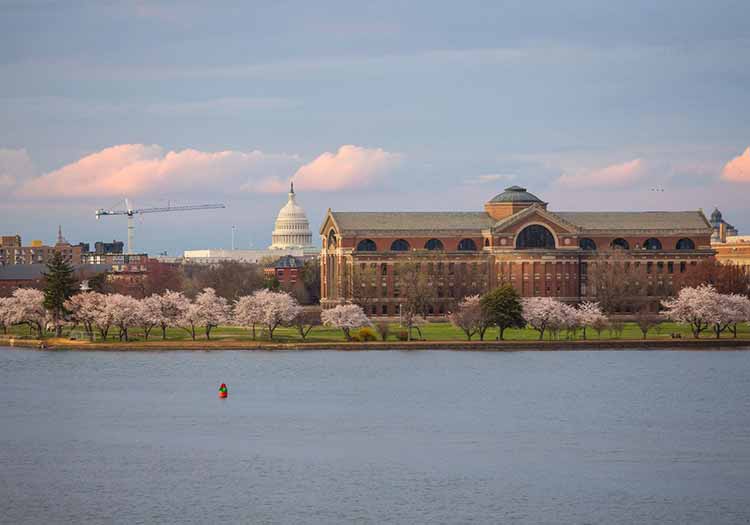 Blossom Watch
Cherry blossom season is one of the busiest times of the year in Washington, D.C., which can make driving and parking throughout the city quite challenging. You can expect traffic to become heavier during peak bloom. Many people try to take pictures while driving slowly– often referred to as "diginecking," and curbside drop-offs and taxis exacerbate the congestion even further. Take advantage of Cherry Blossom Water Taxi to alleviate the headache of being stuck in a car and view the blossoms while cruising along the Potomac River.
The average peak bloom date for Washington's cherry blossoms is typically April 4. However, it is occurring earlier than in years past. Since 1921, on average, peak blooms have shifted to seven days earlier. This year's predictions have yet to be determined. Plan to see the blossoms sometime around the last week of March into the first week of April. Check here for updates and weather conditions.
This year's National Cherry Blossom Festival, in partnership with City Cruises, is a testament to the enduring bonds of friendship between the United States and Japan, as well as to the spirit of renewal. Above all, the annual cherry blossom season is a beloved celebration of natural beauty. Be sure to get your front seat to this once-a-year tradition and reserve your tickets early!