San Diego, a place with perfect weather nearly year-round and 70+ miles of idyllic beaches, draws in over 35 million visitors annually. This sun-filled city lies next to the Pacific Ocean in the South of California and is well-known for its mild climate and deep-water harbor making it a beautiful beach destination with fun family activities, water sports for all ages, and many exciting water experiences to pursue. With the vast stretch of beaches, San Diego water activities are at the top of the list for many of this city's visitors and with so much to choose from, you could not find a better city if you love the water! 
Top San Diego Water Activities
Due to the many beaches in San Diego, water activities are a top priority for many visitors. These water activities range from leisurely days spent sunbathing at the beach to thrilling rides on jet skis. With so many water-related options to choose from in San Diego, it can be challenging to narrow down the list. Here's a list of the top San Diego water activities.
San Diego Water Activities: What to Do in San Diego
The below activities are an excellent way to enjoy time spent in San Diego while making the most of the weather and nearby water. Add one (or all) of these activities to your itinerary for a fun, jam-packed trip to the Pacific coast.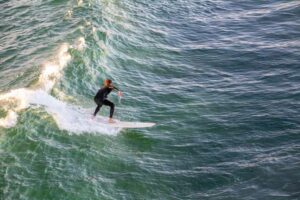 Surfing
Surfing is a top choice for many travelers who decide to spend their time in San Diego. With many available surf shops and lessons, San Diego is an ideal spot for novice and seasoned surfers.
Each beach in San Diego provides a different experience, allowing you to cater surfing to your needs. For example, La Jolla Shores is ideal for families as there are year-round lifeguards and smaller waves.
Stand up Paddleboarding
Stand up paddleboarding (SUP) is a top activity in San Diego that includes using a paddle and a larger board to travel across the water. It's one of the best ways to get close to the local marine wildlife and enjoy being on the water without getting too wet!
Many beaches have SUP rentals nearby, with Mission Bay being a top paddleboarding destination. It features calmer waters, allowing for a more peaceful ride on the water.
Kayaking
Visiting between summer and fall is the ideal time for kayaking in San Diego; these months typically offer calmer waters with warmer temperatures. This activity is appropriate for families, couples, and solo travelers. A popular kayak variety in San Diego is the sit-on-top variety, which is beginner-friendly.
Head to Coronado Island, Mission Bay, or La Jolla Shores for the best kayaking spots. Tours and solo excursions are available at most San Diego beaches.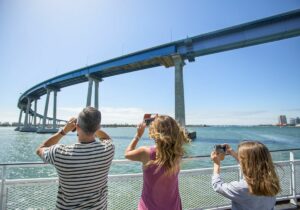 Boat Tour/Cruise
Many cruises are available on San Diego Bay, ranging from Premier Brunch Cruise options that offer live jazz music and are the most popular for unbeatable views and a mid-day relaxing meal with free-flowing bubbly. Experience a romantic Dnner Cruise with spectacular views of top San Diego attractions and a delicious plated dinner made on board with fresh local and seasonal ingredients. Regardless of your interests, there's an available boat tour or cruise option to aid you in staying entertained during your trip to San Diego. See the many offerings here.
Fishing
There are many different areas to go fishing in, offering the option to drop a line in freshwater, saltwater, or off a pier. Lakes, reservoirs, and the Pacific Ocean create an incredible fishing environment where everyone from beginner to seasoned anglers can try their hand at catching fish. San Diego is home to the largest sport fishing fleet in the world. Saltwater fishing provides the opportunity to catch yellowfin, bluefin, yellowtail, and albacore, to name a few. Freshwater fishing allows you to try to catch largemouth bass.
Snorkeling/Scuba Diving
Snorkeling and scuba diving in San Diego offer a picturesque setting unlike any other. This area is well-known for the vast amount of kelp growing throughout the water, providing a forest-like appearance for visitors and locals alike.
La Jolla and Point Loma are especially attractive snorkeling and diving spots, as they offer some of the best underwater views. Adventurous divers can visit San Diego's Wreck Alley, an artificial reef created by an intentionally sunk Canadian destroyer escort.
Parasailing 
If you like adventure, try a thrilling and unforgettable sports experience where the combination of an offshore powerboat ride, parachuting, ballooning, and gliding are all rolled into one! San Diego has an abundance of options to choose from such as beach parasailing where you take-off from the beach, platform method parasailing, which is similar to beach parasailing though differs in the steering instructions, or winch boat parasailing where you take off from a boat deck. This is the most commonly used method and is considered the safest. There are many places that offer parasailing so do your research and pick from the option that best suits your desired experience. San Diego parasailing adventures are top-rated and have been in business since 1989. Mission Bay Sportscenter is another great option for families, and they are open seven days a week. Fiesta Island Park is a vast peninsula with recreational activities and the supervision of a lifeguard. This action-packed adventure offers extraordinarily scenic views during the flight.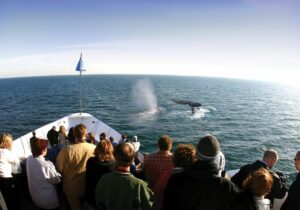 Whale Watching
Gray and blue whales are abundant in San Diego's waters, each more prevalent in different seasons. Gray whales typically appear in winter and spring, while blue whales pop up in summer and fall. This shifting migration schedule ensures you'll see whales regardless of the season you visit San Diego.
The best way to see these majestic creatures is by taking a whale-watching tour on beautiful San Diego Bay. Dolphins are also typically visible on these tours along with other San Diego landmarks during the excursion.
San Diego Water Activities: Planning Your Trip
One of the best ways to plan a trip with San Diego water activities includes researching the available activities to determine which options require booking and which activities you can book on the spot. In general, tours require tickets to be purchased in advance. Other activities, like surfing, SUP, and snorkeling, can be paid for upon arrival.
By booking your spot ahead of time for the necessary activities, you can ensure that your spot is saved. Otherwise, you run the risk of missing out on your desired activities.

FAQ:
What are the best places for water sports in San Diego?
While there are many options for water sports, these are some of the top-rated choices you can pursue.
What are the available water sports in San Diego?
There's quite a list of available water sports in San Diego. Below is a short list of the available options.
Surfing
Paddleboarding
Kayaking
Boating
Sailing
Fishing
Snorkeling
Scuba diving
Why is San Diego full of water activities?
San Diego's many available beaches and proximity to water have helped it become a top destination for those seeking various water-related activities. The pleasant sunny days also keep San Diego a top choice for travelers wanting to spend their days on the water.
What water activities for kids are in San Diego?
Other family-friendly water activities include swimming/playing at the beach, spending time at the Aquatica San Diego Waterpark, kayaking, surfing, and hydro biking. These are some of the water-related activities that are safe for kids to pursue.
Original post date: August 16, 2022