The highly anticipated countdown begins in late March. This is when New Yorkers (and many people in other cities) eagerly await the beautiful sight of pink and white cherry blossoms. "These blooms often last no more than two weeks and are also a symbol of renewal and the ephemeral nature of life," explains the website Brighter Blooms.
There is a fascinating backstory to America's popular bloom watch. In 1912, the mayor of Tokyo gave 3,000 cherry trees to the U.S "to plant around the Tidal Basin in Washington," says Southern Living magazine. (The cherry blossom is Japan's unofficial flower.) New York city was gifted with 2500 trees. Today, Washington, DC is widely known for its cherry blossoms around many of its national monuments.
While Washington, DC may be a hub for the fragrant cherry blossoms, New York City is a perfect place to visit some of its own wonderous parks to enjoy these distinctive, lovely blooms. Come springtime, you will not want to miss seeing and smelling them.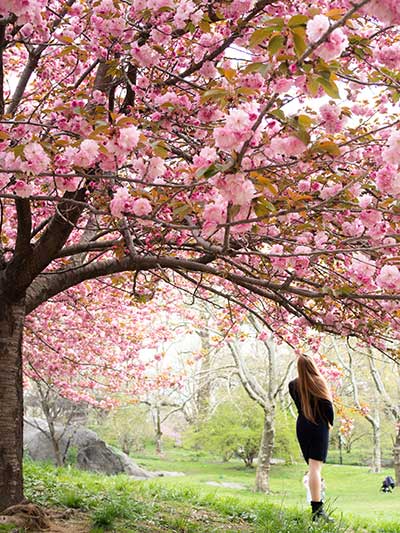 Brooklyn's Finest Blossoms
The Brooklyn Botanic Garden, founded in 1910 and officially opened in 1911, is a botanical oasis in Brooklyn, NY. "Creating a public garden was one way to ensure that some green space remained" in New York City, according to the Brooklyn Botanic Garden website. "Today, the Garden has come to represent the very best in urban gardening and horticultural display."
In April, the Brooklyn Botanic Garden celebrates cherry blossom season as well as all the other spring blooms. Typically, the BBG will feature pop-up music and dance performances, craft activities for families and children, tours of the Garden, and the chance to speak with gardeners. Keep an eye on the BBG website for all the cherry blossom celebrations to come this spring.
Manhattan's Best Parks for Cherry Blossoms
Since Sakura means cherry blossom in Japanese, one of the best places to see the blooms is none other than at Manhattan's Sakura Park in Morningside Heights.  As Washington, DC received cherry trees in 1912, New York City accepted 2,000 of which some were planted at Sakura Park, Riverside Park, and Central Park. Sakura Park is the perfect place on the Upper West Side to see these blooms come springtime.
Riverside Park,  which is alongside the Hudson River on Manhattan's Upper West Side, is "one of only eight officially designated scenic landmarks in the City of New York," according to nycgovparks.org. Stroll down Cherry Walk between 100th Street and 125th Street to see everything from the Kwanzan pink cherry blooms to the crabapple blossoms.
One of the best-known parks around the world is Central Park in the heart of Manhattan. There are three places to see cherry blossoms during spring in Central Park. On the bridle path on the west side, you can see the Okame cherry trees in early spring. You can also see the Yoshino cherry trees at Cherry Hill, which is near the famed reservoir. Then later in the cherry blossom season, view the Kwanzan cherry trees, also at the reservoir.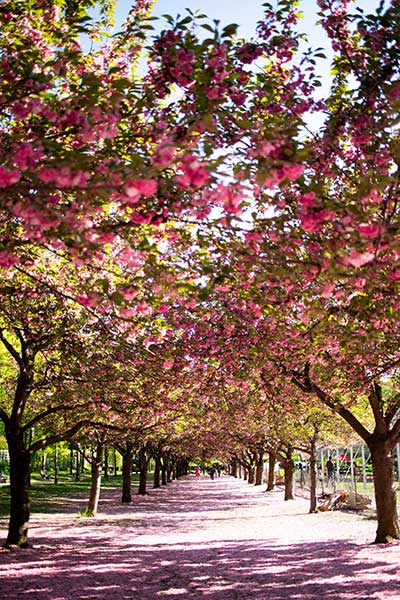 Cherry Blossoms in Bloom in Queens
Flushing Meadows Corona Park, which has hosted two iconic World's Fairs, is a great place to view some beautiful cherry blossom blooms during springtime. You can view Okame cherry trees in the park near the Unisphere, and they are typically the first of their kind to bloom in New York City! Keep an eye out for cherry blossom tours and festivals this spring.
Hunter's Point South Park is the perfect park to see spring's cherry trees, offering stunning views of the skyline of midtown Manhattan. A former "post-industrial area in Long Island City," the waterfront park has playgrounds, a dog run, bikeway, picnic areas, and a central green. Here you can see the Yoshino cherry trees as you catch the great views.
Cherry Trees in Staten Island and the Bronx
From cherry blossoms to crabapples and red maple trees, catch them all in springtime at Silver Lake Park in Staten Island. You'll relish the views of the lake and the sight and scent of the blossoms. It's a great park to walk trails and wander in open spaces. While the lake is at the park's center offering breathtaking views, the park also offers an 18-hole golf course, tennis courts, and sports fields.
You might not think of spring cherry blossoms when you think of the Bronx, but please do! Visit Pelham Bay Park, which is three times larger than Central Park. From bridle paths to hiking trails as well as Orchard Beach, Pelham Bay Park is a perfect place to check out not only the cherry blossoms of spring but the seafood of nearby City Island. Make it a day trip this spring to see the Yoshino cherry blossoms near City Island Bridge.
New York City may be known for its nightlife, restaurants, museums, and iconic skyline, but it also has parks galore and outdoor activities like no other city. And come the spring, the city that never sleeps becomes a magnificent showcase for cherry blossoms.