There's no place quite like Venice, or Venezia as it is known in Italian. It's a magical and charming city with a long and rich history. "It was the greatest seaport in late medieval Europe and the continent's commercial and cultural link to Asia," according to Britannica.
Venice was "built upon a group of 118 small islands that are divided by channels and linked together with bridges," explains VisitingVenice.net. The unique and beautiful location sets it apart from other cities, along with its magnificent architecture and art.
When in Venice, Check All the Festivals the City Has to Offer
This cultural mecca is also known for some renowned festivals throughout the year. Venice is home to the Biennale Musica, the International Festival of Contemporary Music. In 2023, the festival will be held in October. The 2022 program featured events that center around new forms of experimental music theatre.
From the end of this past August well into the first week of September, Venice was teeming with actors, directors, and films for the 79th Venice International Film Festival. This festival is the oldest of its kind and is a star-studded event that brings in celebrities from all over the globe. "The aim of the festival is to raise awareness and promote international cinema in all its forms," according to labiennale.org. Check here for 2023 tickets.
The Biennale Arte 2022, the 59th International Art Exhibition took place April 23 to November 27. It is known as one of the world's most prominent exhibits for contemporary art, according to Timeout. Titled The Milk of Dreams, it featured 213 artists from 58 countries. The festival also included historical capsules, national participations and  was curated by Cecilia Alemani, who has put together many exhibitions featuring contemporary artists.
More Venice Festivals for Lovers of The City
Visit Venice this April for the Festa di San Marco, which is held on April 25, 2023. Known as The Feast of Saint Mark, the religious celebration is dedicated to Saint Mark the Evangelist, patron saint of Venice. It is also known as the Rosebud Festival, in which men give a rosebud to the women they love. It includes a holy mass followed by a celebration that features dancing and live music.
Don't miss Venice Carnival. For the two weeks leading up to Shrove Tuesday (or Mardi Gras), there is no place like Venice. You'll find many of the events on St. Mark's Square. "Colorful parades on water and land, regatta boat races, kids' fairs and free live performances keep the city abuzz, especially during weekends, but the ultimate Carnivale experience is attending a masquerade ball," says Timeout.com. You can also sign up for a mask-making workshop so you'll have one to wear one during the festivities.
Every year from January through April and June through August, see Veneto Jazz. The list of famed musicians and up-and-comers is vast and there's a mix of local and international talent, as well. You'll have the chance to hear some great jazz in two historic venues: Teatro la Fenice or Chiesa della Pieta.
Tours to Help You Experience What is Venice
Get to know Venice by way of its food. The Venice Gondola, Market & Food Tour is a way to wind your way through Venice while learning about the city's history and food culture. From exploring the Rialto Fish Market to sampling fresh seafood pasta, you'll get a true taste of what is Venice as well as taking a short gondola ride. Start at a local Venetian bar, snack on Venetian bites, and enjoy a famous canal spritz.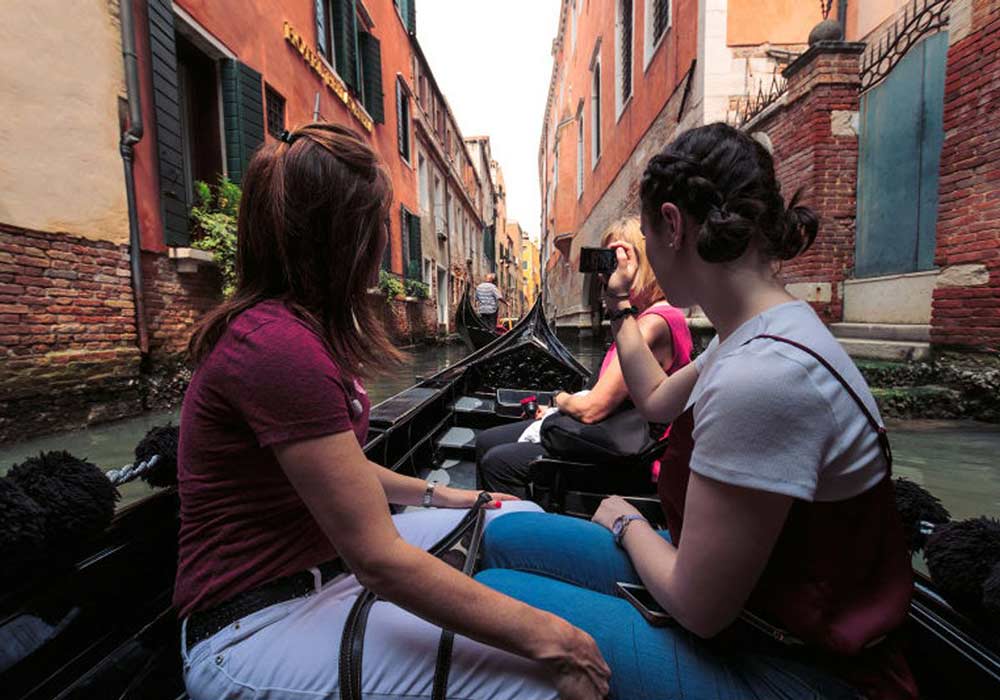 The Venice Boat Tour with Grand Canal & Tower Climb will take you through Venice but by boat. You'll take a private motorboat and explore the winding canals of the city. The VIP experience is limited to nine people, plus your guide. You'll see spectacular sights, such as St. Mark's Square, the Doge's Palace, the Bridge of Sighs, Rialto Bridge, and so much more.
The city of Venice is truly magical. From gondola rides on the canals and the tiny streets to festivals throughout the year, Venice always has something to beckon you back for more, Italian style!