Full of historic architecture and fantastic ocean views, Boston Harbor and the Boston waterfront are among the Massachusetts capital's best places to explore.
After going on a walking tour of the Freedom Trail,  you'll need a place to grab some grub. These waterfront restaurants around Boston are the best spots for views and delicious dining, especially fresh seafood.
The best new waterfront restaurants in Boston
Not all restaurants are created equal. Some have magnificent views as well as delicious fare. Opened within the last few years and enduring despite the pandemic, these recent additions to Boston's waterfront dining scene offer a range of cuisines, price points, and aesthetic experiences at lunchtime.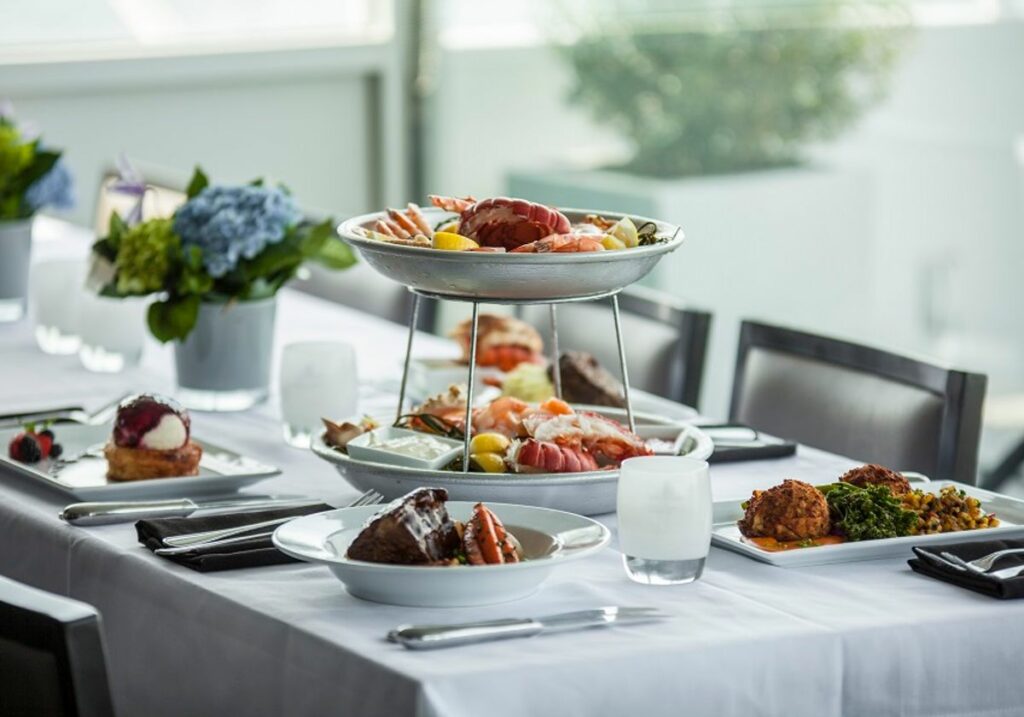 1. Woods Hill Pier 4
Situated in the Seaport area, close to the Institute of Contemporary Art and Fan Pier Park, Woods Hill Pier 4 is an elegant, upscale place for a waterfront lunch.
Start with decadent appetizers, like caviar and shellfish platters, before moving onto mains, like butter-poached lobster and sustainably raised meats and vegetables from the owners' Woods Hill farm.
2. Temazcal Tequila Cantina
Need a break from New England seafood? Head to the chic Temazcal Tequila Cantina in the Seaport area.
Here you'll find modern Mexican cuisine with a regional twist (think: lobster guacamole). But there are also plenty of classics, like fish tacos or fajitas with Mexican fried rice. The delicious food pairs exceptionally well with an excellent tequila selection, which you can imbibe solo, in a margarita, or as part of a tasting flight.
3. Bay Pointe Waterfront Restaurant
If you want to escape the hustle and bustle of central Boston but stay in the metro area, head roughly 45 minutes south along the coast to the quaint town of Quincy, for lunch at this tranquil, laid-back waterfront spot.
Tranquil breezes and picturesque views will make it worth the drive to South Shores with boats and the bay as your backdrop along with a sophisticated nautical décor, the ambiance is simple and elegant. Lunch entrees include lobster rolls, pan-seared salmon, and shrimp tacos.
4. ReelHouse East Boston
Most waterfront restaurants in Boston are found in the North End and Seaport districts, looking across the harbor toward East Boston. But if you're dining at ReelHouse, the views are reversed, allowing you a unique perspective on central Boston from the indoor or outdoor seating areas.
Start lunch off strong with a fresh seafood tower before diving into delectable mains, like linguine and clams, and pepper-crusted swordfish.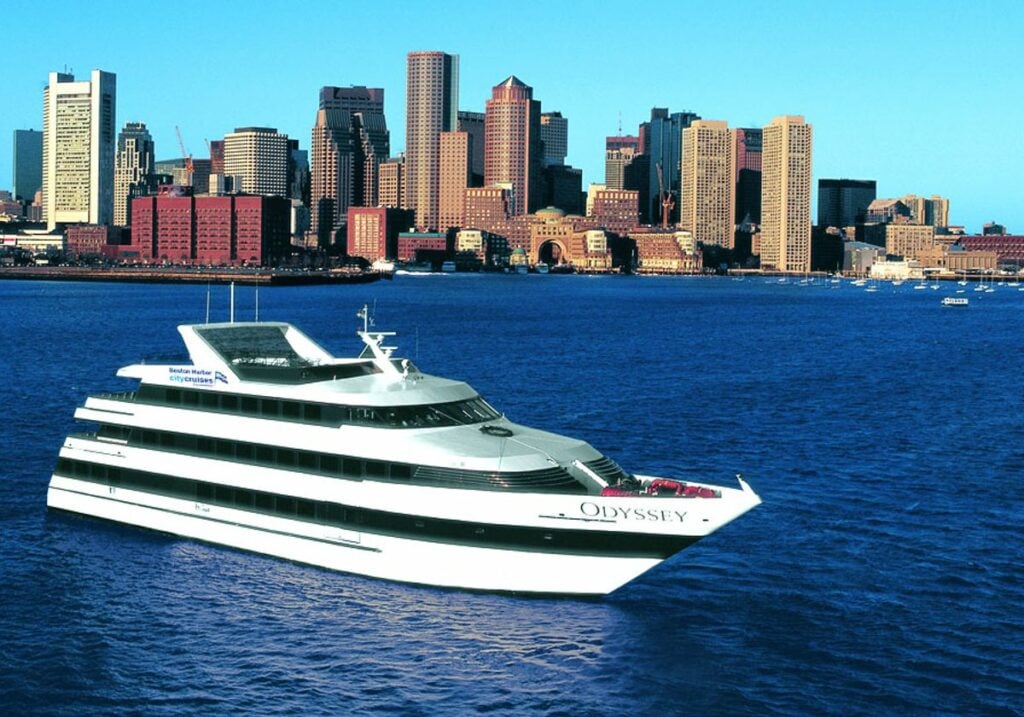 5. Boston Harbor City Cruises
The Boston Harbor is steeped in rich history serving as a major trading port for the English colonies, as ships carrying commodities often made their way through Boston before traveling down the coast quickly becoming New England's gateway to markets both at home and abroad. Today, commerce from the harbor generates eight billion dollars annually for the region, and is one of America's oldest and most active ports. The Boston Harbor is not only known as an avenue of trade and transportation but a haven for recreation and sport as well as fishing. With over forty miles of shoreline, the Boston Harbor is a great place to enjoy walking, running, or cycling along the harborside path while offering fabulous city and sea views. Looking at the waterfront views is all well and good, but what about actually being out on the water while enjoying a delicious brunch buffet with a nice glass of wine or beer with a Boston Premier Brunch Cruise on Odyssey? This afternoon brunch cruise is perfect for a date, a family adventure, or a group celebration. The panoramic views of historic Boston Harbor will take your breath away.
Going on a sailing brunch cruise aboard the Spirit of Boston is the ultimate Boston lunch experience, combining a fantastic meal with sightseeing and unbeatable views of Boston from the water. Head topside to our open-air lounge for games and relaxation. There is something for everyone!
Dine, dance, and celebrate aboard a dinner cruise along the Boston Harbor like no other with a Signature Dinner Cruise. The fun starts from the moment you board. A delicious dinner buffet, a fully stocked bar, and lively DJ entertainment will create an amazing experience for all. Throw in the best views of the Boston skyline and waterfront landmarks such as Zakim Bunker Hill Memorial Bridge, Boston's Seaport District, and the USS Constitution warship and everyone is sure to have a good time.
Become the view and let your cares float away.
6. The Barking Crab
Situated at the point where Fort Point Channel meets Boston Harbor, the Barking Crab is one of Boston's favorite seafood joints.
Offering indoor and outdoor seating, this restaurant is famous for its lobster rolls, New England clam chowder, and heaping seafood platters of crab and lobster.
7. Chart House
Housed in a grand, historic red brick building with lofty ceilings and rustic charm, this popular Long Wharf eatery offers incredible views of Boston Harbor, passing tall ships, and the skyline.
Known as Long Wharf's oldest surviving structure, it's best known for its seafood offerings, like the New England lobster roll and fish and chips, served in a classy waterfront location that is a blend of history and modern style. Chart House is also close to many of the top attractions in central Boston, such as the Christopher Columbus Waterfront Park and Downtown Boston which is filled with shopping, nightlife, and history.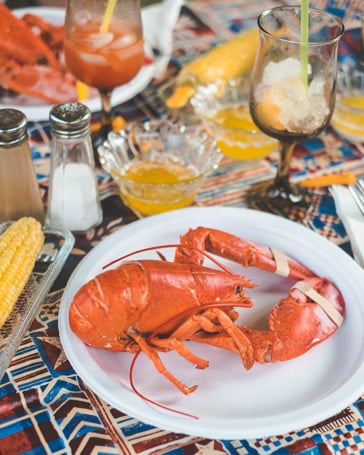 8. Boston Sail Loft
Open since 1984, lunch at this charming, maritime restaurant near the Paul Revere House in North End calls for its famous and hearty clam chowder, lobster mac and cheese, and other classic seafood dishes while admiring the views.
If you are looking for a casual eatery to gather with friends, then this is the place. There are no reservations so plan ahead and do not forget to ship some of their world-famous clam chowder home to enjoy later for a true taste of Boston!
9. Yankee Lobster Co.
This no-frills but always spot-on flavor-wise eatery along the South Boston waterfront is one of Boston's go-to spots for all things lobster, from the lobster roll (said to be one of the best in Boston) to crab cakes, seafood platters, and a raw bar slinging freshly shucked oysters.
Three generations of fishermen and pride in fresh seafood make this an outstanding choice for freshness from the boat to your plate.
In between discovering Boston's history and natural wonders on Boston City Experiences tours, soak up waterfront views and the Boston skyline at these great lunch spots. No matter which spot you decide upon, the city of Boston along the water's edge all share something in common-amazing vistas where you can enjoy spectacular views as well as the history and culture of the city for visitors and locals alike.
FAQ
What are the best places for dining on the waterfront in Boston?
Boston offers an amazing selection of waterfront restaurants to get your fill of sun, sea, and salty air. A view of the harbor just elevates the experience further. Check out City Cruises Boston for dining cruises on the harbor that you won't want to miss.
Where can I get the best views in Boston while dining?
Many restaurants in Boston offer scenic views. Some popular spots are The Barking Crab, Boston Sail Loft, and the Chart House.
Are reservations recommended for waterfront dining spots in Boston?
Since peak hours can get quite busy; especially on weekends, it's always a good idea to make reservations in advance to secure a table with a view.
Is parking available at most restaurants on the water?
Availability varies by location. Some restaurants offer on-site parking, while others rely on nearby public parking lots. Check with the restaurant while making reservations.
Can you recommend restaurants with romantic waterfront views in Boston?
Bay Pointe Waterfront Restaurant offers charm and tranquility away from the crowds, but nothing could be more romantic than being part of the view! Dining on the water will provide you with a romantic waterfront experience as well as spectacular views.
Original post date: January 12, 2023