Vol met historische architectuur en een fantastisch uitzicht op de oceaan behoren de haven van Boston en de waterkant van Boston tot de beste plekken van de hoofdstad van Massachusetts om te verkennen.
Na een wandeling over de Freedom Trail heb je een plek nodig om te eten. Deze restaurants aan het water in Boston zijn de beste plekken voor een uitzicht en heerlijk eten, vooral verse zeevruchten.
De beste nieuwe restaurants aan het water in Boston
Not all restaurants are created equal. Some have magnificent views as well as delicious fare. Opened within the last few years and enduring despite the pandemic, these recent additions to Boston's waterfront dining scene offer a range of cuisines, price points, and aesthetic experiences at lunchtime.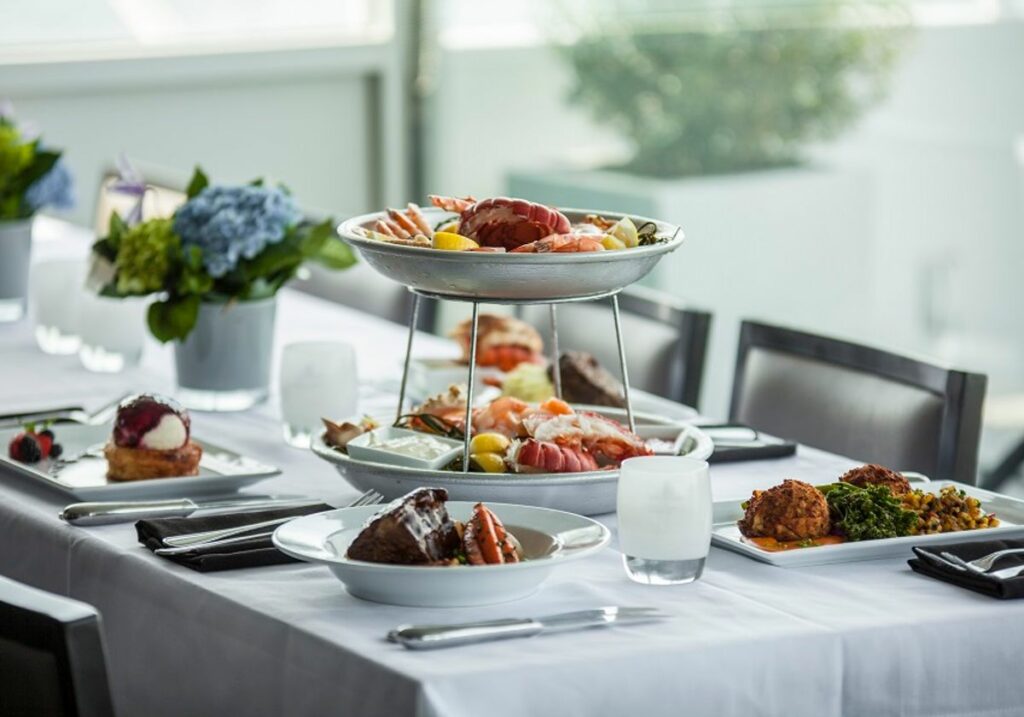 1. Woods Hill Pier 4
Woods Hill Pier 4, gelegen in het Seaport-gebied, dicht bij het Instituut voor Hedendaagse Kunst en Fan Pier Park, is een elegante, chique plek voor een lunch aan het water.
Start with decadent appetizers, like caviar and shellfish platters, before moving onto mains, like butter-poached lobster and sustainably raised meats and vegetables from the owners' Woods Hill farm.
2. Temazcal Tequila Cantina
Even geen zeevruchten uit New England? Ga dan naar de chique Temazcal Tequila Cantina in het Seaport-gebied.
Hier vindt u moderne Mexicaanse gerechten met een regionale twist (denk: kreeftenguacamole). Maar er zijn ook genoeg klassiekers, zoals vistaco's of fajitas met Mexicaanse gebakken rijst. Het heerlijke eten gaat bijzonder goed samen met een uitstekende selectie tequila's, die u solo, in een margarita of als onderdeel van een proeverij kunt drinken.
3. Bay Pointe Waterfront Restaurant
If you want to escape the hustle and bustle of central Boston but stay in the metro area, head roughly 45 minutes south along the coast to the quaint town of Quincy, for lunch at this tranquil, laid-back waterfront spot.
Tranquil breezes and picturesque views will make it worth the drive to South Shores with boats and the bay as your backdrop along with a sophisticated nautical décor, the ambiance is simple and elegant. Lunch entrees include lobster rolls, pan-seared salmon, and shrimp tacos.
4. ReelHouse East Boston
De meeste restaurants aan het water in Boston zijn te vinden in de wijken North End en Seaport, met uitzicht over de haven richting Oost-Boston. Maar als u bij ReelHouse dineert, is het uitzicht omgekeerd, zodat u vanuit de zitplaatsen binnen of buiten een uniek perspectief heeft op het centrum van Boston.
Start lunch off strong with a fresh seafood tower before diving into delectable mains, like linguine and clams, and pepper-crusted swordfish.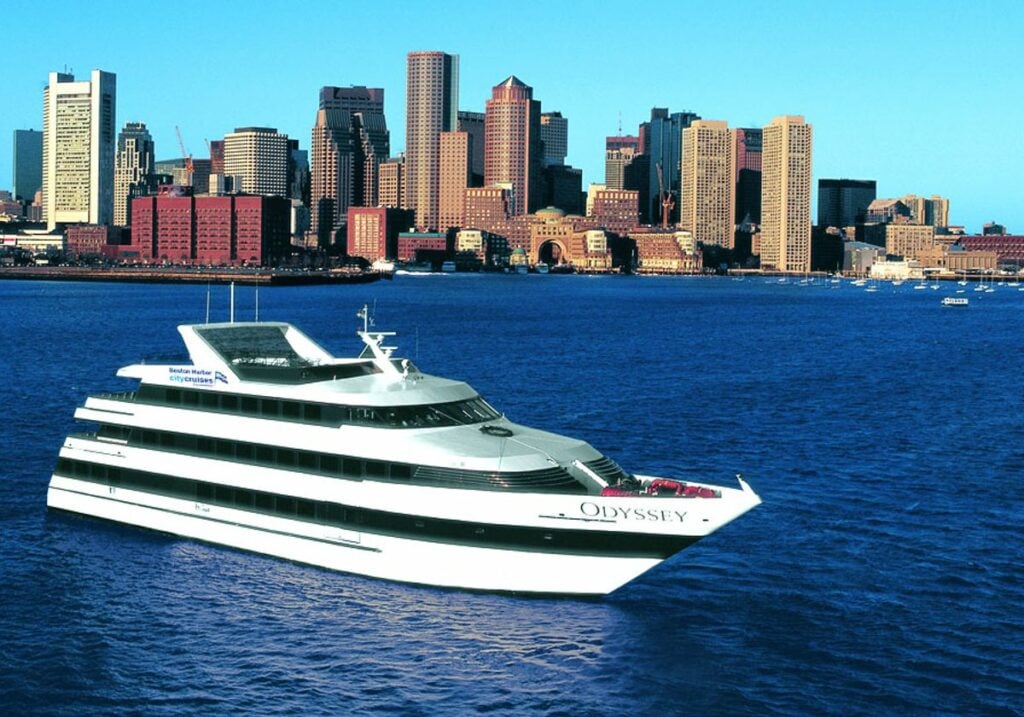 5. Boston Harbor City Cruises
Kijken naar het uitzicht aan het water is allemaal goed en wel, maar wat dacht u ervan om daadwerkelijk op het water te zijn terwijl u geniet van een heerlijk brunchbuffet met een lekker glas wijn of bier met Boston Harbor City Cruises?
Going on a sailing brunch cruise aboard the Spirit of Boston is the ultimate Boston lunch experience, combining a fantastic meal with sightseeing and unbeatable views of Boston from the water.
Become the view and let your cares float away.
6. De Blaffende Krab
De Barking Crab, gelegen op het punt waar Fort Point Channel en de haven van Boston samenkomen, is een van de favoriete visrestaurants van Boston.
Dit restaurant met zitplaatsen binnen en buiten staat bekend om zijn kreeftenbroodjes, New England clam chowder en overvloedige visgerechten met krab en kreeft.
7. Chart House
Gevestigd in een groots, historisch rood bakstenen gebouw met hoge plafonds en rustieke charme, biedt dit populaire Long Wharf eethuis een ongelooflijk uitzicht op Boston Harbor, passerende grote schepen en de skyline.
Known as Long Wharf's oldest surviving structure, it's best known for its seafood offerings, like the New England lobster roll and fish and chips, served in a classy waterfront location that is a blend of history and modern style. Chart House is also close to many of the top attractions in central Boston, such as the Christopher Columbus Waterfront Park and Downtown Boston which is filled with shopping, nightlife, and history.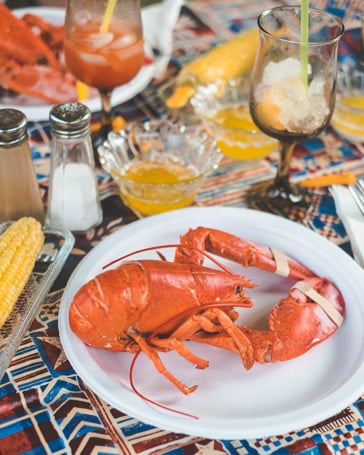 8. Boston Sail Loft
Open sinds 1984, de lunch in dit charmante, maritieme restaurant bij het Paul Revere House in North End vraagt om zijn beroemde en stevige clam chowder, kreeft mac en kaas, en andere klassieke visgerechten terwijl u het uitzicht bewondert.
If you are looking for a casual eatery to gather with friends, then this is the place. There are no reservations so plan ahead and do not forget to ship some of their world-famous clam chowder home to enjoy later for a true taste of Boston!
9. Yankee Lobster Co.
Dit eenvoudige maar altijd perfecte eethuis aan de waterkant van Zuid-Boston is een van Boston's favoriete plekken voor alles wat met kreeft te maken heeft, van de kreeftenrol (naar men zegt een van de beste in Boston) tot krabkoekjes, visgerechten en een rauwe bar met vers geschudde oesters.
Three generations of fishermen and pride in fresh seafood make this an outstanding choice for freshness from the boat to your plate.
In between discovering Boston's history and natural wonders on Boston City Experiences tours, soak up waterfront views and the Boston skyline at these great lunch spots. No matter which spot you decide upon, the city of Boston along the water's edge all share something in common-amazing vistas where you can enjoy spectacular views as well as the history and culture of the city for visitors and locals alike.
Original post date: January 12, 2023