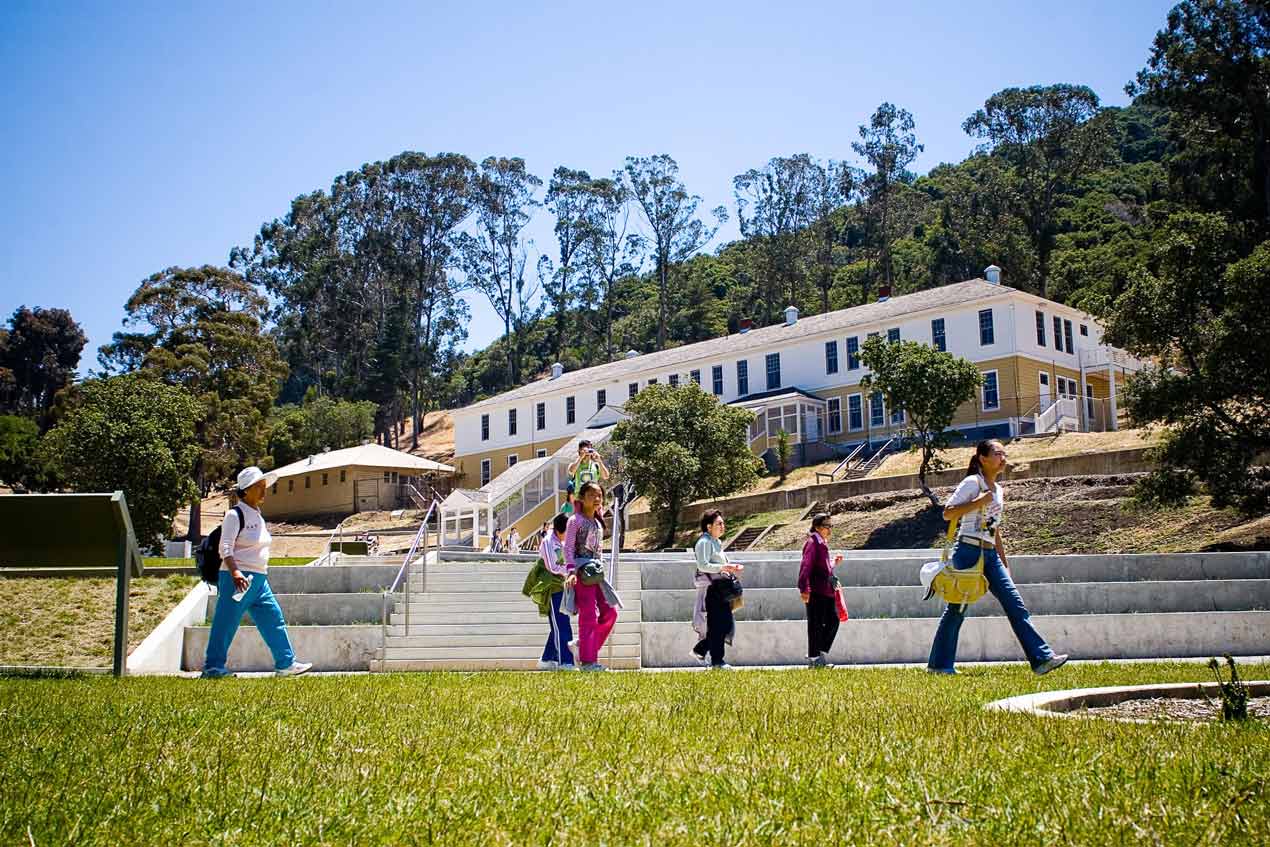 Guest Blog Post – Judith Fein
Visitors to San Francisco line up to board the ferry to Alcatraz, but most of them don't realize that they can also do a combination tour to Angel Island and Alcatraz Island aboard Alcatraz Cruises. The combo tour is a 15-minute ride to either island, but visitors usually opt for visiting Alcatraz first, then heading to the other island – Angel Island – also known as Ellis Island West.
Be prepared for a moving, intimate, sad look at an immigration disaster that is now part a compelling museum, National Park and National Historic Landmark.
If you sign up for a tour of the immigration center – which is highly recommended – you will have a personable, informed guide like William Warrior, whose grandmother-in-law was a detainee, or Sam Louie, who describes himself as ABC (American-born Chinese). Although no one in Sam's family wanted to talk about it, he discovered that his father was a "paper" son, among other "paper" Chinese sons and daughters detained at Angel Island. The Chinese Exclusion Act of 1882 forbade Chinese immigrants from entering the U.S. unless they could prove they had relatives who were already living here. A system evolved whereby Chinese could "buy" a relative, and they became "paper" sons and daughters.
Each would-be immigrant was interrogated, sometimes for several days, and his "paper" parent was interrogated separately. If there were any discrepancies – even minor ones like the number of windows in a house – the detainee could be deported or barred from entering the U.S. If the detainee passed muster, he was "landed" – that is, allowed to stay in America.
Donning a black Chinese jacket as he speaks to visitors, Sam becomes his father, "Mr. Louie," who was born in 1903, and became a "paper" son at Angel Island. "Mr. Louie" leads visitors through the overcrowded, poorly-ventilated barracks, where more than 200 men slept, and the women's barracks where there wasn't even enough overhead room to sit up in bed. The distance between the multi-tiered bunk beds was less than a foot, and laundry – which had to be washed in the toilet – was draped overhead on strings to dry.
"Mr. Louie" shows visitors the remnants of a wooden watchtower, which made the facility feel like a prison. Detainees were cooped up 24/7 except for brief periods of recreation under the watchful eyes of armed guards. "Mr. Louie" accompanies them into the recreation room – funded by outside support – where female detainees could play Mah Jong, ping pong, meet their lawyers, exchange stories or news, and briefly escape from dehumanizing and degrading conditions. He points out photos and personal objects that belonged to Chinese people who longed to enter America. And he shows photos of his own family.
Among the most memorable elements of the tour are the wooden walls where some of the detainees, confined, frustrated, frightened, and angry, carved poems in Chinese characters. From the time when the Immigration Center opened in 1910 until it was closed because of a fire in 1940, immigrants carved their feelings and opinions into the walls, and officials puttied and painted over them. It's a miracle that some of them survived the putty and paint.
The museum offers information about other nationalities represented among the Angel Island detainees – Japanese, Koreans, Filipinos, Europeans (including European Jews), Africans, Indians, and notables like Leo Tolstoy's daughter Alexandra. The Chinese were by far the largest group that passed through Angel Island, and their treatment was the worst. They slept, dined, exercised, and were hospitalized separately from other "Asiatics." Men and women were separated regardless of marital status. Children were sometimes separated from parents.
In the 1980's, amnesty was finally granted to "paper" sons and daughters. At his inauguration, Barack Obama declared January 21st Angel Island day, to honor all the immigrants who suffered long periods of detention before they were allowed into America.
IF YOU GO:
Ferry service for the Alcatraz Island and Angel Island Combo Cruise: www.alcatrazcruises.com
Guided tours of the Immigration Center: $7 per adult; $5 for ages 6-17. For reservations: [email protected] or 415-435-5537. General admission fee is $5 per adult and $3 for children over 5.
Guided tram tours of Angel island last about an hour, and include a visit to Fort McDowell WWI and WWII military sites; Camp Reynolds, which dates back to the Civil War and the Indian Wars; and the Nike missile launch area. Scooter and Segway tours are also available. Nature buffs can enjoy the remote beauty, plant life, and campgrounds. Adults: $15; seniors: $13.50; children 5-12: $10.00.