Commuting is a breeze when you ride with us. Take your seat and enjoy the view, read the paper or post your activity on Facebook and make all your coworkers jealous.

Boston to Charlestown Schedule & Rates
SCHEDULE
For the complete schedule and more info, CLICK HERE. PLEASE NOTE: There will be no service on New Year's Day, Thanksgiving and Christmas.

The Weekend Schedule will be in effect on the following holidays: Memorial Day, Independence Day, Labor Day and Thanksgiving Day. All other Holidays will operate on a weekday schedule.
RATES
One Way Adult
$3.70
Children 11 and under:
Free w/ paid adult (limit to two per adult)
Blind person w/ ID:
FREE
One Way Senior:
$1.85
Senior 10-Ride Ticket
$18.50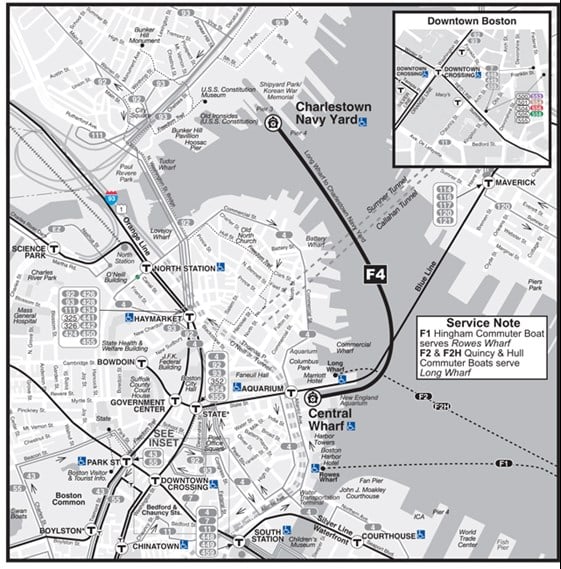 Tickets and Locations:
For Charlestown Navy Yard to Long Wharf:
Inner Harbor Ferry tickets can be purchased at our Inner Harbor Ferry ticket kiosks at the dock during the summer and on board during the off-peak season. MBTA 1-day and 7-day Link passes can also be used on this service. These can be purchased at any MBTA station.
We accept Cash, Check, Commuter Check, Discover, MC, VISA, AMEX.
Tickets sold on board.
Charlestown Navy Yard
1 1st Ave
Boston, MA 02129
Boston Ticket Office
Long Wharf North, adjacent to Christopher Columbus Park
Tickets sold on board.
We accept Cash, Check, Commuter Check, Discover, MC, VISA, AMEX.