Sunset Sightseeing Cruise
Looking for a bit of history, sights AND the majestic Boston skyline at sunset? Then step aboard our Sunset Sightseeing Cruise. This fully narrated, 90-minute tour introduces you to the lore and allure of Boston Harbor past and present, including the USS Constitution's traditional ritual as she fires her cannon and lowers her flag to signal the day's end.

Cruise Route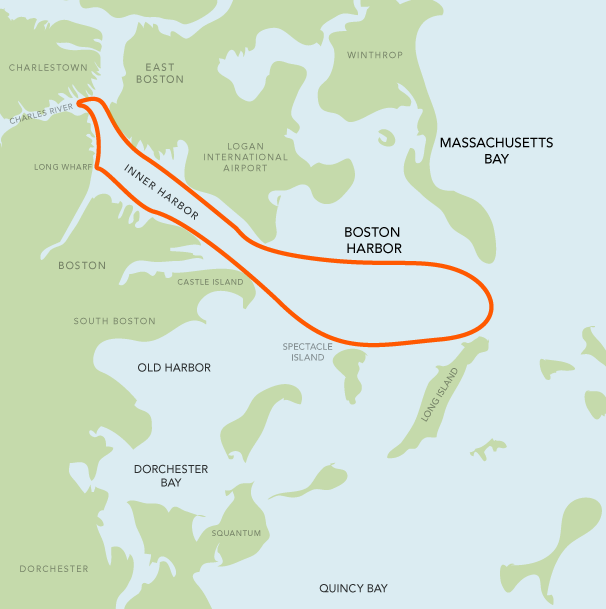 Circumnavigate Boston Harbor on these, 90-minute tours. You'll sail past historic islands, cultural landmarks and breathtaking lighthouses, plus you'll have a front-row seat as the USS Constitution fires her cannon and lowers her flag to signal the day's end, a naval ritual not to be missed. Oh and did we mention the glorious sunset? There's that too.

2021 Sunset Cruise Schedule and Rates
*Please note that pricing and availability are subject to change based on seasonality, inventory and overall demand. Rates for individual dates/times may vary due to the above factors.
GROUP TOURS
For groups of 20 or more, we offer discounted rates as well as extended personalized services.

Our Group Sales department is always on hand and prepared to help with any request including specialty or private tours, water transportation, deluxe boxed lunches and beverage services.
Rates and schedules are subject to change.
Tickets are non-refundable.

Waterfront & Center
1 Long Wharf, Boston, MA 02110
The adventure begins at Long Wharf, just steps from the New England Aquarium, the North End, Faneuil Hall and other popular Boston landmarks.

Harbor Cruise FAQs
Do you recommend advance reservations?
We strongly recommend that you reserve your trip, especially on weekends and holidays. Trips often sell out.
Can I make a ticket reservation online?
Yes. Click here to reserve your tickets online.
What happens if I've reserved tickets but can't make it for the cruise?
Advance-order tickets are non-refundable. But, they may be transferred to another day and time depending on availability. Transfers cannot be handled online, only over the phone or in person at BHC ticketing location.
Is there food on board?
Our galleys offer a terrific selection of breakfast and lunch sandwiches, tasty snacks such as hot pretzels, popcorn and chips, nutritional bars, fresh fruit, nuts and cereals. Fruit juices, tea, sports drinks and other beverages are also available along with beer, wine and cocktails. Please Note: at sea, credit/debit card transactions are sometimes not possible, so it's a good idea to have cash on hand.
Can I buy a cruise in combination with other attractions?
Yes, The Historic Sightseeing Cruise is a CityPASS attraction.  If space allows, CityPass holders may choose to take a USS Constitution Cruise or Sunset Sightseeing Cruise in lieu of the Historic Sightseeing Cruise.  Save 45% on admission to Boston's top 4 attractions including the cruise – your best sightseeing value!  Buy CityPASS online for instant, paperless mobile delivery.  LEARN MORE. 
Do you offer discounts for large groups?
We do have discounted group rates for parties of 25 or more.
Do you offer private charters?
We do have yachts and passenger vessels available to be chartered for private events.
Are gift cards available?
Yes. You may purchase gift cards online, over the phone or in-person at our ticket booths. Or use the information on our contact page to call or email us and we'll get right back to you.
For any other questions, please contact us directly at [email protected]
or Call 617-227-4321 or 1-877-SEE-WHALE (733-9425)