A wedding rehearsal dinner is almost as important as your wedding day. During your rehearsal, you'll be practicing the events for your wedding, ensuring your special day occurs without any issues. Brides who want to make this event even more memorable can elect to have their wedding rehearsal dinner on the water.
Best Spots for a Wedding Rehearsal Dinner on the Water
Planning your rehearsal dinner on the water will provide a unique experience for everyone in your bridal party and close family members. It provides an excellent opportunity for pictures, as the scenery will be stunning. Also, booking your rehearsal dinner on a boat or via a waterfront venue will help take the stress off your big day because these venues often have coordinators who plan the whole event for you.
Below are a few top rehearsal dinner options on the water for larger cities.
Rehearsal Dinner on the Water: Top New York Options
Giando on the Water
Giando on the Water is a top option for rehearsal dinners because this Italian restaurant offers an elegant setting with stunning views of the New York City skyline, including the city's bridges as you peer over the East River. Depending on the weather, you can elect to have your rehearsal dinner on the outdoor patio or inside the ballroom.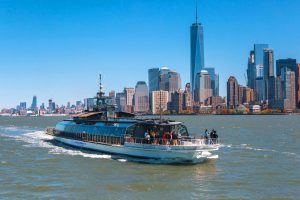 CityExperiences: New York Cruises
There's no better way to spend a rehearsal dinner than floating on the river. City Experiences has an array of ships in New York City that range in size, allowing you to select an option that works best for your rehearsal dinner. Each ship contains different amenities, including live entertainment, outdoor seating, and chef-prepared menus. These cruises are also ideal for other wedding-related events, such as a bridal showers.
Rehearsal Dinner on the Water: Best San Francisco Venues
Water Bar
Seafood lovers will enjoy scheduling their rehearsal dinner at Water Bar. This waterfront restaurant features a dedicated fine dining room for groups of up to 60. The bay front dining room offers incredible views of the bay and bridge as you celebrate with friends and family. The food offerings are based on your desired preferences, including hors d'oeuvres, raw bars, and desserts.
City Experiences: San Francisco Cruises
City Cruises provides a unique setting for rehearsal dinners in San Francisco. The event can be customized to your liking, and as you're aboard a boat, you can enjoy a chef-curated menu and bar service. All of these amenities are enjoyed alongside views of the San Francisco-Oakland Bay Bridge or Golden Gate Bridge?.
Rehearsal Dinner on the Water: Options for Boston Rehearsal Dinners
Bostonia Public House
The Bostonia Public House offers a chic, modern spot with a nightclub type of atmosphere in a historic building near the Boston Harbor. You can rent various rooms for your rehearsal dinner at this location, depending on the style you seek and the size of your party. Though the Bostonia Public House specializes in Boston fare, you can also select other types of food to be served at your event.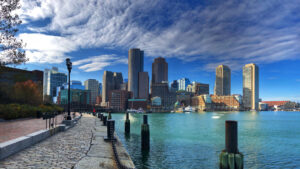 City Experiences: Boston Cruises
Explore the vast number of Boston landmarks by choosing to pursue a Boston cruise for your rehearsal dinner. A climate-controlled interior ensures that you can enjoy the views regardless of what the weather is like. Choose from an array of boats that can hold 140 to 600 people.
Rehearsal Dinner on the Water: Celebrate in Style with Chicago Locations
River Roast
British cuisine with an American twist and epic waterfront views await you at River Roast. This waterfront restaurant features two lively bars and six different spaces to choose from for your event. You'll find River Roast in the heart of the city, alongside the Chicago River. When selecting this restaurant, you'll be provided with a team of experienced planners to help you curate the rehearsal dinner you desire.
City Experiences: Chicago Cruises
Take in views of the Chicago skyline from the water as you drift along Lake Michigan or the Chicago River. There's the perfect Chicago cruise setting for every individual, from the smaller Seadog, which races over the water, to the elegant Odyssey Lake Michigan, which can accommodate over 700 people.
Rehearsal Dinner on the Water: San Diego Rehearsal Locations
Bali Hai Restaurant
The Bali Hai Restaurant provides a fun restaurant with a Polynesian theme and food. Views of the San Diego skyline and the San Diego Bay will enchant every guest that attends the rehearsal dinner. When booking your event here, the private events team will ensure that your special requests are met.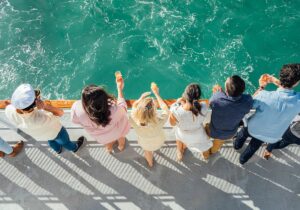 City Experiences: San Diego Cruises
There's no better way to enjoy the pleasant San Diego weather and skyline views than by scheduling a San Diego cruise for your rehearsal dinner. The San Diego fleet is vast in its offerings, with ships that can hold more intimate gatherings of 50, or you can even elect boats which can accommodate 1200 people.
Rehearsal Dinner on the Water: Washington, DC Options
Fiola Mare
This venue is stunning for those wanting to hold their rehearsal dinner in Washington, DC. An elegant, luxurious setting featuring Italian-style seafood awaits at Fiola Mare. This Michelin-star restaurant is the first in a chain of elegant Fiola restaurants. The staff at Fiola Mare ensures your event is customized to your liking.
City Experiences: Washington, DC Cruises
The Washington, D.C. fleet offers an array of ship options from catamarans to yachts and everything in between. When scheduling a Washington, DC cruise, you can customize your experience based on budget and preferences. Cruises can include itineraries you request to make your rehearsal dinner a night to remember.

Wedding Rehearsal Dinner on the Water: Planning Your Event
Planning your rehearsal dinner is an important activity you must tackle during wedding planning. While it can seem overwhelming, it's important to remember that taking it step by step will ensure your plans come together seamlessly.
The first step in planning a rehearsal dinner is deciding on the location. It's important to consider if you want a venue that allows you to plan the event or if you want a venue that plans the event for you. This decision will help narrow down the final location for your rehearsal dinner. Then, you can begin considering the other aspects, such as food and the schedule for your event.
FAQ
What do you do at a rehearsal wedding dinner?
During a rehearsal dinner, you gather with close family members, friends, and those who have roles in the wedding (such as groomsmen). This event ensures you can practice specific aspects of the wedding beforehand. Plus, this event offers a more intimate gathering to spend time with those special in your life.
Typically, the groom's family plans the rehearsal dinner; however, it depends on the agreement made beforehand. For example, some couples plan their rehearsal dinner.
No, a rehearsal dinner is not required; however, it does provide time for the groom, bride, and close family and friends to enjoy each other's company before the big day. It will also help the wedding run more smoothly, as, during this event, you'll be practicing how the bridal party will walk down the aisle and other important wedding activities.