Rottnest Island, situated near the mainland of Western Australia, is revered for its population of the adorable quokka. However, this island features many additional draws, including a rich history, breathtaking nature views, and a long connection to the Whadjuk Noongar people. Whether visiting for a few hours or a full day, this spot is best seen via Rottnest Island Tours.
Top Rottnest Island Tours
Initially, Rottnest Island was connected to the mainland; however after the island separated from the mainland, there were many years that it stayed uninhabited. Now, this incredible island holds some of the most unique wildlife and incredible landscapes around. A trip to Rottnest Island is worthwhile, especially via tour, as Rottnest Island tours provide additional information on the area and the island's long history.
Rottnest Island Tours: History of the Area
This island has a history that dates back about 50,000 years. Evidence, in the form of artifacts, has shown that there were residents on the island until it separated from the mainland about 7,000 years ago. Unfortunately, at the time, there were no boats that would help people travel from the mainland to Rottnest Island, aka Wadjemup ("place across the water where the spirits are").
In 1658, a handful of Dutch sailors landed on the island, spurring more European travelers to come to the island. It was not until the late 1700s that a Dutch captain explored the island, giving it the name 't Eylandt 't Rottenest (meaning Rat's Nest Island). This name originated from the belief that quokka were large rats. Now, the island is considered one of the top tourist destinations in the area. It remains an area void of a local government, with an annual resident count of around 200 people. You can reach the island via the Rottnest Island Airport or by arriving at the ferry terminal.
Rottnest Island Tours: Best Tour Options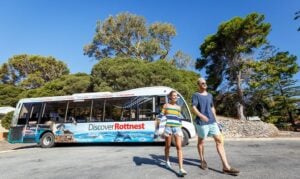 Discover Rottnest: Ferry and Discover Bus Tour
One of the best Rottnest Island tours is the Discover Rottnest: Ferry and Discover Bus Tour. This tour takes you and your travel partners on a day trip around Rottnest via a bus, one of the only methods of transportation allowed on the island. During your tour, you'll see some of the top attractions on the island for 90 minutes. The tour includes a ferry ride to and from the island.
Rottnest Island Bike and Ferry Combo
Biking is one of the most popular ways of exploring Rottnest Island! Book the Rottnest Island Bike and Ferry Combo for an exciting tour that picks you up and drops you off at your mainland hotel. After riding the ferry to Rottnest Island, you'll grab a bicycle and explore the beaches and bays. You may even see a quokka during the tour!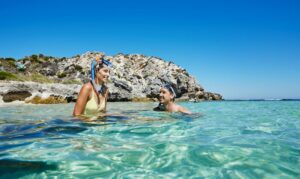 Snorkel & Flipper Hire
This Snorkel & Flipper Hire is an affordable way to explore the waters off Rottnest Island. Paired with flippers and gear, you can view the tropical fish and coral hiding underneath the water. You can include this add-on with a ferry ride so that your gear arrives when you do at the island. Then, you're ready to explore the waters as soon as you get off the boat.
1-Hour Settlement Explorer Segway Tour
For a more exciting tour on this island paradise, you can book this option which allows you to ride a segway during the excursion. You'll have a few minutes of training before embarking on the tour. Then, you'll have time to explore Bathurst Lighthouse and Thomson Bay on the 1 Hour Settlement Explorer Segway Tour.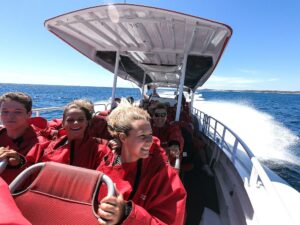 Adventure Rottnest: Ferry & Adventure Boat Tour
Those hoping for a more exciting option can book the Adventure Rottnest: Ferry & Adventure Boat Tour. Once you board the Eco Express boat, you'll travel around the island, seeing marine wildlife and the rugged terrain at the island's edge. This tour lasts for 90 minutes and includes commentary from an expert as you cruise over the water.
Rottnest Island Tours: Planning a Visit
Whether you select a Rottnest Island day tour or stay on the island for a few days, it's essential to plan your visit properly. The first step in planning your visit is determining how long you want to spend on the island. Some people spend a few hours on Rottnest Island, while others stay for a few days. By noting which activities are a priority, you can determine the length of your stay on the island.
Then, it's essential to start booking any tours necessary, including bike hire options or bus tours. Note any additional activities you plan to pursue, like a visit to Cathedral Rock, Salmon Bay, or a ride on the Rottnest Express, to help you create a budget for your trip. Going to the island with a plan gives you a better idea of how much you'll be spending. Finally, if you know you'll be spending a night or two, you'll need to book your accommodation as far in advance as possible as only a few options are available on the small island.

Rottnest Island Tours: FAQ
How long should you spend at Rottnest Island?
Ideally, you would spend at least six hours on Rottnest Island. By planning a day trip, you're allowing yourself sufficient time to explore the island's beaches and see a few available attractions.
How much does it cost to go to Rottnest Island for the day?
The cost will vary depending on which Rottnest Island tours you include on your itinerary; however you can expect to pay a daily and overnight fee regardless of your chosen activities. Adults have a $20 daily fee and a $26 overnight fee for the island. Children have a discounted daily and overnight rate.
Is one day enough on Rottnest Island?
Generally, one day is sufficient for exploring Rottnest Island since it's a smaller piece of land. You can spend the day doing various activities, such as cycling around the island, swimming, or trying the local cafes.
What is the ideal time to visit Rottnest Island?
Spring and fall are the best times to visit Rottnest Island, as the island offers beautiful weather and calm waters during these seasons. Specifically, November and October are excellent months for a Rottnest Island visit.