Barcelona is not only a city of architectural wonder, amazing beaches, and a Mediterranean flair all its own, it's a city with vibrant nightlife. "If ever there was a time to do a bar crawl in Barcelona, that time is now," says the Financial Times. "The city's bar scene is currently experiencing an explosion of creativity."
Bars with History and Personality
Begin your Barcelona crawl with Bar Boadas, the city's oldest cocktail bar. The art deco throwback—famous for its martinis–was established in 1933 and is an "ideal start-of-the-night venue," according to the World's best Bars website.
Next, hit up Two Schmucks, a "five-star dive bar," says The Financial Times. "Hidden away down a backstreet in the boisterous El Raval, this tavern-like drinking den does high spirits and great cocktails mixed by tattooed guys and girls who ooze unself-conscious cool." Come for the punk vibes and irreverent charm, raves World's Best Bars website, and stay for the top-rate drinks.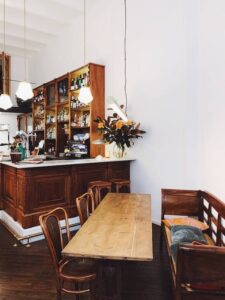 Trendy Bars with Flair and Something Different
Get your rock and roll on at Bar Ramón, established in 1939. This neighborhood bar with the very 1950s vibe, offers signature dishes and classic tapas from croquettes to garlic shrimp. It's a place to fuel up without breaking your bank.
Come to Paradiso for the friendly bartenders but stay for the drinks. This is not your typical bar; it is "hidden behind a fridge door inside a pastrami shop in the trendy El Born neighborhood," says Conde Nast Traveler. The drinks here may take a while to make, but you'll find it's well worth the wait, and there's 15 new cocktails from which to try.
How about a tiny joint that only caters to 30 people at once? Check out Old Fashioned – Gin Tonic & Cocktail Bar where the bartenders are knowledgeable about what they do and attentive to your needs. "True to its name, the bar serves 15 variations of its signature cocktail and 30—yes, 30!—riffs on the gin and tonic," says Conde Nast Traveler.
Dine at Some of Barcelona's Top Restaurants
Barcelona has some amazing restaurants that beckon the most discerning foodie. Try the rooftop Casa Luz. The city's many rooftops are typically known for only bars, but this restaurant is a sweet and rare find. "With its Instagram-worthy terrace overlooking Plaça Universitat, this trendy restaurant by Tomás Abellán embodies everything you love about Barcelona," says Forbes, "from abundant sunshine to cutting-edge design, flavor-packed dishes made from fresh, seasonal produce, and excellent local wine."
Gala opened in 2021 and is now the restaurant "to see and be seen in Barcelona," adds Forbes, which notes its "Alice-in-Wonderland-meets-psychedelic amusement park ambiance." The restaurant boasts an interior patio that's the perfect spot-on warm nights. Over-the-top cocktails are available along with seasonal tapas and raw fish. After dinner, head down to the basement for some nightclub action.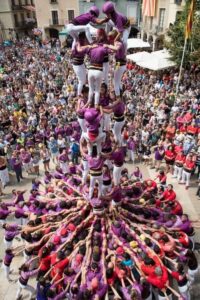 A City of Festivals throughout the Year
Known for many outdoor festivals throughout the year, Barcelona is not just about dining and drinks. Castellers de Barcelona is something different, "a Catalan tradition that involves building human towers of astounding heights," says Hotels.com.
For jazz lovers, the Música als Parcs offers free concerts all over Barcelona. The festival runs from June to August, with many musicians taking their acts to city parks.
The Cruilla Festival, takes place in July and showcases artists from all over the world, every genre, and is held in the Parc del Forum. You can catch all the big-name artists and up-and-coming ones too.
Take to the City with Tours of Food and Drink
The Barcelona Gourmet Tapas & Wine Tasting Tour is a great way to taste your way through Barcelona. You'll enjoy a great evening filled with delicious food and wines in Barcelona's historic Born neighborhood. Start the night at a small tapas bar where Catalan and Latin American cuisine come together. You'll check out a few spots before finishing the evening with a sit-down tapas dinner.
Discover the grand city of Barcelona through its food. Hop on The Tastes & Traditions of Barcelona Food Tour to sample 13-plus delicious tastes at seven iconic establishments in some of the city's most historic districts. You'll tour a local market and even try an authentic paella.