This gorgeous city is famous for its catwalks, but it also has everything from premier restaurants to the largest church in Italy.
While Milan is known as the fashion and design capitol of the world, it has much more to offer than its runways. As the second-most populous city in Italy after Rome, Milan is home to stunning architecture and numerous museums, shopping centers and world-class restaurants.
And, with three different international airports it's a cinch to get there from anywhere in the world. No matter what time of year you go, you're sure to have a blast in Milan. (Just don't forget to pack seasonally appropriate clothing, because temperatures get hot in the summer and chilly in the winter.) Plus, once you're there, getting around is easy with the city's metro, tram lines, bike share programs, and bus system. So, without further ado, let's check out some of the best things to do in Milan, Italy.
Fashion Week
Of course, if you are looking to go on a fashion-forward vacation, Milan is definitely the place to be. Established in 1958, Milan Fashion Week is held twice a year — the autumn/winter session is held in February/March, and the spring/summer session is held in September/October. You probably won't be able to get into any of the larger shows without credentials, but Fashion Week makes the entire city come alive with the hustle and bustle of industry folks. (Plus, the festival is full of different events, with many open to the public!)
Duomo di Milano
If you're a fan of beautiful architecture, you won't want to skip out on the Duomo di Milano, the largest church in Italy (not counting the sovereign nation of Vatican City, of course). Construction work on the Duomo of Milan began in 1386 — yes, you read that correctly — and didn't finish until 1965.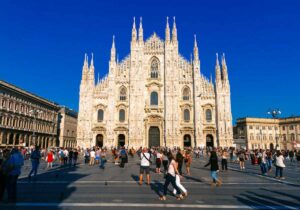 Villa Necchi Campiglio
Once Milan's most famous party house for Italian elites, the Villa Necchi Campiglio is a gorgeous villa surrounded by a beautiful private garden complete with a swimming pool and a tennis court, set in the center of the city. Built between 1932 and 1935, the pristinely preserved villa now serves as a fine art and design museum that features guided tours.
Vittorio Emanuele II Gallery
Itching to do some shopping while in town? Look no further than the elegant nineteenth-century shopping center, the Vittorio Emanuele II Gallery. As Italy's oldest active shopping gallery — and a major landmark of the city of Milan — it houses some of the most luxurious boutiques in town. In between shopping, you can pop into some of the gallery's excellent restaurants, such as Café Biffi, which dates all the way back to 1867.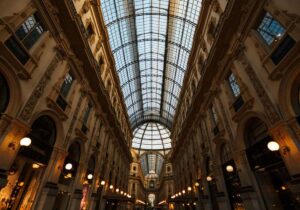 Navigli
Eating in Italy is a no-brainer, sure, but Milan is a particularly great city to gorge yourself in. The old guard of traditionalists are still there, but a new wave of chefs and restaurateurs have moved in to give the city's cuisine some new life. You'll find many delicious and affordable restaurants and bars in Navigli, a neighborhood whose name means "canals." (We'll let you find out why.)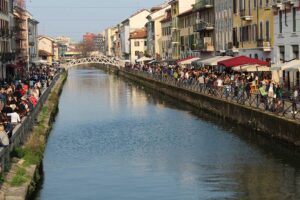 Castello Sforzesco
You can't miss the Castello Sforzesco while you're in town. Italian for "Sforza's Castle," it's a medieval fortification built in the 15th century by Francesco Sforza, the Duke of Milan. After being extensively rebuilt in the early 1900s, it now houses several of the city's museums and art collections. Check out a piece from the icon of Renaissance figurative art, Andrea Mantegna, and see the last incomplete work by Michelangelo himself. Pro Tip: Milan's museums are free of charge on the first Sunday of every month — if you're willing to deal with the crowds, that is!
Best of Milan: The Last Supper Tickets, Duomo & City Highlights Tour
If you're only in the city for a short time, or you're just looking to cover all of the best parts of Milan in just one day, you can't beat the Best of Milan: The Last Supper Tickets, Duomo & City Highlights Tour. You'll receive guaranteed skip-the-line "The Last Supper" tickets; you'll take a guided tour inside the Milan Duomo; and you can take in sights including La Scala Theater and the Vittorio Emanuele II Gallery on a walking tour of the city. Need we say more?