If you are looking for a unique and memorable way to experience the beauty of Hampton Roads, look no further than City Cruises Norfolk. City Cruises has been showcasing the best of Norfolk – the natural beauty, history, and culture as a popular attraction for visitors and locals alike.
Since 1978, City Cruises has been a Norfolk tradition hosting weddings, graduations, engagements, and holidays while offering year-round dining, dancing, and entertainment with breathtaking panoramic views.
The City Cruises' origins date back over 100 years, with brands in our portfolio beginning in 1926, with Boston Harbor Cruises and now expanding all over the world.
The City Cruises Fleet
The idea of harbor cruising was born in Norfolk on a former World War II infantry landing craft! The vessel known as The Spirit and its location was the first of its kind. Due to financial troubles, the initial Spirit was forced to shutter but rebounded quickly in 1983 as the new Spirit, ready to cruise.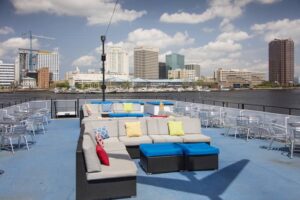 Today, the Spirit has a capacity of 400, with a three-level dining vessel featuring two interior climate-controlled dining decks and three exterior observation decks. Offering buffet-style lunch, brunch, and dinner options, you can let your hair down, dine and dance while enjoying spectacular views of the mighty ships and submarines of the United States Navy's Atlantic Fleet while cruising the Elizabeth River. Guests will savor the freshly prepared entrees, salads, and desserts. Grab a window table to ensure the best views.
In addition to the Spirit, the Elite is a high-end private yacht in the City Cruises fleet – offering complete customizable packages with an open-air lounge deck and a capacity of 80 individuals. From private charters and group tours to holiday cruises and special events, the Elite will provide a comfortable and cozy environment to entertain, dine, and celebrate.
Continue the tradition and celebrate a special occasion, host a group event, experience a romantic date night aboard a Signature Dinner Cruise, or a family get-together for a Signature Brunch Cruise, with unlimited Mimosas! Enjoy the views from our rooftop deck, and dance to our DJ entertainment aboard our amazing floating water venues.
About Norfolk
Norfolk is one of the oldest cities in Virginia and home to the U.S. Atlantic Fleet, which provides facilities and services to enable mission accomplishment. The Naval Station land is the original site of the 1907 Jamestown Exposition. At the time, high-ranking officials agreed the land and water were ideal for naval activity. Today, it is the largest naval installation in the world, with a population of well over a million people in the Hamptons Roads region that links the James, Elizabeth, and Nansemond Rivers with the Chesapeake Bay. A large community of active duty, retirees, family members and dependents, Reservists, DoD civilians, and Joint Forces reside in the Norfolk area.

An exciting new addition to downtown Norfolk includes the NEON district or New Energy of Norfolk. The NEON district sparks creativity and vibrant arts in motion such as visual arts and murals, glass studios, tattoo galleries, cafes, Push Comedy Theater, Harrison Opera House, and Chrysler Hall. For more information on your personalizing your Norfolk experience, Visit Norfolk.
If you're planning a visit to Hampton Roads, be sure to check out City Cruises Norfolk and experience the beauty and history of the area from a unique perspective – the water. With its rich history, stunning natural beauty, and vibrant culture, this part of Virginia is a must-see destination, and City Cruises Norfolk is the perfect way to explore it.