Barcelona is such a fine, vibrant city, but the summer can be hot. Why not take off to the beach to cool off? Spend the day with your toes in the sand getting your tan on (don't forget the sunscreen!), take a picnic lunch, or read that thriller you've been ready to sink into for weeks. The beach is waiting. Plus, there's so much more to do around this great city after a dip in the ocean. 
This trendy Catalonian city overlooks the beautiful Mediterranean Sea. While well-known for its Gaudi and Art Nouveau architecture, Barcelona is also a place for high fashion, culture, and delicious cuisine. "It combines the creativity of its artists and designers with respect and care for local traditions." 
Barcelona is a city that travelers love to visit. In the old town, you'll find the slower pace and charm while the more modern parts of the city have an "avant-garde vibe." 
If you love fashion, Barcelona is also a great city. There are so many choices for shopping, from major brands in notable stores to alternative design in the Born district. You'll also find many traditional shops along the way. 
This city has a "Mediterranean character and streets full of ambience." Whatever you want to do, you'll find it in Barcelona. Whether it's strolling the streets, checking the traditional markets, finding a café, or taking to the city's beaches, Barcelona has something for everyone.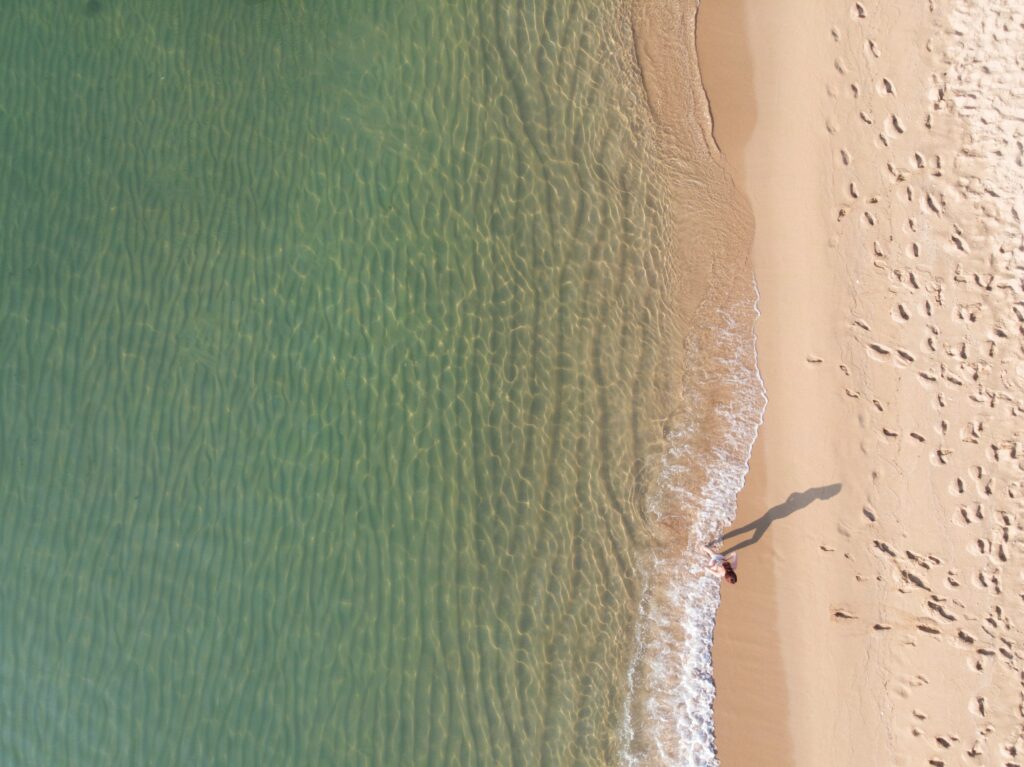 The Beaches of Barcelona
 Barcelona is a fabulous city with some wonderful beaches to escape to. Prior to the city's fixing up of the beaches before it hosted the 1992 Summer Olympics, "Barcelona's coast was an industrial wasteland." Now the beaches are pristine destinations for city dwellers and visitors from afar. 
Start at Bogatell Beach, known for being one of Spain's best beaches, as well as touting the Blue Flag beach designation. The crowd here is a little older with beachgoers in their late 30s. You'll find this beach between Mar Bella and Nova Icària. It's got ping-pong and volleyball courts all along a tranquil shoreline. You can also take windsurfing or kitesurfing lessons at the beach, or you can kayak. The beautiful blue water and clean sand of the beaches along the 600-meter stretch will leave you wanting to come back to stretch out. 
For those wanting a more boisterous and entertaining beach day, head on over to Barceloneta Beach. As the most popular beach of Barcelona, you'll be here because you want to be in on all that everyone else wants to be into. "Fans of people-watching won't be disappointed." Not only will you enjoy the beach at Barceloneta, but you'll be near some of Barcelona's finest fare and fresh tapas. 
Another Blue Flag beach is Nova Icaria, which both the locals and tourists like equally. It's also family friendly, and known as one of the quietest beaches of the city. It's great for the kids because it's also the calmest beach. Kids will love the playground, ping pong, and the volleyball available. You can also head over to Passeig Marítim de la Barceloneta and stroll to find some fabulous restaurants. 
Mar Bella is the beach where visitors can soak up some sun and not worry about the crowds. It's "dubbed one of the best beaches for families and couples in Barcelona." You'll find a diverse, young crowd here with great activities including kayaking, skateboarding, windsurfing, paddleboarding, and more. 
Experience the Many Tastes of Barcelona
After you've spent the day at the beach, you'll need some great tastes. Luckily, Barcelona is also a wonderful city for fine food. Take the Tastes & Traditions of Barcelona Food Tour to explore the city through its delicious food. 
The tour will take you to seven iconic establishments in historic neighborhoods where you'll indulge in at least 13 tastes as well as an insider tour of a local market with an expert guide. You'll visit two important Barcelona neighborhoods: el Born and Barceloneta. From bakeries to bodegas to food shops, you'll visit them all and, of course, you'll taste authentic paella along the way. 
First you'll start off the day at Santa Caterina Market, mostly filled with family-run stalls. You'll find out all about the locals and their traditions and daily customs. Then head to the market's bar, a place where locals make a stop for breakfast and lunch during their shopping. You'll indulge in sparkling cava paired with a local sandwich treat. 
Next stop is the Born neighborhood. Stop by Santa Maria del Mar church, a great example of the Catalan Gothic architecture of Barcelona. Then you're off to a classic bakery famous for croissants.  
Barceloneta, the fisherman's district, is next. You'll have a taste of the bomba, a glass of vermouth and Barcelona's favorite tapa. 
At last, you'll get to indulge in a traditional Spanish lunch in a quaint restaurant in the fisherman's district. This is where you'll taste some homemade seafood paella along with local wine. It will be a fine way to wrap up the tour. 
Get the Complete Gaudi Tour
If you're in Barcelona, after the beach and some delicious cuisine, it's time to get to know Anton Gaudi, often referred to as the city's favorite architect. Take the Complete Gaudí Tour: Casa Batlló, Park Guell & Extended Sagrada Família and find out everything you need to know about the man and his style. 
Gaudi's name goes hand in hand with Barcelona. "The city's favorite architect has come to embody the style of a city deeply rooted in its natural surroundings." This tour will take you to three of Gaudi's residential works including Park Guell and his final resting place, La Sagrada Família. 
Start the tour at Casa Batlló, which is Gaudi's most visited site. You'll learn about "some of the genius solutions Gaudí employed to solve architectural problems throughout the house, dispersing light and air throughout its many levels." You'll enjoy skip-the-line access so you won't have to wait. 
As you come upon La Sagrada Família, the end of the tour, you'll learn from your guide and explore the church. You'll get to go down into the museum to view Gaudi's drawings, models, and calculations and get a clear view of his tomb. 
Whether you're basking on a Barcelona beach, indulging in some of the local food, or taking in the works of Gaudi, there is always something special to do on a summer's day in this Spanish city where the universal trend seems to be to enjoy life.