Located on San Francisco's eastern waterfront, the Embarcadero is one of the City by the Bay's most popular areas. It runs all along the waterfront of San Francisco, from the Bay Bridge, past the Ferry Building, and down to Pier 39 and Fisherman's Wharf. It is a sort of boardwalk along the Eastern shore of the city, and one of the city's best places to visit.  
In addition to scenic views of the San Francisco Bay, historic architecture, and attractions like the Ferry Building and the Aquarium of the Bay, it's also one of San Francisco's top dining destinations, thanks to its diverse range of restaurants. The stunning vistas of the bay and its bridges are part of what makes this city so unique and special.
For delicious food, great service, and fantastic views of the San Francisco-Oakland Bay Bridge, Treasure Island, and Oakland, few places compare to enjoying brunch on the waterfront. Whether they're serving traditional breakfast dishes like bacon and eggs or more upscale fare like avocado toast and crab cakes, these are seven of the best brunch restaurants along the San Francisco Embarcadero. Embrace what the city has to offer by checking out great restaurant and bar options.
1 Take the kids to Town's End Cafe
With a family-friendly atmosphere, this cozy, laidback eatery has brunch food for all tastes. Standouts include a large crepe menu, egg-based breakfast plates like huevos rancheros and eggs Benedict, pancakes, piping hot coffee, and pitchers of mimosas. First opened in 1991, the restaurant closed during the pandemic, but in spring 2021, it relaunched under new ownership, with its menu of classic breakfast favorites intact.
2 Fill up on mimosas at the Socialite Crafthouse & Kitchen
For the best boozy brunch on the Embarcadero, head to the Socialite, a hip, trendy restaurant serving a mean weekend brunch. On the menu, you'll find avocado toast, fluffy buttermilk pancakes, and omelets alongside more inventive creations, such as hangover burgers and breakfast pizza. Bottomless mimosas flow freely, and Bloody Marys and cold-brew martinis are also on tap. Vegetarian and vegan options are available.
3  Dine on classics at Perry's on Union Street 
For a classic Saturday morning or Sunday brunch, this cozy, family-style outpost of the local mini-chain Perry's always delivers, with checkered tablecloths and harbor views from the indoor and outdoor dining areas—not to mention amazing food, excellent service, and a friendly atmosphere. For nearly 50 years this institution has delivered more than a great menu and remains enormously popular. Expect hearty options like California-style eggs Benedict, bagels and lox, and Bloody Marys.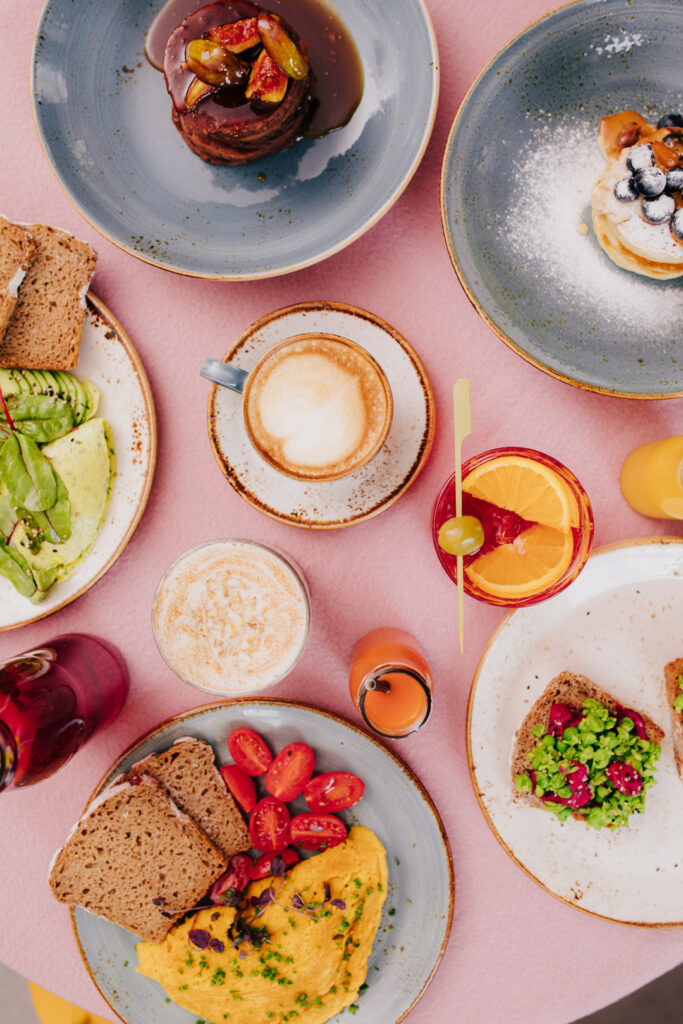 4 Splurge on seafood at Waterbar Restaurant
With up-close water and Bay Bridge views from both the stylish indoor dining room and breezy outdoor patios, this upscale spot is the perfect place for a fancy, special occasion brunch. Noted for its top-notch oysters and seafood, Waterbar serves more lunch-style brunch dishes, such as lobster rolls or shellfish cocktails, impeccably fresh and made with sustainably sourced seafood. Don't miss the signature Bloody Mary—garnished with bacon and tiger prawns, it's a must-order.
5 Take in the beautiful bay view at Pier 23 Cafe, Restaurant & Bar
A family-run fixture on the waterfront since 1985, this casual, laidback harbor-view restaurant is another amazing brunch spot for seafood lovers, with great food and a back patio boasting some of the best bay views on the Embarcadero.
The menu here leans more toward lunch-style fare. Start with oysters or clam chowder, then dive into seafood-heavy plates like shrimp melts and Dungeness crab cakes. On the breakfast-classics side, you'll find French toast, steak and eggs, and bacon, egg, and cheese sandwiches, among other dishes. While they don't serve mimosas, the drinks list includes both traditional and house cocktails. Margarita by the bay, anyone?
6 Settle in for a midday meal at Fog City
This modern-meets-retro diner-style spot has pretty views from its dining room toward the bay. While not a traditional breakfast spot, the great brunch menu here is perfect for those who prefer a more lunch-oriented meal, with dishes like tuna melts, healthy salads, fresh oysters, and deviled eggs.
After you're done eating, walk over to the famous Fisherman's Wharf to check out the many shops, restaurants, and attractions, just a short stroll away. Ready to work off your meal? Start pedaling: City Experiences' City Highlights Bike Tour departs from Ghirardelli Square, right there on Fisherman's Wharf.
7 Give your dining dollars to a good cause at Delancey Street Restaurant
Located at the far eastern end of the Embarcadero, Delancey Street Restaurant has been a neighborhood fixture since 1992. Not only does it have a delicious breakfast and brunch menu, but the restaurant is also part of a foundation that helps down-on-their-luck residents rebuild their lives—so your plate of pancakes or eggs Benedict is supporting an amazing cause.
This is a great place for a traditional brunch, with giant portions of classic brunch dishes and an outdoor patio overlooking the bay, offering beautiful views and fresh air.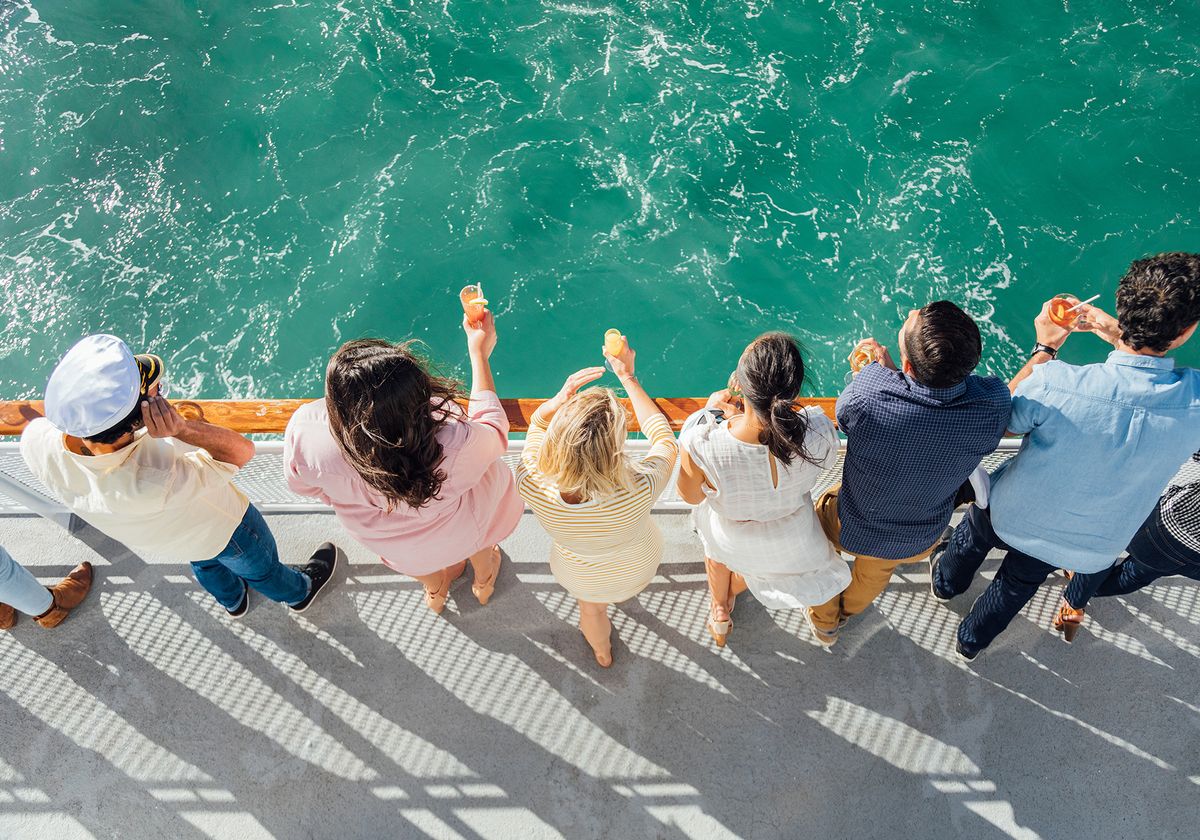 More great spots for breakfast and brunch along the Embarcadero
Donut Farm – A Ferry Building staple with delicious vegan donuts.
El Porteno – Argentinian empanadas and pastries inside the Ferry Building.
Blue Bottle Coffee – Ferry Building outpost of the Oakland-founded, third-wave coffee chain.
Daily Driver – Organic bagels served with spreads or as breakfast sandwiches, perfect for noshing while walking along the Embarcadero.
Hillstone-A Houston's chain (a really good one) located right across from Pier 33 offers perfectly executed steaks and burgers.  This location is scenic and frequent live jazz performances set the scene for an amazing meal.

 

Abaca-Recently added brunch menu for weekends only which is an absolute delight along Jones Street for a traditional Filipino brunch.

 
Where to brunch along the Embarcadero
Brunch. San Francisco. Embarcadero. The Bay Bridge. Put them all together and you have a recipe for a special weekend morning with delicious food and unforgettable harbor views. Prefer the view from the water itself? Check out City Cruises' Premier Brunch Cruise, where the buffet is bountiful and the bubbly free-flowing. this two-hour trip will make you feel like you are on vacation as you sail past the Golden Gate Bridge and San Francisco's renowned sights. Treat yourself to a good-morning getaway and live music which is the perfect way to unwind after a hectic week.
Original post date: August 15, 2022