San Diego is famous for its seal and sea lion colonies—from sunning themselves on sandy beaches to swimming out in the ocean, it's pretty much impossible to visit this Southern California city and not see these seagoing creatures. Here's everything you need to know about San Diego's sea lions and seals.
How San Diego became a seal and sea lion hotspot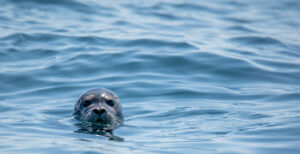 In the early 1990s, the local harbor-seal population was increasing, and more and more seals and sea lions were spotted in the San Diego area. A Marine Mammal Reserve was created to protect them, and the colonies flourished.
But over the years, there's been much debate as to whether humans or pinnipeds have more right to La Jolla's beaches. The seawall-protected Children's Pool has been the focal point of these arguments, as some citizens want the beach to go back to being humans-only. On the other side, animal-rights advocates argue for stronger protections for seals and sea lions alike.
The high amounts of waste have also been a health concern, and because of the strong smell, some businesses want the colonies relocated elsewhere. Long story short: Though many visitors and locals love viewing and visiting sea lions and seals, not everyone is happy about their presence.
What's the difference between a seal and a sea lion?
The beaches and coves of San Diego are home to both the Pacific Harbor seal and the California sea lion. But when you're watching one of them flop onto the beach or doze in the sun, how do you know if it's a seal or sea lion?
While these marine mammals are both pinnipeds, there are key differences. Seals are smaller than sea lions and don't have external ear flaps; sea lions are bigger, with ear flaps and larger flippers. Also, Pacific Harbor seals usually have spotted coats, while California sea lions' tend to be dark brown.
What's the best time of year to see sea lions and seals in San Diego?
Seals and sea lions live in San Diego year-round, so you'll be able to spot them pretty much anytime.
You'll have the best odds of seeing seals out on the beaches between late April and early June, but their birthing season is mid-December to mid-May—and that's arguably the best time to visit. Though the birthing beaches may be closed off or have restricted access during this time, you can watch from a distance and maybe even see a live birth! (For newborn sea lion pups, on the other hand, aim for mid-May to mid-July.)

What are the best places to see San Diego's sea lions and seals?
If you're wondering where to see seals in San Diego, there are several locations to hit.
La Jolla Cove is the best place to find sea lions
Less than 20 miles north of downtown San Diego in the community of La Jolla, La Jolla Cove is the most famous place in the area to find sea lions. Scores of them lay out on this wide strip of sand encircled by rocky cliffs, and you can even walk on the beach nearby.
Children's Pool Beach is the best place to see La Jolla seals
Guarded by a breakwater seawall, roughly 10 minutes from La Jolla Cove, this calm beach was originally created to be a safe swimming area for families and kids, just steps from downtown La Jolla.
But now, thanks to its peaceful waters and quiet beach, it's where La Jolla seals prefer to give birth and nurse their young. If seeing seal pups is on your San Diego trip checklist, be sure to head to the Children's Pool Beach seal rookery.
Where else can I see La Jolla sea lions and Seals?
Boomer Beach, the Seven Sea Caves of La Jolla, Shell Beach near Ellen Browning Scripps Park, and other areas of Seal Rock, where Children's Pool is located, are great spots to spy seals and California sea lions frolicking or relaxing on the beach.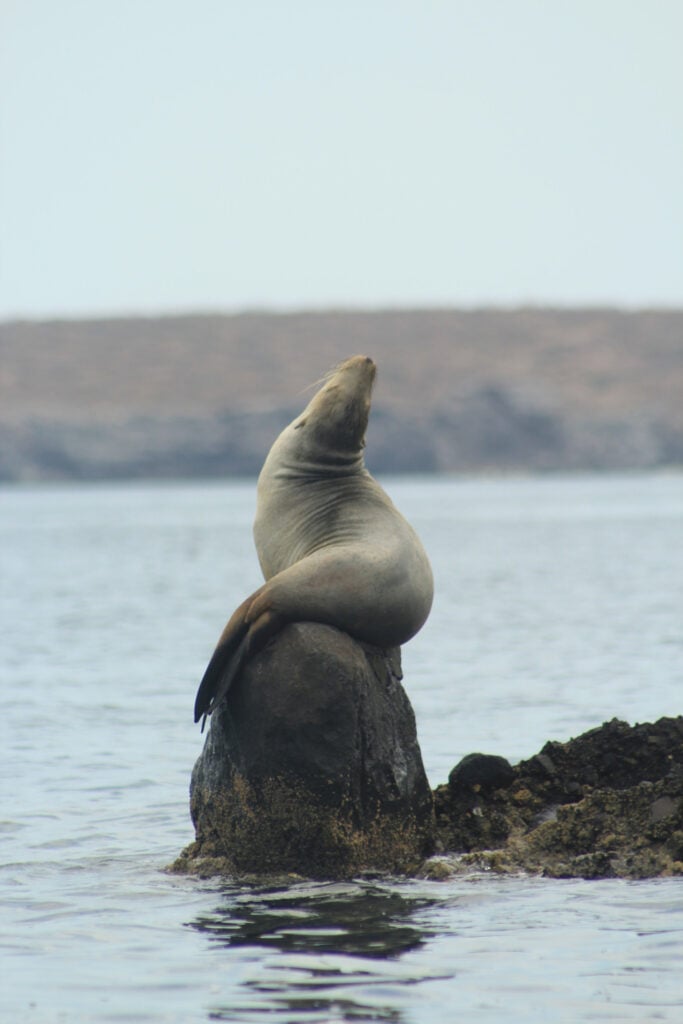 Responsible ways to view sea lions and seals in San Diego
San Diego sea lions and seals are wild animals protected by law, with hefty fines for disturbing them. But it's possible to see and interact with them as long as you do so respectfully. At La Jolla Cove and Children's Pool, you can stroll on the beach to take a closer look, or hit the La Jolla Coast Walk Trail for a more panoramic view.
When it comes to San Diego seal tours, City Cruises has one- and two-hour Harbor Cruises around the San Diego Bay that hit the major highlights, including the famed pinniped colonies, while the Whale & Dolphin Adventure and Sea Life Adventure cruises offer the chance to see the marine mammals out on the open ocean. 
You can even go snorkeling or scuba diving in the waters of the San Diego-La Jolla Underwater Park Ecological Reserve to view sea lions, seals, sea turtles, and more in their natural habitat, accompanied by a certified guide.
Tips for visiting seals and sea lions in the San Diego area
While exploring La Jolla's beaches, cliffs, and tide pools, wear close-toed shoes so you don't slip.
Be prepared: The smell of seal and sea-lion poop can be really strong, but seeing the adorable animals is worth it.
Respect the laws surrounding seals and sea lions by not getting too close, not littering, and not feeding them. It's for your safety and protection as well as theirs—and you can be fined if you don't comply.
Since the colonies are still threatened, you can donate to local organizations like the Seal Conservancy.
If you see wild animals being harassed, abused, or hurt in any way, alert the San Diego Police Department or on-duty lifeguards.
San Diego's seals and sea lions are so cute, you need to "sea" it to believe it
Heading to La Jolla to see the local seal and sea lions colonies is a classic must-do in San Diego and is a great chance to see these animals living their lives out in the wild. It also advocates for their continued protection.