You say it's your birthday? Well, then it's our birthday too! Just kidding. We would never want to steal your thunder, but we're more than happy to help you figure out how to mark the occasion. Celebrating this special day makes plenty of sense—it is your birthright after all. But figuring out what to do and where can be overwhelming, especially in a destination like New York City. With so many options, it's hard to decide how to get the most bang for your buck while simultaneously making the experience memorable for anyone and everyone you choose to spend your time with. Luckily, we have a ton of ideas to offer free of charge that runs the gamut from east to west, and daytime to evening. So, let's get this party started!
Let's Do (Birthday) Brunch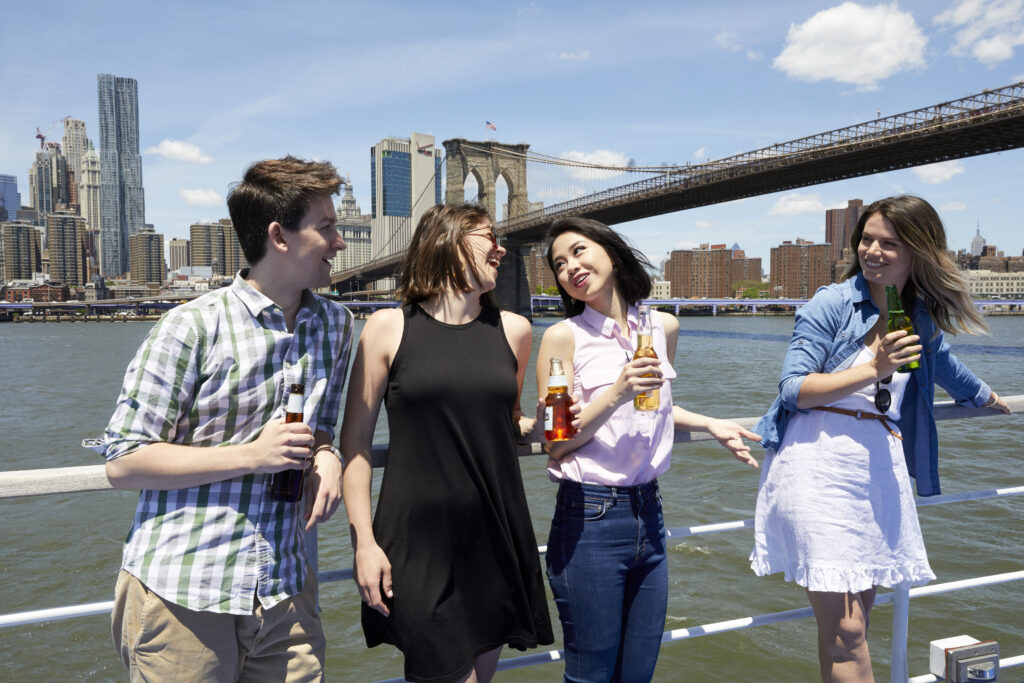 Breakfast might be the most important meal of the day, but brunch is definitely an event that gives off serious celebratory vibes—especially if you're embarking on a high seas adventure for your birthday, and the New York Signature Brunch Cruise Pier 15 is the best bet. This two-hour cruise travels on both the East and Hudson Rivers guaranteeing you see all the city's iconic local landmarks and skyline views. Guests enjoy a decadent buffet brunch featuring freshly prepared dishes, bottomless mimosas designed with toasting in mind (for those over 21), plus an assortment of other beverages (soda, juice, hot/iced tea, and coffee) as well as onboard entertainment with DJ music. The well-stocked cash bar also offers creative cocktails, wine, and beer. Whether you opt for the large outdoor observation deck or the fully enclosed, climate-controlled dining decks, spectacular sights are yours to behold—and of course to share with your followers on the Gram or Tik Tok, including an up-close photo with Lady Liberty. Snag a window table reservation for the ideal views. You can also secure a guaranteed table according to your party size and add additional upgrades to customize your experience.
Birthday Happy Hour on the High Seas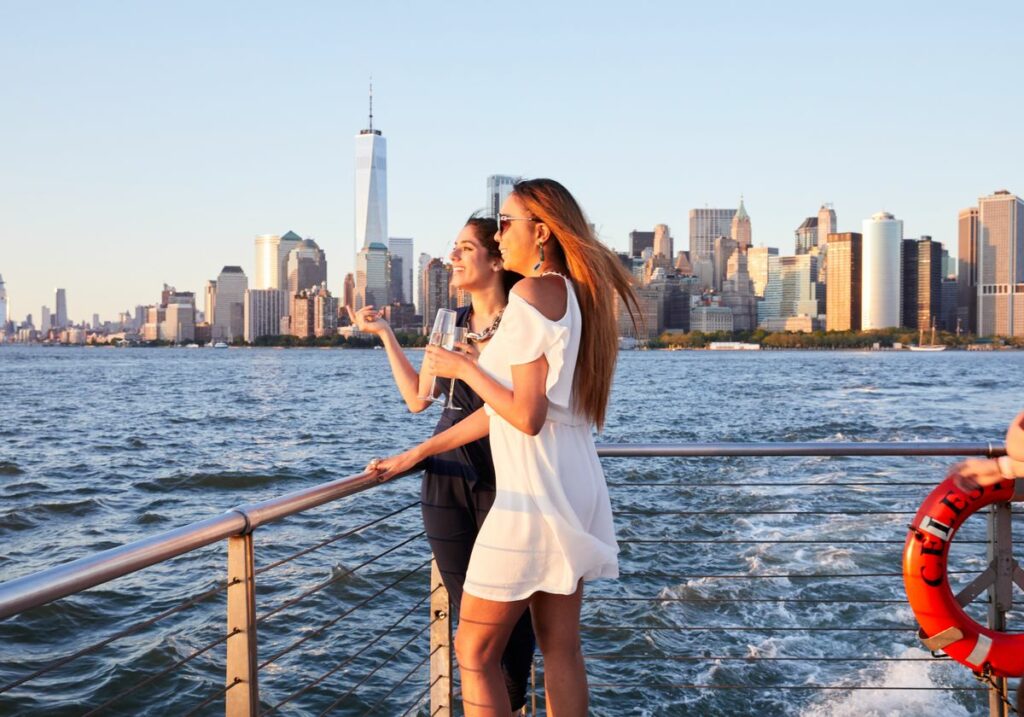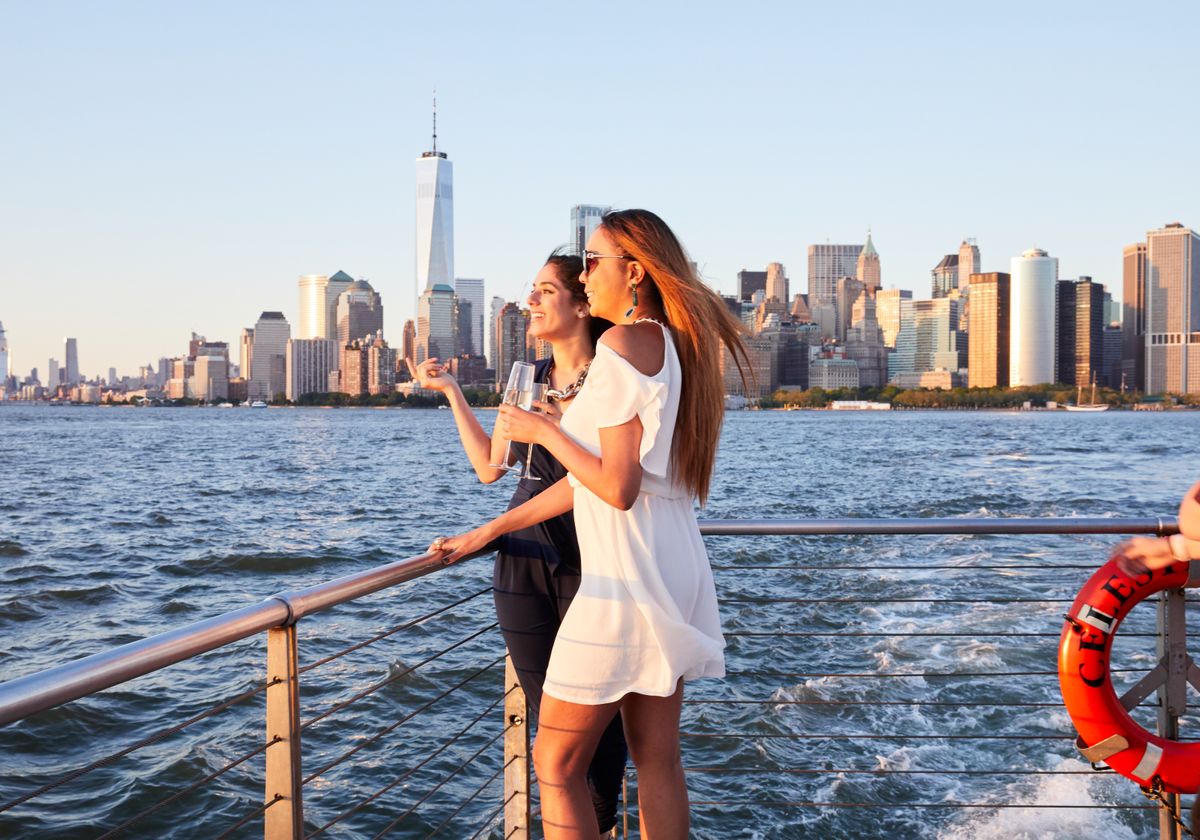 If you think an evening celebration on the high seas is something you don't want to miss, the New York Alive After Five Cruise delivers. Bringing the buzz of NYC nightlife to life, this two-hour, happy hour cruise comes complete with a live DJ to pump up the party atmosphere, offers a laid-back vibe, delicious drinks, light bites, and a chance to make memories that will last a lifetime. Not only will you get to take in amazing views of the city skyline and iconic local landmarks—including the Brooklyn Bridge, Ellis Island, and the Statue of Liberty—but you'll also get a chance to witness the sun start to set over NYC and see the city lights shine in all their glory. With four packages to choose from, the options are pretty enticing. General admission includes admission to come aboard and purchase drinks from a fully stocked bar; Hungry Sailor offers admission to come aboard, food including pasta and Tex Mex, plus the option to purchase drinks from the fully stocked bar; Walk the Plank gets you admission to come aboard, food including pasta and Tex Mex, and two beer, soda, or wine drink tickets; and Fully Overboard provides admission to come aboard, food including pasta and Tex Mex, and two premium drink tickets.
Birthday Dinner Cruise in NYC
There are plenty of amazing high-end restaurants all over NYC, but when it comes to an elegant dining experience on the water—that's a different story. It's where the Bateaux New York Premier Plus Dinner Cruise comes in. The ultimate birthday dinner cruise in NYC. This unforgettable, sophisticated three-hour event offers guests a chance to catch panoramic, stunning views of iconic city sights from a glass-enclosed deck as you travel across the East and Hudson Rivers on the lavish Bateaux New York, which is inspired by high-end European design. On board, guests are treated to a decadent plated dinner that features freshly prepared gourmet entrees, salads, and desserts with unlimited coffee, hot tea, iced tea, and water, and enjoy a live band performance with a female vocalist singing songs that cover multiple musical eras and styles. There are guaranteed tables for your party size, and additional upgrades available of innovative cocktails, wine, and beer from a well-stocked cash bar, window table reservations for picture-perfect views and other amenities to customize the experience.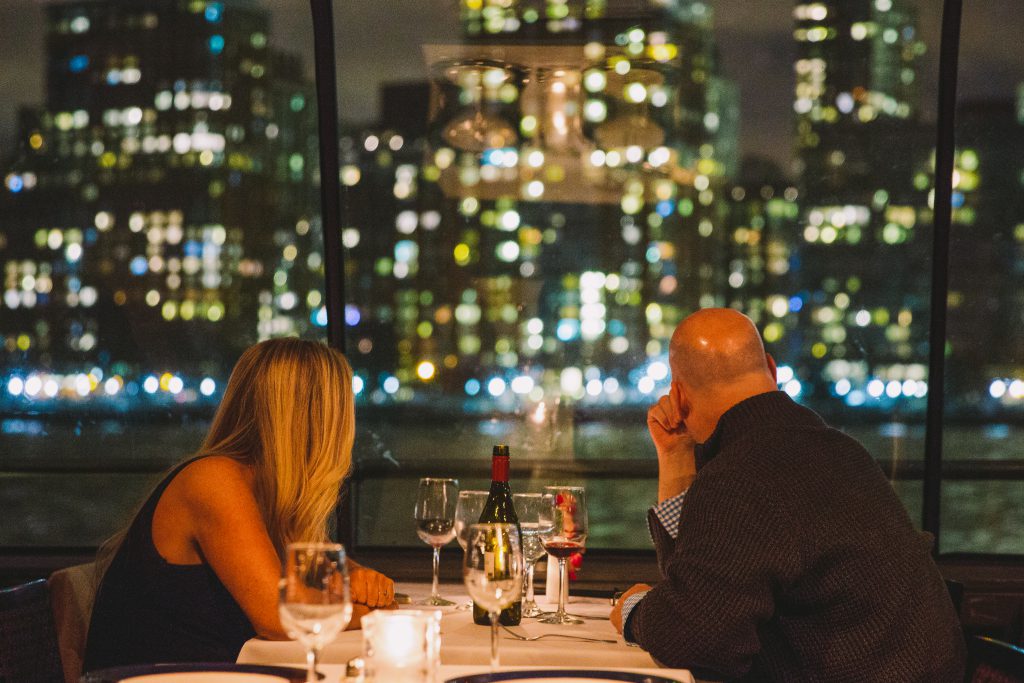 Land AND Opportunity
Of course, in addition to water adventures, there are numerous ways to mark a birthday occasion in NYC ranging from concerts, theatrical performances, art galleries, shopping, spa time, and culinary delights. That might include Michelin-star restaurants, rooftop bars, afternoon tea at The Plaza Hotel, a trip to The Met, catching a hit show on Broadway, a comedy showcase, or strolling down Fifth Avenue to hit top shops. The sky is literally the limit in the Big Apple with attractions such as SUMMIT One Vanderbilt; places like Escape The Room NYC; and organized scavenger hunts offering interactive fun for everyone. You can also opt for a range of food tours to satiate your hunger and thirst for a culinary adventure. Whatever the birthday wish it can be granted. Because in NYC there is something for everyone—you just have to decide what you want to do, where, when, and who is the best crew to bring with you along for the ride.
Private Birthday Boat Ideas in NYC
Celebrating a birthday on the waters of NYC provides a unique blend of urban excitement and tranquil maritime charm. Opting for a private boat elevates the experience, immersing guests in the midst of the city's iconic skyline and the gentle rhythms of the Hudson and East Rivers. Among the numerous choices available for such riverine celebrations, City Cruises stands head and shoulders above the rest. They offer a plethora of options tailored to meet varied desires: you can charter an entire boat for a lavish, exclusive event; rent out a dedicated deck for a more intimate gathering; or even reserve your own table on one of their scheduled public cruises, ensuring a personal space while still enjoying the communal ambiance. Beyond the flexibility in booking options, City Cruises is renowned for its exceptional service, gourmet dining, and unrivaled views of landmarks like the Statue of Liberty, Brooklyn Bridge, and Manhattan's glittering skyline. Which makes it a no brainer that Foodgressing.com, a food, travel and lifestyle brand sharing news and reviews on restaurants, products, travel and local happenings, recognized City Cruises as a top recommendation for private party venues in New York City! Whether you're aiming for a grand festivity or a cozy celebration, City Cruises ensures your birthday becomes a cherished memory set against the breathtaking backdrop of New York City. Fill out this form today and an Event Planner will contact you!
New York City's Best Birthday Venue
While all of the activities and things to do on your birthday sound fun, some just want to have a traditional birthday party. But what if we told you that you could have that birthday party on a yacht? City Cruises' amazing fleet of luxurious yachts and boats can be rented or chartered to host your next birthday bash. Take in New York City's iconic skyline from your very own private party on the water. Contact our team to start planning, so that we can take care of all the little details, allowing you and your guests to fully soak in this one of a kind experience. Options are customizable based on your budget and group size. It should also be mentioned that you can host a number of other events on City Cruises' vessels, anything from weddings, corporate events, baby showers, after parties, and much more!
FAQs – NYC Birthday Party Boats
Why is City Cruises a great choice for a birthday party venue in New York City?
City Cruises offers a unique and thrilling setting for birthday celebrations in New York City. It allows you to enjoy the mesmerizing city skyline, iconic landmarks, and the Statue of Liberty from the Hudson and East Rivers. With flexible booking options – whole boat, one deck, or a private table – it caters to parties of all sizes.
What kind of capacity does City Cruises offer for birthday parties in New York City?
The guest capacity varies based on your choice of booking. An entire boat can accommodate a large crowd, while a private table or a single deck is more suited to intimate gatherings. For accurate numbers, check out the City Cruises New York Fleet page.
What services are provided by City Cruises for a birthday party in New York City?
City Cruises provides a host of services to make your birthday party exceptional. This includes customizable catering options, well-equipped bars, and a range of entertainment choices. Their dedicated team will ensure your party proceeds without a hitch.
Can I have a custom menu for my birthday party on City Cruises in New York City?
Yes, City Cruises emphasizes its commitment to personalized experiences with its customizable menus. Their culinary experts will collaborate with you to curate a menu that caters to your specific taste and dietary needs.
Does City Cruises offer entertainment options for a birthday party?
Yes, City Cruises provides a variety of entertainment options. You can enjoy live music, DJs, and other engaging entertainment elements that make your party more enjoyable.
How can I book City Cruises for a birthday party in New York City?
Booking a birthday party with City Cruises is simple and convenient. Visit their website or reach out to them via phone. Their professional staff will guide you through the booking process, helping you design a party that fits your needs and budget.
Am I allowed to decorate my table or the boat for the birthday party?
Yes, you can arrange for decorations to make your event more personalized. It's recommended to discuss your ideas with the City Cruises team during the booking process.
What views can I look forward to during my birthday party cruise in New York City?
A birthday party with City Cruises offers stunning views of the New York City skyline, iconic landmarks like the Statue of Liberty, and the bridges spanning the Hudson and East Rivers, offering a truly memorable way to celebrate your special day.
What makes a birthday cruise in NYC a worthwhile experience?
A birthday cruise in NYC is undeniably a valuable and memorable experience. The unique perspective of the city's iconic skyline, mixed with the charm of a boat party, creates lasting memories. With City Cruises, you can design an exceptional birthday party that you'll reminisce about for years to come.
How much does a yacht birthday party cost in NYC with City Cruises?
The cost of a yacht birthday party in NYC varies based on the chosen boat and the number of attendees. Birthday parties on a yacht are an extraordinary way to ring in your special day. To get a specific quote, provide your details via the form on the City Cruises website, and their team will contact you shortly.
Is a brunch or dinner cruise better for a birthday party in NYC?
The choice between a brunch and a dinner cruise depends entirely on your preferences. A dinner cruise offers a more intimate setting and the mesmerizing view of the city lights at night. However, a brunch cruise can be equally delightful, especially in summer, allowing you to bask in the warm sunshine.
Does City Cruises provide yacht rentals for birthdays in NYC?
Yes, City Cruises does provide yacht rentals for birthdays in NYC. Connect with our team for more information. If you prefer a more communal celebration, you also have the option to reserve your own tables on a public cruise instead of chartering a private yacht.
What are some unique ideas for celebrating a birthday on the water in New York with City Cruises?
Celebrating a birthday on the water in New York opens up a world of possibilities. With City Cruises, you can choose from a variety of options including brunch, lunch, dinner, or even a private charter. There's no better way to celebrate a birthday in NYC than on a luxurious yacht.
How can I make a NYC birthday cruise more memorable with City Cruises?
With City Cruises, you can elevate your NYC birthday cruise experience by adding custom touches. Consider a theme for your party, arrange for special decorations, or personalize your menu to reflect your tastes. City Cruises' team is more than happy to assist you in creating an unforgettable event aboard their yacht.
Are there specific cruises that City Cruises recommend for birthday celebrations in NYC?
City Cruises offer a variety of cruise options, all of which can be tailored for birthday celebrations. Some popular choices include their Brunch Cruise for a daytime celebration or their Dinner Cruise for an enchanting evening under the city lights. Each cruise provides a unique ambiance, excellent service, and stunning views of NYC, making for an unforgettable birthday experience.
What makes NYC a perfect location for a birthday celebration?
New York City, often referred to as the "city that never sleeps," offers a plethora of exciting activities and venues perfect for a birthday celebration. The vibrant energy of the city, the endless dining and entertainment options, and the stunning skyline make it a fantastic choice for marking such a special occasion. From enjoying a brunch cruise on the Hudson River to witnessing the sunset over the city's iconic skyline during a dinner cruise, NYC has something to suit every birthday celebrant's taste.
Original post date: June 29, 2023