Located mere minutes from the US-Mexico border, San Diego is famous for its authentic Mexican cuisine and street food scene.
While you'll find no shortage of delicious fast-casual taquerias and food trucks serving classics like street tacos and burritos, some of the best Mexican food in San Diego can be found at contemporary restaurants where chefs are serving up modern takes on this timeless cuisine.
And of course, when you're not tasting all the delicious contemporary Mexican food around town, San Diego has plenty of other amazing things to see and do. Go on a cruise of San Diego Bay, visit famous attractions, and try other excellent food and drink on dining cruises with City Experiences' tours and excursions.
The top modern Mexican food in San Diego
Perhaps you're curious to try Mexican street food prepared with seasonal ingredients and an elevated presentation. Maybe you're craving authentic Mexican food, but it's date night so you need a more upscale, sophisticated option. Or maybe you have food restrictions, and you're looking for great Mexican food that accommodates your needs.
Whatever the reason, modern Mexican cuisine surely fits the bill. For delicious, authentic Mexican food with a modern twist, these are the best Mexican restaurants in San Diego.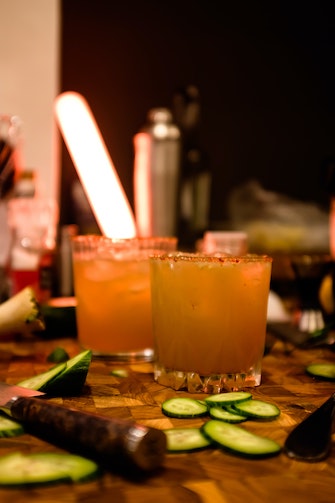 1. Death by Tequila
If the dangly Edison bulbs, metal barstools, and minimalist yet Mexican-inspired decor didn't tip you off that Death by Tequila is a cool spot, the food will.
Chef Angelo Sosa serves upscale and sometimes unexpected takes on classic Baja Mexico fare, such as ceviche or a tempura fish taco, made with high-quality ingredients. And as the name suggests, there's no shortage of top-quality tequila and mezcal to sip straight or enjoy in margaritas, palomas, and signature house cocktails.
2. Lola 55
Bold, vibrant flavor and artistic presentation come together at this chic and stylish modern take on a traditional taqueria, with tacos being the main event.
Focusing on simple, fresh ingredients, Lola 55 dishes up some of the most inventive elevated tacos in San Diego, with fillings like achiote pork belly, mesquite-grilled chicken or steak, and vegetarian-friendly squash blossom relleno. The social media crowd will also appreciate the bright and airy dining space for its great lighting and smart design.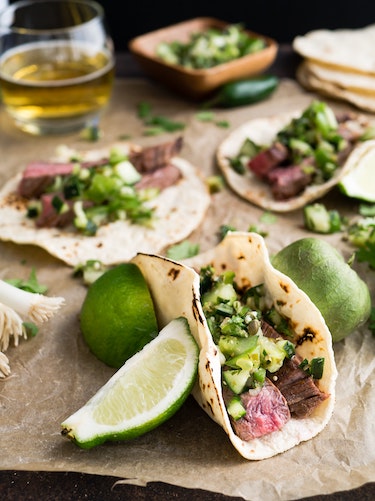 3. Tocaya Modern Mexican
Part of a larger chain with locations around California and Arizona, Tocaya Modern Mexican has two restaurants in the San Diego area. Here, traditional Mexican flavors and ingredients are reimagined as trendy, health and wellness-focused meals, many of which are compatible with diets, food preferences, or restrictions, such as keto and vegan.
Enjoy popular dishes like elote, or street corn, in the form of a protein-packed bowl, pineapple marinated and grilled al pastor–style, or burritos stuffed with beans, riced cauliflower, and vegan-friendly sauces. The succulent-studded turquoise dining rooms also scream Mexican beach—all the laidback, relaxing vibes.
4. Puesto at the Headquarters
From the decor to the food, at Puesto at the Headquarters you feel the blend of traditional Mexican culture in an edgy, modern environment located close to downtown San Diego. The dining room itself is a standout: an edgy industrial space with bold, splashy murals and artwork contrasting against lush greenery and warm wooden furniture.
The contemporary Mexican menu cycles through fresh, seasonal ingredients throughout the year, offering something new each time you visit. While the ingredients may change, you'll find classics like tacos, ceviche, and more, with delicious fillings like tamarind shrimp or Baja fish.
5. Camino Riviera
From gigantic tempura sea-bass tacos to bao filled with pork quesabirria, this cool, laidback spot near downtown is known for its elevated Yucatan cuisine and Asian-fusion dishes. Traditional dishes are played up with bold, extravagant flavors and presentations, such as an ice cream made from Brentwood corn and molded into the shape of a corn cob.
With attention-grabbing neon lights and a bold black-and-white-striped exterior, Camino Real even feels like a buzzy club in coastal Mexico. By day, it has a breezy, beachy feel, with artsy wall hangings, patio-style furniture, and plenty of plants. But by night, it's awash in pink neon and muted lights for a glam, moody atmosphere.

6. Coasterra Modern Mexican
Situated right on the water of San Diego Bay, with views of central San Diego and the Pacific Ocean, Coasterra Modern Mexican's beautiful waterfront location would be reason enough to dine. But the inventive, flavorful, and seafood-centric contemporary Mexican fare—offerings like a ceviche trio and crispy Baja-style striped bass—equals the vista.