If you haven't thought of a small wedding on a boat for your special day… you should! Weddings can be one of the most incredible and important events in someone's life, but so often you hear couples explain how they hardly even remember their special evening. Since there are so many people to see, traditions to follow, and dancing to be done, people often feel like the entire day is a complete blur. Usually, that's because those folks have massive weddings — which are incredible nights to remember, of course, but if you're looking for something a little more intimate, you're not alone.  
Why You Should Consider a Small Wedding on a Boat
Do you know one of the most overlooked ways to celebrate your love in a cozy, connected way? Having a small wedding on a boat! With exceptional views, plenty of things to do, and a unique, upbeat atmosphere, a boat wedding is sure to be an unforgettable experience for you and all of your beloved family, friends, and guests. Interested, but not sure where to start? No worries: We have you covered. Below is some more information on this style of celebration and a few of our top tips for a perfectly intimate event.   
Why You Should Get Married on a Boat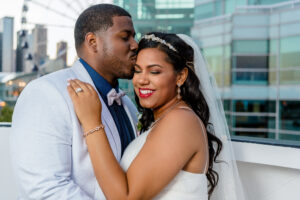 While you may not have thought of a small wedding on a boat when you were planning your special day, as far as intimate wedding ideas go, it's one of the best choices for a special event. Plus, boat wedding venues and boat wedding packages range from luxurious, high-class yacht weddings that'll wow even the most hard-to-please guests, to laid-back, more casual affairs that end up feeling more like a beach wedding on a boat than a stuffy celebration. Popular boat wedding venues and locations run the gamut from yacht clubs and marinas to piers, private docks, and more. And, one of the best things about boat weddings is that there are locations everywhere — you just need to be near the water! City Experiences offers complete wedding packages in places such as Chicago, New York City, San Francisco, Baltimore, Philadelphia, and San Diego, to name a few, but the list goes on.  
How to Plan a Small Wedding on a Boat 
While planning your special day can be a treat, it can also be tough to narrow down your options. Boat wedding decorations and boat wedding packages vary from exceptional to… well, not so exceptional. But luckily with City Experiences' Weddings on the Water, you don't have to stress! You can book a unique floating venue with (of course) exceptional views and unbeatable service, as well as chef-prepared menu options, full bar service, and all-inclusive packages that can be customized to fit your budget, style, and party size. Did we mention that there are both indoor and outdoor decks where there's plenty of room for dining and dancing? There's also a team of wedding professionals on standby to ensure that you and your significant other have the day and union of your dreams. And, it's not just for the big day: From ceremonies and receptions to rehearsal dinners, engagement parties, bridal showers, day-after brunches, bachelor and bachelorette parties, vow renewals, and any wedding-related event you can think of.   
What Size Boat for a Wedding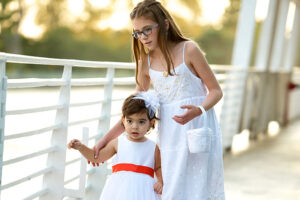 You'll have to take into consideration party size, event style, and necessary amenities when selecting the right boat for your wedding — and, if your package allows, exactly what kind of wedding you're looking to have. Are you thinking about nautical motifs? Fabulous floral arrangements? Custom lighting? The possibilities are endless. Then there's the matter of activities and experiences — you are on a boat, after all, and you should take advantage of your unique opportunity! Perhaps your guests would enjoy a sunset sail on a peaceful harbor or a scenic trip down a majestic river.  
Oh, and it wouldn't be a wedding without dancing, so you should also start thinking about what your onboard entertainment is going to look like. You could go the DJ or live band route, or you could always have your parents bring their trusty karaoke machine: We hear Dad is dying to do his famous rendition of "Freebird." (Wink!) Don't forget to double-check with the local laws and regulations of the area you're getting married in too, since there are certain legal considerations to take into account for boat weddings, including permits and licenses.  
However, at the end of the day, no matter how you decide to get married and plan your small wedding on a boat, just remember to enjoy the day, revel in the celebration, have fun with your loved ones, and celebrate a lifetime of love!