Quick question: What did you get your mother for Mother's Day last year aside from a card and flowers? If you can't remember, she probably can't either, and is that how you really want her to feel about the day devoted to her? Moms want—wait, moms deserve—to feel appreciated, especially on a day devoted to them! After all, this 24-hour period was created exclusively for her, so you need to up your game and make it a truly memorable experience. Lucky for you we have a few ideas in mind, and we're happy to share them with you for inspiration.
The Belle of the Ball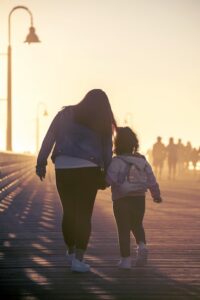 Because Mother's Day is to honor mom, this is the perfect time to make sure whatever you do, she feels like the belle of the ball. With her as the focal point for admiration and fun, you want to provide mom with an experience that offers multiple goodies instead of just one. An excursion on the Mother's Day Premier Brunch Cruise on the San Francisco Belle  ticks multiple boxes off the gift-giving list—from amazing food choices and spectacular city sights to live entertainment, and quality time together. To start, mom can get up close to the San Francisco skyline from the outdoor decks to take in local landmarks and the picturesque backdrop of Berkeley. She'll get to indulge in a chef-inspired, freshly prepared buffet complete with a choice of Champagne, classic cocktails (hello, mimosas!), sparkling cider, and wine. Dancing is optional on this two-hour experience, which also offers cruise-style seating and complimentary flower at the end of the journey to send her off feeling even more loved and appreciated than when she boarded the boat.
Experience the Great Outdoors
San Francisco is a city celebrated for so many attractions—culture, food, nature, and sounds. One of the best things to experience is the great outdoors because there are plenty of beautiful spots to take it all in. Whether it's the iconic Golden Gate Park (which includes the majestic Japanese Tea Gardens) or the San Francisco Botanical Gardens (with its bounty of breathtaking blooms), mom will see natural sights you can explore in the city. Of course, getting from one location to another is always fun when you go via the San Francisco signature cable cars. For adventurous moms, hopping on one and grabbing a ferry can even bring her to Angel Island State Park—a historical hidden gem of the surrounding Bay Area.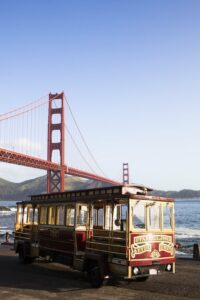 Shop Around
If mom loves to exercise her purchasing power, San Francisco gives her several options to choose from. With boutiques that feature everything from local and international treasures, accessories to apparel, food, and home goods, she's bound to discover something special. From the Ferry Building Marketplace for gourmet treats and home goods to Union Square shopping with department stores and more, mom can fill up her bags with a wealth of goodies she needs or simply wants. Remember, today her wish is your command!
Capture Culture
We'd be remiss not to mention the rich cultural offerings found in San Francisco—especially since lots of moms love to enjoy the artistic beauty of all kinds on their special day. Art-loving mamas can find inspiration among the many masterpieces at the San Francisco Museum of Modern Art or the de Young Museum, while music enthusiasts can listen to the soothing sounds of the award-winning San Francisco Symphony. If drama is what she wants (strictly manufactured…), there are numerous places to catch performances based on the genres she gravitates to. Meanwhile, for animal lovers, a visit to the San Francisco Zoo provides a front-row seat to more than 2,000 endangered, exotic, and rescued animals at home in gorgeous gardens nestled right next to the Pacific Ocean.

Make Dinner Unforgettable
As the day draws to a close, we want mom to go out on a high note. By saving the best gift for last she's bound to appreciate (and remember!) this year's Mother's Day whenever she thinks about how she spent it. If you didn't opt to start the day with an enticing brunch cruise, here's your chance to conclude it with a meal made for making memories. On the Mother's Day Premier Dinner Cruise, mom will savor chef-inspired, freshly prepared plated entrees, salads, and desserts with a choice of Champagne, classic cocktails, and wine designed for toasting. The excursion is accompanied by exceptional views of the city skyline and local landmarks from the boat's outdoor decks. For two-and-a-half hours on the San Francisco Bay, she'll be the center of attention as the onboard DJ entertainment spins songs in her honor. No doubt this will be music to her ears, and this Mother's Day will be a big hit!