Ho-Ho-Holiday Magic: Christmas in Poole – The Ultimate Festive Experience! Get ready to unwrap a bundle of festive cheer in Poole this Christmas and let City Cruises Poole be your guide to all the merry delights. From dazzling lights to Santa's Grotto, winter harbour lights cruises to fantastic shopping and scrumptious feasts, this coastal town has it all. So, grab your loved ones, embrace the spirit of the season, and set sail on a memorable Christmas adventure in Poole. Happy holidays!
1 Poole sure knows how to dazzle its visitors with stunning festive illuminations.
Grab a spot on a City Cruises Poole boat and set sail on a picturesque journey around the harbour. Marvel at the beautifully adorned quayside buildings, twinkling lights reflecting off the water, and the mesmerizing light installations that bedeck the town. You'll feel like you've entered a fairytale wonderland!
2 Calling all little ones (and the young at heart)!
City Cruises Poole offers an enchanting Sail with Santa experience that will fill your heart with joy. Step onto the deck and let the magic unfold as you journey through Santa's secret hideaway. Meet the jolly man himself, tell him your Christmas wishes, and receive a special gift. It's a truly unforgettable experience that will make your heart sing "Jingle Bells"! Available every Saturday and Sunday throughout December.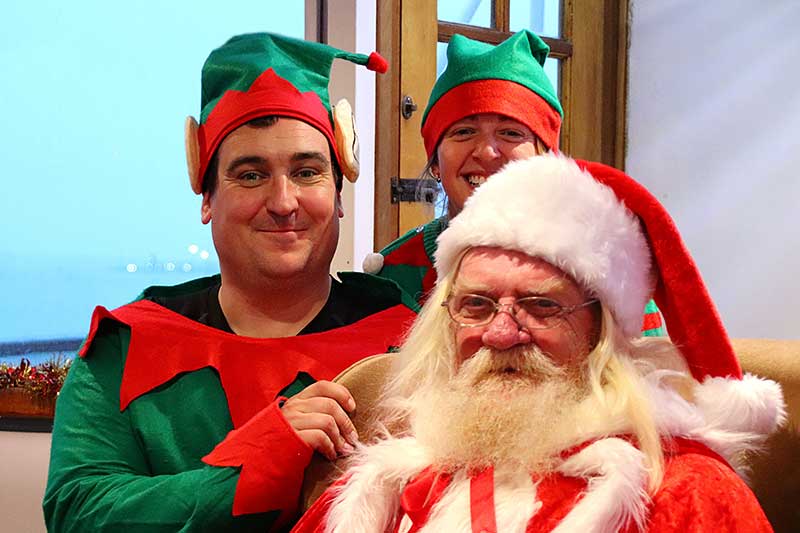 3 Looking for the perfect gift for your loved ones?
Poole is home to a delightful array of boutique shops and markets, where you can find unique treasures and thoughtful presents. From handmade crafts to local delicacies, you'll discover something for everyone on your Christmas list. Explore the bustling streets, brimming with festive spirit  for your Christmas shopping extravaganza, then hop on board the Christmas Party Cruise available every Friday and Saturday night throughout December.
4 Christmas is all about indulgence, and Poole's culinary scene is ready to wow your taste buds.
With an abundance of cozy cafes, traditional pubs, and fine dining establishments, you'll be spoiled for choice. Sample hearty Christmas feasts, savour delicious mulled wine, and treat yourself to mouthwatering mince pies. Don't forget to raise a toast to the joyous season while enjoying stunning waterfront views from a City Cruises Poole boat.
FAQs – 2023 Christmas in Poole
Why should I consider spending Christmas in Poole, UK?
Poole, a large coastal town in Dorset, is a wonderful place to spend Christmas. The town is beautifully decorated with festive lights and ornaments, giving it a magical atmosphere. The Poole Christmas Market is a must-visit with an array of local produce, crafts, and food. You can enjoy a festive walk along the harbour, or participate in the many Christmas events and activities taking place in the area.
What are some Christmas events in Poole?
During the Christmas season, Poole hosts a variety of festive events. The annual Christmas Parade is a popular attraction, featuring beautifully decorated floats and performances. You can also enjoy the annual carol service in the historic Poole Quay. Many local attractions, like the Poole Museum and Upton House, have special Christmas-themed events and exhibits.
What can families do in Poole at Christmas?
Families can enjoy a range of activities in Poole at Christmas. Visit the Poole Winter Wonderland for festive fun, ice skating, and to meet Santa in his grotto. The Dolphin Shopping Centre hosts various Christmas events, and the local pantomime at the Lighthouse is a fun family tradition.
What dining options are there in Poole at Christmas?
Poole offers a fantastic selection of restaurants where you can enjoy a traditional Christmas meal. Many local restaurants and pubs offer special Christmas menus featuring local Dorset produce. From fine dining to cosy pubs, there are options to suit every taste.
How can City Cruises enhance my Christmas experience in Poole?
City Cruises offer a unique perspective of Poole's scenic harbour and coastline, which is particularly enchanting during the festive season. They run special Christmas cruises where you can enjoy a festive meal or afternoon tea on board. These cruises are a fun way to see the area and enjoy the festive atmosphere from the water.
Why is a Christmas cruise on the River Thames a good idea for the whole family?
A Christmas cruise on the River Thames is a magical experience for the whole family. You can enjoy the beautiful sights of London's iconic landmarks lit up for the festive season from the comfort of a heated cabin. City Cruises offer special themed cruises during the Christmas season, such as carol cruises and Santa cruises, making it a unique and memorable way to celebrate Christmas.
What can I expect from a City Cruises Christmas cruise?
City Cruises' Christmas cruises offer a range of festive experiences. You could enjoy a traditional Christmas meal, afternoon tea, or simply take in the stunning views of the festively lit city skyline. Special cruises for kids include meeting Santa, making them an unforgettable Christmas treat.
Is there entertainment on board a City Cruises Christmas cruise?
Yes, City Cruises offer live entertainment on their Christmas cruises. This can range from live music to carol singing, depending on the specific cruise. These performances add to the festive atmosphere and make the cruise a truly enjoyable experience.
Can I book a private Christmas cruise with City Cruises?
Yes, you can book a private Christmas cruise with City Cruises. This is a fantastic option if you're celebrating with a large family or group. You can enjoy the festive atmosphere and stunning views in a more intimate setting, with catering options to suit your party's needs.