Ho-Ho-Holiday Magic: Kerst in Poole - De ultieme feestelijke ervaring! Maak je klaar om deze kerst een bundel feestelijke vrolijkheid in Poole uit te pakken en laat City Cruises Poole je gids zijn naar alle vrolijke geneugten. Van oogverblindende lichtjes tot Santa's Grotto, winter harbour lights cruises tot fantastisch winkelen en overheerlijke feesten, deze kustplaats heeft het allemaal. Dus neem je geliefden mee, omarm de geest van het seizoen en zet koers naar een onvergetelijk kerstavontuur in Poole. Fijne feestdagen!
1 Poole sure knows how to dazzle its visitors with stunning festive illuminations.
Neem plaats op een boot van City Cruises Poole en maak een schilderachtige tocht door de haven. Bewonder de prachtig versierde gebouwen aan de kade, de fonkelende lichtjes die op het water weerkaatsen en de betoverende lichtinstallaties die de stad versieren. Je waant je in een sprookjesachtig wonderland!
2 Calling all little ones (and the young at heart)!
City Cruises Poole biedt een betoverende Sail with Santa-ervaring die je hart zal vullen met vreugde. Stap op het dek en laat de magie zich ontvouwen tijdens je reis door de geheime schuilplaats van de Kerstman. Ontmoet de vrolijke man zelf, vertel hem je kerstwensen en ontvang een speciaal cadeau. Het is echt een onvergetelijke ervaring die je hart zal doen "Jingle Bells" zingen! Beschikbaar elke zaterdag en zondag in december.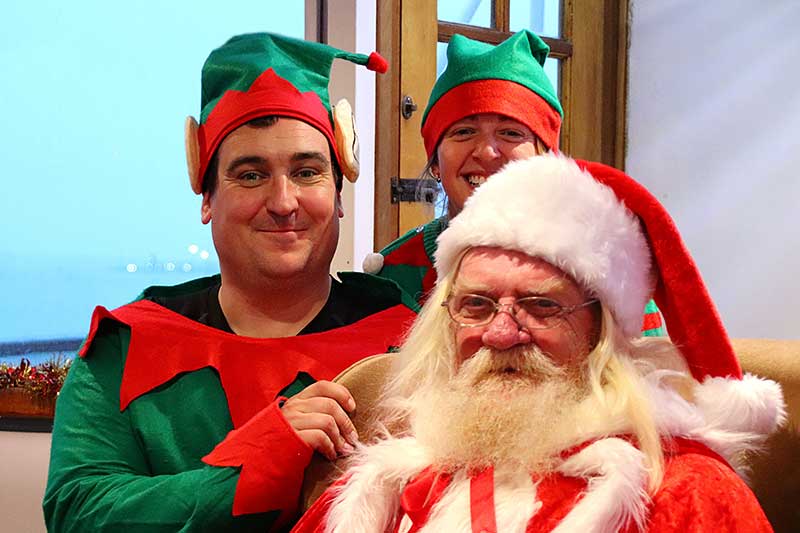 3 Op zoek naar het perfecte cadeau voor je dierbaren?
Poole is de thuisbasis van een prachtige reeks boetiekjes en markten, waar je unieke schatten en attente cadeautjes kunt vinden. Van handgemaakte ambachten tot lokale lekkernijen, u zult voor iedereen op uw kerstlijstje wel iets vinden. Verken de bruisende straten, boordevol feestelijke sfeer voor een extravaganza kerstinkopen en stap dan aan boord van de Christmas Party Cruise die elke vrijdag- en zaterdagavond in december beschikbaar is.
4 Christmas is all about indulgence, and Poole's culinary scene is ready to wow your taste buds.
Met een overvloed aan gezellige cafés, traditionele pubs en uitstekende eetgelegenheden wordt u verwend met een ruime keuze. Proef stevige kerstmaaltijden, proef heerlijke glühwein en trakteer jezelf op overheerlijke mince pies. Vergeet niet om een toost uit te brengen op het vreugdevolle seizoen terwijl u geniet van het prachtige uitzicht op de waterkant vanaf een boot van City Cruises Poole.
FAQs – 2023 Christmas in Poole
Why should I consider spending Christmas in Poole, UK?
Poole, a large coastal town in Dorset, is a wonderful place to spend Christmas. The town is beautifully decorated with festive lights and ornaments, giving it a magical atmosphere. The Poole Christmas Market is a must-visit with an array of local produce, crafts, and food. You can enjoy a festive walk along the harbour, or participate in the many Christmas events and activities taking place in the area.
What are some Christmas events in Poole?
During the Christmas season, Poole hosts a variety of festive events. The annual Christmas Parade is a popular attraction, featuring beautifully decorated floats and performances. You can also enjoy the annual carol service in the historic Poole Quay. Many local attractions, like the Poole Museum and Upton House, have special Christmas-themed events and exhibits.
What can families do in Poole at Christmas?
Families can enjoy a range of activities in Poole at Christmas. Visit the Poole Winter Wonderland for festive fun, ice skating, and to meet Santa in his grotto. The Dolphin Shopping Centre hosts various Christmas events, and the local pantomime at the Lighthouse is a fun family tradition.
What dining options are there in Poole at Christmas?
Poole offers a fantastic selection of restaurants where you can enjoy a traditional Christmas meal. Many local restaurants and pubs offer special Christmas menus featuring local Dorset produce. From fine dining to cosy pubs, there are options to suit every taste.
How can City Cruises enhance my Christmas experience in Poole?
City Cruises offer a unique perspective of Poole's scenic harbour and coastline, which is particularly enchanting during the festive season. They run special Christmas cruises where you can enjoy a festive meal or afternoon tea on board. These cruises are a fun way to see the area and enjoy the festive atmosphere from the water.
Why is a Christmas cruise on the River Thames a good idea for the whole family?
A Christmas cruise on the River Thames is a magical experience for the whole family. You can enjoy the beautiful sights of London's iconic landmarks lit up for the festive season from the comfort of a heated cabin. City Cruises offer special themed cruises during the Christmas season, such as carol cruises and Santa cruises, making it a unique and memorable way to celebrate Christmas.
What can I expect from a City Cruises Christmas cruise?
City Cruises' Christmas cruises offer a range of festive experiences. You could enjoy a traditional Christmas meal, afternoon tea, or simply take in the stunning views of the festively lit city skyline. Special cruises for kids include meeting Santa, making them an unforgettable Christmas treat.
Is there entertainment on board a City Cruises Christmas cruise?
Yes, City Cruises offer live entertainment on their Christmas cruises. This can range from live music to carol singing, depending on the specific cruise. These performances add to the festive atmosphere and make the cruise a truly enjoyable experience.
Can I book a private Christmas cruise with City Cruises?
Yes, you can book a private Christmas cruise with City Cruises. This is a fantastic option if you're celebrating with a large family or group. You can enjoy the festive atmosphere and stunning views in a more intimate setting, with catering options to suit your party's needs.