With Easter just around the corner, one of the great cities to celebrate this holiday in Boston. This top city along the Eastern Seaboard is the largest in New England and the capital of Massachusetts. Its history is deep, baseball here is abundant (Red Sox fans know it well), and landmarks are everywhere.
Start your holiday off with a cooking class, Vegan Easter Desserts, on Saturday, April 1, 2023, at The Westin Copley Place in Boston. This class features a chef instructor to help you bake delicious treats from start to finish. You'll work in teams of two, and after you bake, you'll indulge in your own creations!
Head over to the Eggsellent Easter Fair on Sunday, April 2, 2023, from 11:00 a.m. to 3:00 p.m. The event is held at the Irish American Club in Malden, MA. Expect more than 30 crafters and vendors on site to fill your Easter baskets. The Easter Bunny will make a special appearance at this fair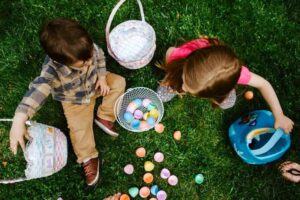 On Saturday, April 8, 2023, get ready for the annual Orchard Easter Egg Hunt at the Fairmount Fruit Farm in Franklin, MA. It's a day of fun for the entire family.
Go a little out of the way to Salem for Easter Family Fun Day on Saturday, April 1, 2023. There will be free pictures with the Easter Bunny. Registration includes an egg hunt for children; each child is guaranteed 15 eggs. There will be vendors and crafters so you can browse and buy gifts for the holiday. Food reservations are recommended.
Get your dogs ready for Easter and head over on Sunday, March 26 from 10:00 a.m. to 2:00 p.m. for Dog Photos with the Easter Bunny. This doggone fun event is held at Boston Connect Real Estate in Pembroke. There will be dog vendors, raffles, and prizes. This is a fantastic charitable event to raise funds for Dozer, a bulldog in need.
The Easter holiday is not complete with brunch. And Boston has some top-notch restaurants where to dine and celebrate the season. If you love great food and live tunes, check The Beehive on Tremont Street. "Amongst the backdrop of an eclectic, funky, yet elegant art space, you can enjoy delicious food, sumptuous cocktails, and world-class live music," according to the website. The music here ranges from jazz and blues to Latin and country. The menu features steak frites, vegetarian couscous, and a menu of cocktails. It's the perfect place for a lively and enjoyable Easter brunch.
Take a trip to the North End of Boston for Lucia Ristorante. Its authentic Italian food has been serving diners since 1977. There are always specials for brunch and delectable desserts. "A traditional Easter cake of sweet ricotta and wheat berries — Torta di Grano — are on the dessert menu, alongside budino di pane, their version of bread pudding with Colomba Easter bread served with vanilla gelato," according to wgbh.org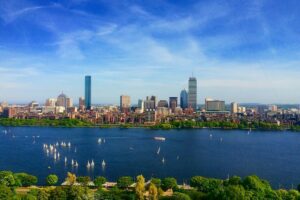 Take off on the water for an Easter Premier Brunch Cruise on Boston Harbor. Bring the entire family to celebrate the holiday in style. The two-hour cruise offers spectacular views of the city skyline and local landmarks. Enjoy a chef-driven buffet, classic cocktails, and desserts. There's also a live DJ, a visit from the Easter Bunny, a balloon artist, and goodie bags for the children.
While in Boston during Eastertime, spring is in the air, and there are plenty of things to do in the city, especially after an Easter brunch. Visit the Arnold Arboretum of Harvard University, a 281-acre preserve. It "stewards one of the world's most comprehensive and best documented collections of temperate woody plants, with particular focus on the floras of eastern North America and eastern Asia," the website says.
You can also walk the Boston Esplanade. It's along the Boston side of the Charles River. This leafy park is perfect for a stroll with your loved ones, a run, or just sitting out on a beautiful day where many locals love to come to enjoy the outdoors.
Did someone say baseball? Check out the Boston Red Sox schedule and find a game while you're in town. Nothing says springtime more than a good game of baseball.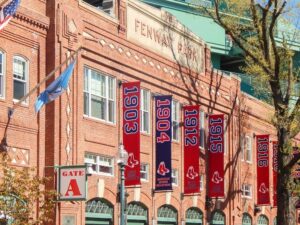 Make Easter dinner special this year with the two-hour Easter Premier Dinner Cruise on Boston Harbor. Dress up for the holiday and your special evening on the water. While taking in the spectacular Boston views, you'll enjoy chef-driven, plated entrees along with classic cocktails. A live DJ will be spinning your favorite dance music in a climate-controlled interior.
The city of Boston has so much to offer. There's an abundance of food, activities, and sights to see during the Easter holiday – take in all that Boston has to offer!