Whale Sightings 11/7/22 to 11/19/22 Please find the Naturalist Notes for the week of 11/7/22 to 11/19/22 from the onboard team of naturalists for our New England Whale Watching tour in partnership with the New England Aquarium.  
11-07-22
10am Whale Watch Sightings
Happy Monday, Whale Watchers!
Today the Asteria made its way out to Stellwagen Bank in search of wildlife. As we approached the southern part of the bank, we were greeted by a wall of spouts there! These all came from Humpback Whales, a healthy mix of mom and calf pairs, as well as single adults. In the whale soup, we were able to identify Venom and calf, Milkweed and calf, Bolide and Calf, Spell and calf, and Toboggan and calf, as well as Ganesh's 2014 Calf, Springboard's 2015 Calf, 3.14 and Lollipop! These whales were all taking short dives, popping up on both sides of the boat. This provided us with amazing views. The calves stayed near us for most of our trip, checking us out and breathing all over the passengers on the bow! When the adults surfaced, they were also close to us, allowing us to see that even though these calves have grown so much, they are still easily dwarfed. As we were getting down to our last few minutes, we noticed several huge splashes in front of us. Naturally, we decided to go see what was causing all of that commotion. It was a tail breaching Humpback named Paddleboard. This active whale continued to tail breach and lobtail next to us, providing us with an absolutely incredible way to conclude our warm November day on the water!
Until Next Time!
David, Emily & Chelsea
11-09-22
Whale Watch Sightings
Good afternoon,
Some hearty passengers braved the rugged November seas today – and it certainly paid off! Aboard the Aurora we headed to the southern end of Stellwagen Bank, spotting many seabirds including Long tailed ducks, scoters, shearwaters, gannets, and eiders. Initially we found a few scattered humpbacks taking stealthy long dives, so we trekked just a little further east, where we started to see at least 10-12 humpback blows together on the horizon! We found a group of adults foraging below the surface, however the calves of the group stole the show today! We spotted 4 of our regular calves this season, Milkweed 22 calf, Venom 22 calf, Spell 22 calf, and Bolide 22 calf. Instead of foraging with their moms (as they soon will be weaned), all of the calves were milling at the surface, occasionally interacting with each other, rolling, head-standing, and flipper slapping! We watched these calves zig zag back and forth, and every so often all the adults would come up – Venom, Milkweed, Spell, 3.14, Shoreline, Bolide, and Ganesh 14 calf, equally doing lots of crisscrossing near us while subsurface feeding below. Our captain Tom sat out of gear most of the trip, as we had numerous close approaches in all directions (there were several more whales in the distance that we couldn't get to, because this group was surrounding us!). It was hard to leave this group, but eventually we left the many rainblows and flukes, and headed back home to Boston
As our season wraps up soon I just want to give a big thank you our naturalists this year: Laura L, Kate, Colin, Mira, Ashlyn, David, Sydney, Eman, and Linnea for their hard work and dedication this season. Their daily email reports are just a small snippet of their passion and love for their job, and I'm lucky to get to lead them as a team. We also had a wonderfully dedicated team of interns: Gracie, Addy, Maddie, Rachel, Olivia, Caitlin, Liza, Emily, and Chelsea who volunteered hundreds of hours of their time this season. Our hardworking captains and crew also deserve a big thank you. It truly is a team effort to do what we do!
Cheers,
Laura
11-11-22
10am Whale Watch Sightings
Happy Veteran's Day,
The Asteria headed out on the 10:00am whale watch towards the southern section of the Sanctuary in search of wildlife. After the last few days of windy weather, we were thrilled to find calm and peaceful seas. We soon spotted a blow from the solitary humpback, Clamp! Clamp would take a short dive, surface, then ungulate in a snaking movement, before erupting into a tail flick or tail breach. We watched her repeat this pattern numerous times and got some fantastic views of her tail launching out of the water. It was difficult to guess why Clamp was acting in this matter so consistently, but it was very cool to see! We then watched Clamp transition to feeding after blowing bubble clouds right next to our boat. We finished our trip out with a quick view of Skateboard and her calf. We haven't seen this mom and calf yet this season, so it's awesome to see a new mom/calf pair this far into November.  What a lovely fall whale watch!
Huge shoutout to intern Chelesea for her last whale watch!
Kate, Laura, and Chelesea
11-19-22
10am Whale Watch Sightings
What a way to end the season!
The 10am whale watch headed out on the Aurora towards Stellwagen Bank. Under blustery winds, we found our first humpback not just by the visible blow but by the abundance of birds feeding! In all directions, there were gannets diving and birds swarming. Sitting and waiting, we almost immediately saw a juvenile emerge from a sea of frothy green bubbles. After watching this whale feed for a little bit, we took a ride south. After a quiet last weekend, we were astounded to see 30-45 humpback whales in the area. Surrounding us, we saw a mix of both surface activity and feeding – from flipper-slapping to breaching to lunging to kick-feeding.
In a truly remarkable trip, there were so many moments that captivated our attention. Some highlights include two pods of Atlantic white-sided dolphins, one of which surrounded Sprinkles and fed. We watched Rune and her 2022 calf erupt into a show of simultaneous flipper slapping and chin breaches. Other familiar flukes included Azrael and Aswan, with many more IDs to come. On the way back, we found ourselves surrounded with a massive pod of common dolphins! Surprisingly, I've actually never seen common dolphins before – so it was a treat to see them launch out of the water and check out our boat for my last trip of 2022.
Reluctantly, we headed back to Boston. What a wonderful way to end such a remarkable season! Massive shoutouts to the amazing naturalists and interns who made 2022 so special.
All the best,
Kate, Eman, and Emily
More Images from This Week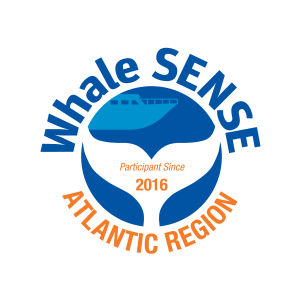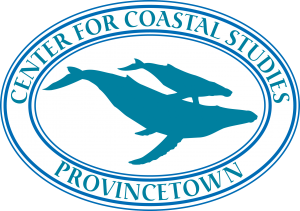 Boston Whale Watching: Naturalist Notes – 11/7/22 to 11/19/22