In Berkeley, California you will never run out of things to do. With mild weather, a vibrant cultural scene, excellent schools, and a flourishing job market, it is a great place to live and work and a top draw for young professionals. Companies want to improve retention, promote company culture, attract, and retain talent, and boost morale. Corporate events can help employees feel more connected to their company and colleagues and provide a much-needed break from routine.
The traditional corporate event is not something that employees always look forward to, but there is a solution! Get your team out on the water in Berkeley with City Cruises for an event they will always remember. Get them out of the "bored" room and into the fresh air with a spectacular backdrop of both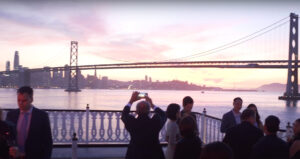 Berkeley and San Francisco skylines. Whether you are looking to host a team-building event, entertain clients, host your next meeting, looking for a product launch event venue, or plan to book a holiday party, your guests will love the hospitality, climate-controlled interiors, and open-air decks to celebrate wins and successes.
City Cruises Berkeley Stands Out from the Rest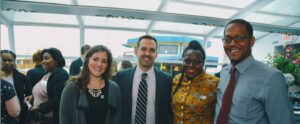 City Cruises knows how to do corporate events that are engaging and lively in a fun-filled atmosphere. Along with an incredible floating vessel, we offer chef-prepared menus, full bar service, climate-controlled interiors for ultimate comfort, and outdoor open-air decks which allow guests to enjoy a little fresh air with the stunning skylines of San Francisco. There are also options to include live music or live DJ entertainment to help get your employees or guests loose and relaxed, and photographers to capture every moment. Your colleagues will love and appreciate the thought that was put into planning a usually "stuffy" event with such an exciting and unique venue. City Cruises can also provide a variety of onboard activities to keep your team engaged and ensure a good time is had by all.
Berkely Corporate Event Offerings
City Cruises wants your event to be a standout success that will become water cooler chatter for a long time to come. We offer a variety of group and private events to accommodate your needs, each providing stunning backgrounds and city views. We offer the following:
Employee Outings/Team-Building Events – Host your next company celebration on a unique floating venue and show your employees a new side of Berkeley! While onboard, you'll enjoy an unforgettable dining experience with customized menus, all-inclusive packages, and spectacular views from the water. Closing a business deal, team-building experiences, summer outings, company cocktail events, and retirement celebrations are just a few of the employee outings we offer.
Holiday Parties – Holiday outings are the perfect opportunity to reconnect with your employees, build team morale, and enjoy spectacular views of San Francisco Bay. City Cruises serves as a unique company holiday party venue – with chef-prepared menu options, full bar service, and all-inclusive packages that can be customized to fit your budget and party size. Your guests will love our distinctive hospitality, climate-controlled interiors, and open-air outdoor decks. Enjoy incredible and unique views underneath the Golden Gate Bridge, Alcatraz, San Francisco Skyline, and Bay Bridge – all from the water!
Client Entertainment – Show your clients a new side of the city, and impress them with dinner, drinks, and a view! Our all-inclusive packages, chef-designed menus, and distinctive hospitality help make planning an event a breeze. Experience Berkeley from the water on a unique floating venue.
Meetings & Events -Host your next event on a floating venue and experience Berkeley from the water! With chef-designed menus, distinctive hospitality, and unbeatable views from our climate controlled-interior and open-air outdoor decks, our team will help customize a package specific to your needs.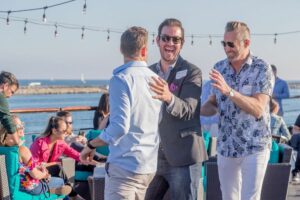 Make City Cruises Berkeley Your Top Choice for Your Next Corporate Event
City Cruises offers all-inclusive packages designed to help make planning a breeze. Dedicated and professional Event planners will take care of all the arrangements so that all you have to do is sit back and enjoy yourself, and the view, during your event. With flexible packages, customizable amenities, and remarkable skyline views, what are you waiting for? Hosting your next corporate event aboard a City Cruises yacht will give your colleagues not only a gathering to look forward to but an experience to remember. From team-building events to holiday parties, City Cruises provides the ideal venue for all. Our event packages, chef-prepared meals, full bar services, and entertainment packages along with our friendly and professional staff will help you elevate your event to the next level. Fill out this form and connect with City Cruises today to host an event that will be unmatched!