Meyer Harris "Mickey" Cohen (September 4, 1913 – July 29, 1976) was a gangster based in Los Angeles and part of the Jewish Mafia. He also had strong ties to the American Mafia from the 1930s through 1960s. Cohen's Inmate Case File scribed during his time at Alcatraz, Atlanta and McNeil Island federal penitentiaries, provided a detailed background, including family history that was provided directly from Cohen during interviews.
COMMITTED NAME: COHEN, Meyer Harris
REGISTER NUMBER: 1518-AZ
DATE: December 13, 1962
SENTENCE DATA: This forty-nine-year-old resident of Los Angeles, California, was sentenced July 1, 1961 in Los Angeles to serve fifteen years for an attempt to evade and defeat income tax. He was committed directly to Alcatraz on July 28, 1961 but released on appeal bond on October 17, 1961. He was returned to custody May 8, 1962 with 202 days of his sentence inoperative and returned to Alcatraz May 14, 1962. He was eligible for parole January 18, 1967 and his mandatory release date was February 14, 1972.
SOCIAL INFORMATION: Cohen received two visits every month from his brother, Harry Cohen, from Oakland, California and his girlfriend, Claretta Hashagen, from Las Vegas, Nevada who alternated their visits. He also had several visits from his attorneys. He corresponded regularly with his brother, girlfriend, and sister, Lillian Weimer, from Los Angeles, California and occasionally with his friends, Abe Phillips and Ed Trascher. He was quite prolific in his writing and was warned several times about violations of correspondence regulations. He had $335.05 in his personal account.
INSTITUTIONAL ADJUSTMENT: No good time outstanding as he had a clear conduct record. After his return to Alcatraz from appeal, he was assigned to work duty in the Clothing Room on May 24, 1962 and remained there through the duration. His work supervisor reported that he was a very good worker because he was concerned about doing his share of the work for fear someone would think he wasn't carrying his share of the load and was riding on his name. In the Cell House, he was very cooperative and polite towards officers. He kept one of the neatest cells in the Cell House, went to the yard whenever he could and seemed to be well adjusted to his situation. He had a great tendency to be a packrat.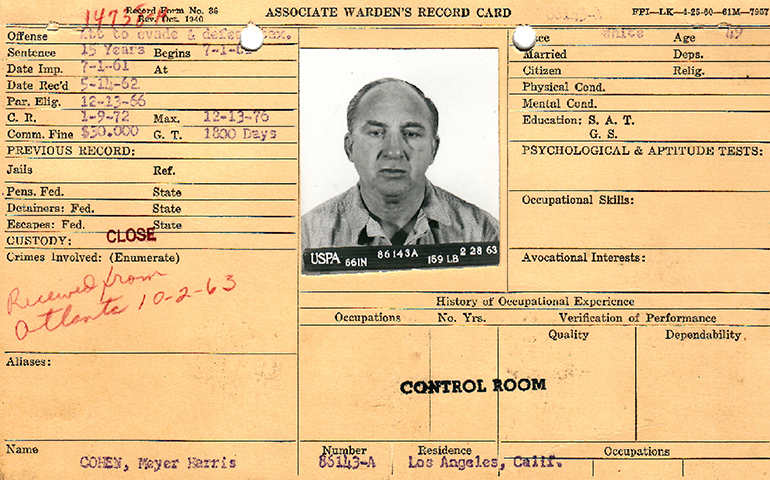 In the Cell House, Cohen was reported as having made a good adjustment and spent his time in many activities, with card playing heading the list. He was not observed to be any trouble to the inmates nor that he deserved special consideration. He obeyed the rules and regulations when faced with them. The Cell House officer stated, "This man is apt at getting what he wants by any means open to him." Cohen is a member of the Jewish faith and attends such services regularly. The Protestant chaplain remarks that Cohen had some individual counseling, seemed to be making better adjustments and was friendly and cooperative with the chaplain.
He read a great amount, according to his book loans from the institution library. The range of materials included general works books, sports books, science (math), poetry, better speech and English, philosophy, travel, character, biographies and biology books. It is noted that the books he borrowed were strictly nonfictional in nature.
Admission Summary
OFFICIAL VERSION: The prosecuting agency report notes, "Cohen was convicted of attempting to evade federal income taxes for the year 1946, 1947 and 1948 as well as  giving a false statement to an agent of the United States Treasury Department by a federal jury on June 9, 1951 in Los Angeles. Similar charges were brought against his wife but were later dismissed on motion of the U.S. Attorney after the premature death of a highly important witness. The total amount abated by the couple as proven at trial was about $156,000. They were also found to have failed to pay some $5,000 in income taxes for the year 1945, but these figures were not the basis of any criminal charge.
INMATES' VERSION: Cohen states, "I have been convicted of income tax evasion. I have been in the Los Angeles County jail for about eight months awaiting an appeal bond. I was once granted a $5,000 bond on appeal but the United States District Attorney asked Chief Justice Denman of the Ninth Circuit Court to put it in the hands of the whole court, which was done. I truly don't understand the complete happenings. My attorney tells me I am being held illegally. My application for bond is in the Ninth Circuit Court; the court in which Chief Justice Denman granted me bond. I just arrived here at the institution today and I am a bit nervous but I've tried to explain as much as I know."
In a subsequent statement, Cohen commented that he was not guilty of the charge. He explains that he employed a chief accountant as well as an accountant for each of his business enterprises, giving them both strict orders, "NOT TO FOOL WITH UNCLE SAM ON INCOME TAX." He explains that he had arrangements with gambling customers placing bets on a given amount of money. For example, a customer would state he wished a place $25,000. Portions would be wagered on various events, with alternating gains and losses. No money would exchange hands until the specified amount was won or lost. He attributes his conviction to his notoriety.
Evaluation Summary
Meyer Harris Cohen, known as Mickey Cohen, was born in New York City, New York, September 4, 1913 to Max and Fanny Cohen, Russian-Jewish immigrants, natives of Kiev, Russia, who came to New York, according to Cohen, sometime around turn-of-the-century. He states that his father had another name other than the Americanized version but is unable to recall it. He is also uncertain whether his parents ever took out citizenship papers. According to family members, his father operated a fish market in New York until his death from tuberculosis in 1914.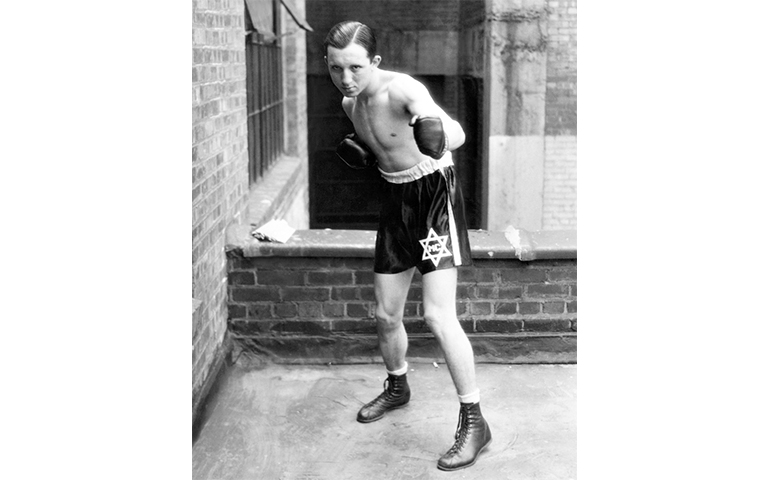 The family shared that his parents were very happy in their marital relationship, very hard-working and industrious. However, Cohen remarked that he never knew his father and that his mother always worked very hard until her recent years when her age and infirmities would not permit. The parental home was characterized by his sister Pauline as being very religious with both parents keeping the Hebrew Sabbath strictly to the letter. Mickey was not yet two years old when his father passed away. She recalls the funeral took place at home and that many friends came to the wailing ceremonies as was the custom of the church. The five children, with Mickey as the youngest, were present. According to the wife and his sister, Mickey did not speak much about the loss of his father but had always been sympathetic towards his mother.
Cohen, in describing his childhood, states he was told that his mother had to borrow money to come to Los Angeles following his father's death because of her health. Both his mother and his older brothers and sister are understood to have suffered severe privation during this time. He remembers the other children were better educated than himself, because his father provided them an education. Cohen, however, was denied this privilege, suggesting a feeling of being underprivileged in comparison with the others. In his recollection, he related to his sister Lillian, believing this was she had to take care of him as a small child when his mother tried to work to support the family after arrival in Los Angeles. He stated at a very early age, five or six that he started to hustle papers for the now extinct "Record," "Express" and "Examiner."
According to the family, during this period of Mickey's early life, his mother came to Los Angeles because of her health. For a period of about five years she was nervously ill, having a tension in the throat and a hoarseness of the voice somewhat hysterical in nature. It is thought that she received some clinical treatment after her arrival. Pauline was nine years of age when little Mickey was made her responsibility.
Pauline remembers him as an easy child to manage, that he was toilet trained early and that he walked and talked early. The home was kept immaculately clean with the example set by their mother. Both his wife and sister-in-law stated that he was fanatically clean about his person and everything about him, probably impressed by this early training. His relationship with his mother presented no complication of a prenatal nature and he was loved and wanted as were the other children. Due to economic stress, however, his mother did not have much time for Mickey during the impressionable age and her absence from him was a feeling of rejection and being unwanted. Emotional growth, without the presence of a father, contribute to a life without direction towards normal adjustment. Cohen, at this time, related that his next brother in age was about eleven years his senior. He remembers that he did not play or associate with any of his brothers during childhood and that he had to "fight his own way" particularly with the other young newsboys in the Boyle Heights district. 
Through these years, with savings from the older boys, Mrs. Cohen bought a small grocery store and later a restaurant, working fourteen and fifteen hours a day. Mickey was sent to school during this time, remembering school as a "special school," possibly a school for retarded children, though this was not verified. He states that he didn't learn anything in regard to reading or writing, but in company with twelve or fourteen other children, he drew pictures and made crafts, whiled away the time, which he described as irksome and distasteful. At this time, evidencing pride and asking for approbation, he described his effort to teach himself spelling, letter writing and arithmetic. He does not remember how far he progressed in school. His family does not remember his grade level but he quit voluntarily at the age of ten with not much pressure brought to bear to induce him to continue other than by Pauline, who indicated she tried to impress upon him the fact that he was a bright boy and should learn some kind of trade. He had no trouble relating to his other schoolmates but did break his leg when about eight or nine, causing him to dismiss school, possibly hindering him in making him feel lost or not being accepted. He met the situation by giving up, possibly through a well formulated pattern of insecurity in relation to society and the home situation.
Cohen stated that he quit school to work and assist his mother. Through a newsboys' group, he became interested in boxing. He was unable to remember whether or how this activity was first directed, but remembers taking part in newsboy exhibitions at a very early age. Developing this interest, possibly as an unrecognized outlet for childish insecurity and a need for recognition, he related that he became more active in the newsboy boxing cards, which in turn supplemented his earnings. Through the father, the other children had the early opportunity to receive training in the Hebrew school, with the sisters studying piano. Mickey did not have this advantage. He learned the need for money and all it would bring, distorted by the disadvantages in the home situation.
At about the time he quit school, the other children had left the home and he continued to sell newspapers on the corner of Soto and Brooklyn Avenue. From that time, until about the age of fourteen, he made a name for himself in his boxing activities in the Newsboys Association, recalling with pride that he often made as much as twenty dollars a fight, often being placed on cards held at bootlegging clubs. Cohen stated that he went to Cleveland through the Newsboys Association where he continued boxing. 
His sister-in-law, Mrs. Harry Cohen, related that she and her husband started him out when he first came to Cleveland and had tried hard to help him. Harry was a fight promoter at that time. While Cohen did not relate to this situation, he worked in Harry's drugstore as a soda jerk while boxing as an amateur and later as a professional. Much of his time was spent hanging around gymnasiums, which were frequented by workout pugs, gamblers and hangers-on.
While at first financially successful, the advent of the depression soon placed him at his wits end and making a living. At that time, possessing no education and lacking any skills other than boxing, his activities became more directed towards gambling, a field he claims nearly every "pug" takes up when he's boxing. He became identified with the group of other similarly circumstanced boxers who didn't know where their next meal was coming from. While boxing, it is reported that he became an advocate for newspaper publicity whether good or bad. 
During this time, he also gave money to his mother for her support as well as for her pleasures. It is confirmed whether other family relations were close or what part his brother Harry may have played in his activities. We might wonder how much of his delinquencies his family helped him cover up through their acceptance of him as a person who is generous, charitable and self-sacrificing.
Cohen recalls that his first difficulty with the law occurred in company with some other unemployed boxers with whom he associated. In recounting the incident to the U.S. Probation Officer, Cohen stated that he had formed the habit of hanging around a certain restaurant, where occasionally, the manager would tear up a small meal ticket for them. A scheme was developed where the manager would turn over contents of the till to them claiming that he had been robbed. Carrying through with the plan, he was found out and made a confession. Cohen, placed on two years' probation for his part, subsequently made restitution for about $140.00. Going to Chicago, Cohen continued his gambling activities and became further identified with the underworld.
His re-appearance on the Los Angeles scene took place in 1939. The prosecuting agency in reporting his activities and their development from this time reported that he had been the focal point of numerous police investigations. The most recurrent offenses appear to be brutal assaults on persons who did not agree with business methods he outlined. Public expenditures of funds in investigating and prosecuting Cohen (and his subordinates) over a period of thirteen years would total several hundred thousand dollars. Cohen's record in the Los Angeles area from November, 1939, according to the prosecuting agency, showed that he was arrested by the Los Angeles Police at a bookmaking place he was operating and was charged with robbery. He was released on November 15, 1939. In May of 1940, he was arrested by the police for assault with a deadly weapon and for vagrancy. He was released with charges being dismissed on June 24, 1940. In November of the same year, he was again arrested by the police for further investigation and released on November 14th.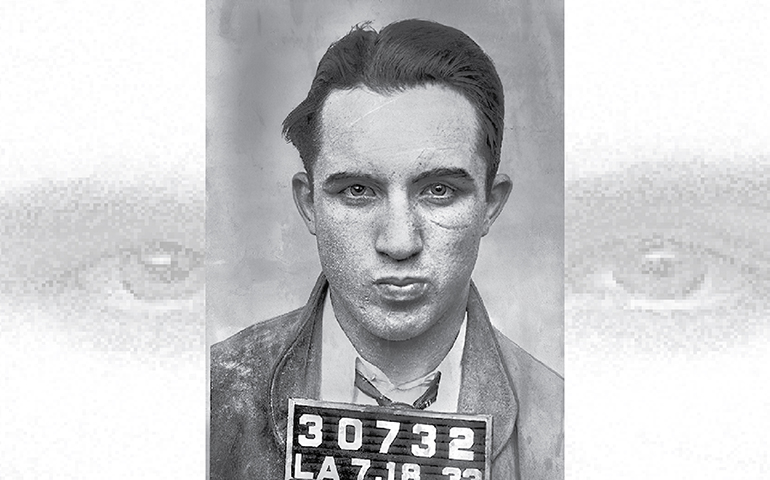 Cohen married Lavon Weaver Cohen, alias Simoni King, in October of that year. Records indicate that she became a prostitute at the age of fourteen, and according to the Chief of Police of Los Angeles, was reported to have operated in Honolulu as a prostitute and also a madam. Her foul language evidenced in Dictaphone recordings in the police department's possession, as well as her language and actions in the presence of officers of the department, tended to substantiate her background as a prostitute.
Cohen was again arrested by the Los Angeles Police Department in February of 1941 for bookmaking and on July 11th was convicted and received a six-month sentence and a $100 fine, serving his time at the Los Angeles County Honor Farm. Following his release, he was again arrested in September 1941 and held for questioning in connection with the attempted murder of Benny Gamson while under appeal bond on the former offense. In July, 1942, he was arrested by the Los Angeles Police for cutting telephone wires of a racing wire after beating the owner of the services. In February, 1943, he was permitted to plead guilty to a lesser misdemeanor and was fined $200, which he paid. During the next month, he was arrested by the police for shooting craps and fined five dollars. Arrested by the San Francisco police in September, 1944, and charged with vagrancy, he was permitted for forfeit of $1,000 bail and required to leave town. In May 1945, he was arrested in Los Angeles for shooting and killing Maxie Shaman, a competitive bookie, in a bookie joint owned by Cohen. He admitted the shooting, and though there were no direct witnesses, he alleged he acted in self-defense. A complaint was refused by the Los Angeles County District Attorney's Office and his gun was returned to him upon his release. 
Cohen bragged that it cost him $40,000 to escape this charge of murder. In November of the same year he was arrested by the Los Angeles police on a charge of robbery at a gambling place owned by him. The complaint was refused by the Los Angeles County District Attorney and he was released on November 19th. He was again arrested by the Los Angeles police in January, 1946 on a bookmaking charge, the case was dismissed on February 6th. Cohen, in May, 1946, was one of the suspects questioned and released in the unsolved homicide of Paul Gibbons, a bookie competitor and hoodlum. The investigation made by the Beverly Hills Police Department notes it was rumored at the time that Gibbons was the person who had broken into Cohen's home on June 16, 1944. At the time, it was the underworld conversation that Cohen had obtained the services of Benny "Meatball" Gamson and George Levinson, two known police characters, to do away with Gibbons. Gamson's car was placed at the scene of the crime and he was arrested in a complaint from the District Attorney's Office, which was refused and he was released.
Levinson, also taken in custody, obtained an attorney to represent him but the police were unable to interview him for two days after the killing and then only in the presence of his attorney. Cohen was interrogated and he volunteered information that Gibbons was a stool pigeon for law enforcement officers and had double-crossed several members of the underworld. Cohen stated, "Gibbons was a snitch and was an employee of the Shannon brothers, also known as a Shaman, who Cohen had killed the preceding year. With Gibbons' elimination, Gamson and Levinson acquired a reputation amongst the underworld as killers and it was reported that they had been given the assignment to eliminate Cohen by rival gamblers and that Cohen found out they had an apartment at a Los Angeles address. On October 3, 1946, both Gamson and Levinson were killed there. It was the general conversation amongst the underworld that Cohen had these gunmen "liquidated." The Beverly Hills Police kept him under surveillance constantly, questioning him and his guests at frequent intervals as he returned home early in the mornings until he finally moved to West Los Angeles.
In June, 1947, Cohen was one of the suspects questioned and released in the unsolved homicide of Benjamin "Bugsy" Siegel and afterwards took over part of Siegel's interests. He was again questioned in August, 1948, as one of the suspects and was released in the unsolved homicide of his bodyguard Harry "Hookie" Rothman as well as the wounding of two members of Cohen's gang, Albert Snyder and James Risk in Cohen's place of business. Rothman had been on the downgrade due to the use of drugs for several years prior to the shooting. Cohen had come to distrust him, had a severe beating administered to Rothman for throwing his weight around at the Del Mar Track. After the shooting, Snyder left town and was last reported in Pittsburgh. In March, 1949, Cohen and several of his gang were charged with conspiracy, assault with a deadly weapon and obstructing justice in the beating of a Mr. Pearson. He was acquitted after a trial on March 7, 1950. On July 20, 1949, Niddie Herbert was shot in front of a restaurant on the Sunset Strip, dying six days later. Cohen was wounded in the shoulder and in all probability was the prime target. Harry Cooper, an investigator for the attorney general's office, and Dee David, a call girl were also wounded. Herbert had taken over "Hookey" Rothman's job with Cohen after Rothman's killing. A prior attempt had been made on his life at his home on June 22nd. The common opinion was that Cohen was behind the shooting in an endeavor to teach Herbert a lesson, Herbert having hidden Collins' bullet ridden car in his garage while the investigation was being conducted by the sheriff's offices. Information of the hidden car leaked out approximately two weeks after the investigation started.
Early in August, 1949, David Ogul and Frank Niccoli, two of Cohen's henchmen, disappeared. They were under indictment with Cohen and five other of his hoodlums for assaulting a local businessman who had bookmaking connections. Ogul and Niccoli's testimony probably would have made the case against Cohen and the other defendants. Cohen was acquitted after the disappearance. At the time of this incident, he was trying to smear the police department in a political maneuver by involving them in the case, the attempt being unsuccessful.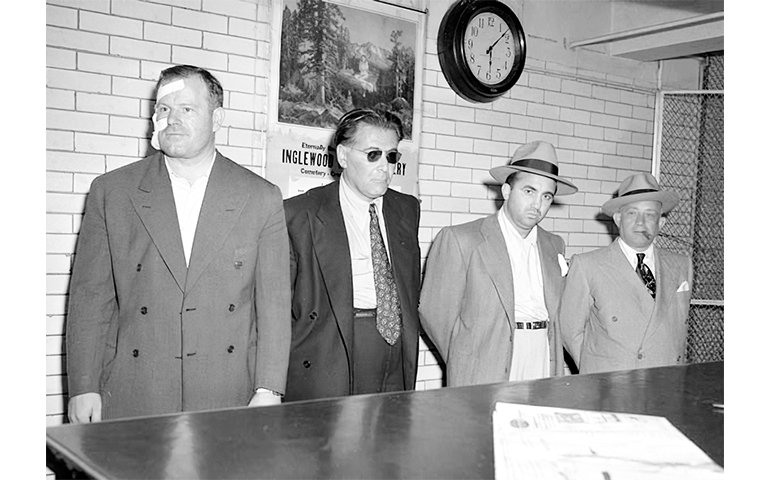 Cohen's Attorney, Samuel Rummel, was killed with a shotgun in front of his home in Los Angeles on December 11, 1950. He had been Cohen's attorney for years but it was known that they had been in disagreement for several months prior to the killing. Cohen's home, at 513 Morino Drive in Los Angeles, was bombed on February 6, 1950, which was indicative of the violence surrounding his activities. Residents in the vicinity petitioned the City Council to have Cohen evicted for public safety reasons.
The Los Angeles Police reports Cohen's life story was run in serial form by the Los Angeles Daily News in 1949, indicative of the great amount of public interest in his case. His connection with organized crime was apparent for many years. His contacts, and quite possibly his superiors in the underworld, include Frank Costello in New York, Anthony Milano in Akron, a member of the Mafia, Jack Dragna of Los Angeles, Mafia chief of the West Coast and many others of similar background. The list of his gang members, at least some of the members, were furnished by the prosecuting agency. 
According to the prosecuting agency, he has handled betting transactions with many of the biggest betting commissioners in all parts of the U.S. but acquired a reputation as a snitch. His haberdashery in Los Angeles, operated as a blind for his activities, featured a bulletproof steel door, a bullet proof sedan and a nominal amount of actual sales. 
Despite his record of professional gangsterism and his intimate association with repeated acts of violence, Cohen had a reputation for aiding needy persons and causes as well as his generosity for his friends and relatives. He was obsessed with a craving for publicity and fine living, indicative of his announcement immediately after he was sentenced for income tax evasion. He planned to write a story about his life, which is the subject of a motion picture.
At this time, Cohen was trying to remove himself from his gambling and other illegal interests. He stated that this was brought home to him through his family. His family reports that within the last two years since meeting evangelist, Billy Graham, he showed a sincere interest in religion.
His personality, as summarized by his wife and sister, is one who takes pride in doing the job well, that he would rather take the beating and didn't want to see another person being hurt in any way. If he witnessed crowd violence or a fight or group activity, he did not make a scene by being different or making an issue but rather keep hands off. He is not quick to report the errors of others. His wife cited that one time she was having dinner with him at a restaurant when the waiter spilled food on a new suit he was wearing. Rather than have the man lose his job, he had the suit cleaned. He was also charitable toward the needy, according to his wife who stated that he sent a considerable sum to Palestine, which church officials asked him to do. The family feels that he is not handicapped because of his lack of education or that Cohen himself feels handicapped because of it but that he studied privately to better himself. They considered his personality winning, that he makes a good salesman and that everybody likes him because he is kind and considerate. He wanted most to be liked by others.
The agency reports that it was fortunate for him that he had a family who stood by him and helped him upon release. The wife was assisted by relatives and went home to the apartment, which the sister Pauline and her husband furnished. The agency reports the furnishings are elaborate but lend a homey atmosphere.
Cohen's wife had plans for herself in the sales field and was eager to start work so her husband could carry on after his release. She was interested in him studying while incarcerated and that he should have work assignments involving keeping accounts because he had a great deal to contribute in that field. Possible plans were to include returning to the clothing business or Cohen assisting Billy Graham in his evangelistic work. Mention was made to the agency that Cohen had close ties with his brother Harry, who was planning to move to Chicago. Cohen's gunshot wound caused him considerable trouble and he was under the care of Doctor Zeiler in Los Angeles, receiving treatment. His arm was occasionally numb due to a nerve injury.
Cohen received encouraging letters from his family and a small amount of fan mail as well but that was returned to because of the eccentric nature of his "career." Cohen was fearful because of the attempts on his life and endeavored to keep himself in the background. He had some difficulty in warding off the attention of others at the same time trying to avoid offending anyone.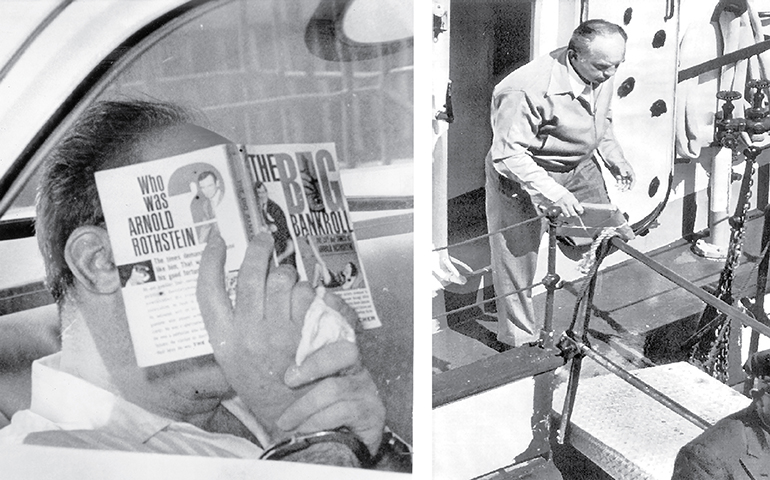 Life after Alcatraz
Cohen was transferred to the United States Federal Penitentiary in Atlanta in January of 1963, only a couple of months prior to the closure of Alcatraz. During his time at the federal penitentiary in Atlanta, another inmate attempted to kill Cohen with a lead pipe while Cohen was undergoing training in radio and television repair.
On August 14, 1963, fellow inmate Burl Estes McDonald entered the electronics repair training facility and wielded a three-foot iron pipe, snuck up from behind, and bludgeoned the unsuspecting Mickey into unconsciousness. Cohen sustained a critical head injury resulting from shards of skull fragments that had to be removed from brain tissue, which had hemorrhaged. Mickey underwent extensive neurosurgery and following a two-week coma, doctors inserted a steel plate to replace the mangled bone fragments in the rear skull region.
In 1972, Cohen was released from the Atlanta Federal Penitentiary, where he had spoken out against prison abuse. He had been misdiagnosed with an ulcer, which turned out to be stomach cancer. After undergoing surgery, he continued touring the U.S., including television appearances, once with Ramsey Clark. Though he survived the brutal attack without any known mental deficits, he would be completely disabled for the remainder of his life and spend his final years in solitude. Mickey Cohen died in his sleep in 1976 and is interred in the Hillside Memorial Park Cemetery in Culver City, California.
"Content Provided by Michael Esslinger – www.alcatrazhistory.com
Mickey Cohen at Alcatraz"