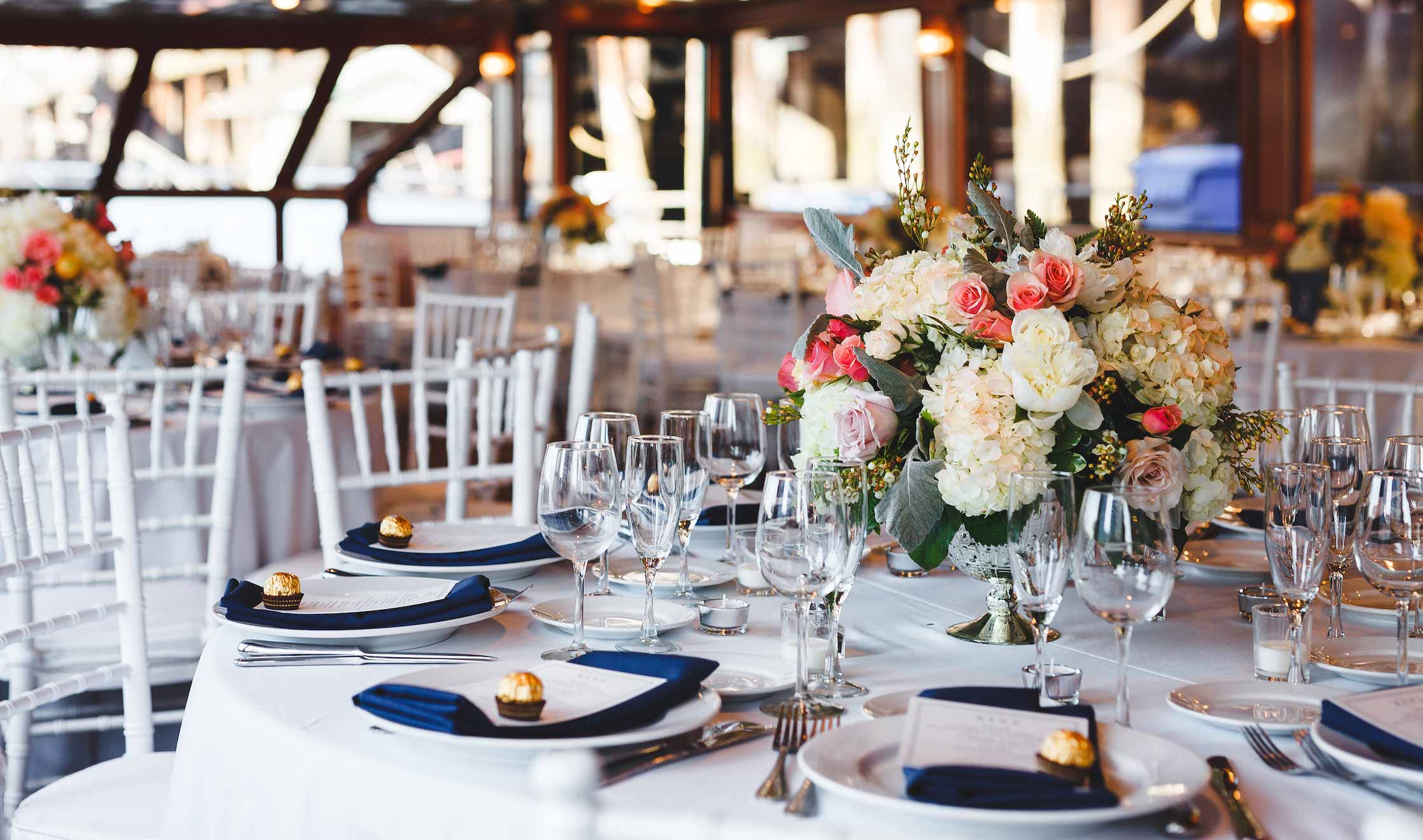 Sacramento Weddings on the Water
Your wedding, your way. Don't settle for a predesigned package when you can customize every detail of your wedding to fit your dreams. With a guaranteed hassle-free planning process, you'll spend less time stressing and more time getting ready to say, "I do." As for that cool breeze and scenic views? That's the bonus on your happily ever after.
Ceremonies & Receptions

Make your dream wedding exceptional with a stunning backdrop, fine dining, and a dedicated team of wedding professionals! With all-inclusive packages fit for any budget and style, we will help bring your vision to life.

Rehearsal Dinners

Surround yourself with friends and family and kickoff your wedding celebrations on the water! Enjoy customized packages, chef-designed menus, distinctive hospitality, and breathtaking views for an unforgettable evening.

Wedding-Related Events

Already planned your special day? Our venue is perfect for: Engagement Parties, Bridal Showers & Luncheons, Day After Brunches, & more! Celebrate your wedding events on the water & toast to your upcoming nuptials!
Frequently Asked Questions
How many people can go on a wedding cruise in Sacramento?
For your Sacramento boat wedding, we have the perfect cruise–the Capitol Hornblower, a beautiful yacht with a capacity of 120 guests. Perfect for medium-sized to intimate weddings.  
Does City Cruises offer all-inclusive weddings in Sacramento?
We know how hard it is to find professional wedding vendors familiar with cruise weddings. That is why we offer you every service you might need; we can help you bring your vision to life with top service, a chef-crafted menu, a personalized full bar, and your choice of entertainment and decorations to suit your style. All-inclusive packages are customizable to fit every pocket and need.  
How much do yacht weddings cost in Sacramento?
The cost depends largely on the size of your wedding, the services you want to include, and the type of vessel you choose. All you need is to fill out the form here or call our team at 800-459-8105. You can always contact us to get full information and pricing for your needs. 
What types of wedding packages does City Cruises offer in Sacramento?
Cruise weddings are as unique as the couple saying I do, and we know your needs could differ from another couple. That's why we offer you personalized wedding packages where you can choose from our large selection of services and add on those you need and want.  
Does City Cruises Sacramento offer a coordinator for the wedding cruise?
What is a wedding without coordination? You need to be at a certain time at a certain place, walk in a designated order and enjoy your dream wedding. But none of it would be possible if you are busy taking care of solving issues. A wedding coordinator will save the day; contact us to find out if one is available at your location. 
What sights can be seen at a boat wedding in Sacramento?
The California capital has plenty of historical sites as you cruise down the Sacramento River. The beautiful city skyline, buildings, amazing bridge, and surrounding nature are some of the favorites to watch.  
Will there be photo opportunities on a Sacramento yacht wedding?
Plenty, since you are on a boat wedding with a historic city as your backdrop. Your photographer can capture unique moments with special spots as you tie the knot or experience your first look. Weddings are filled with photo opportunities, and you can only expect them to be extra special when your wedding venue is a boat.  
Where do wedding cruises depart in Sacramento?
Pier Location: 1206 Front St, Sacramento, CA 95814 
Does City Cruises Sacramento provide a wedding vendor list?
We offer all you need on board, but if you wish, you can bring your cake and decorations if you comply with our policies. Find everything about them by contacting us here or call our team at 800-459-8105.