In the charming city of York, mornings aren't just about waking up; they're an invitation to indulge in a delightful culinary ritual known as brunch. From cosy cafes to trendy bistros, York offers an array of delectable options that cater to all taste preferences. Join City Cruises as we explore the city's brunch scene and uncover the mouthwatering delights that await, from classic pancakes to elegant Eggs Benedict.
Brew & Brownie: Brunch Bliss
Nestled on Museum Street, Brew & Brownie is a brunch haven that captures the essence of a leisurely morning meal. Treat yourself to their iconic stacked pancakes, adorned with seasonal fruits and a drizzle of syrup. If you're looking for a savoury option, their Eggs Benedict, featuring perfectly poached eggs atop English muffins and velvety hollandaise sauce, will melt in your mouth.
Mannion & Co: Gastronomic Perfection
For an unforgettable brunch experience, head to Mannion & Co. on Blake Street. This gourmet haven prides itself on using locally sourced ingredients to craft their culinary masterpieces. Savour their full English breakfast, complete with sausages, bacon, eggs, and black pudding. Or, opt for their smoked salmon and scrambled eggs for a touch of elegance.
The Pig & Pastry: Quaint Comforts
Located on Bishopthorpe Road, The Pig & Pastry exudes charm with its rustic decor and delectable menu. Delight in their French toast, a delectable creation adorned with fresh berries and crème fraîche. If you're craving a hearty option, their homemade bubble and squeak, served with poached eggs, is the epitome of comfort food.

The Perky Peacock Coffee Shop: Vegan Delights
For those seeking vegan-friendly options, The Perky Peacock Coffee Shop on Lendal Bridge has you covered. Their vegan pancakes, topped with fruit and drizzled with maple syrup, offer a burst of flavours. And don't miss out on their vegan cooked breakfast, a scrumptious blend of plant-based ingredients that will satisfy both your taste buds and your conscience.
The Rise: Artful Elegance
Immerse yourself in an elegant brunch experience at The Rise, located within The Grand York hotel. Their Eggs Royale, featuring smoked salmon, poached eggs, and hollandaise sauce, is a masterpiece of flavour and presentation. Enjoy it against the backdrop of the hotel's luxurious surroundings, elevating your brunch to a true culinary event.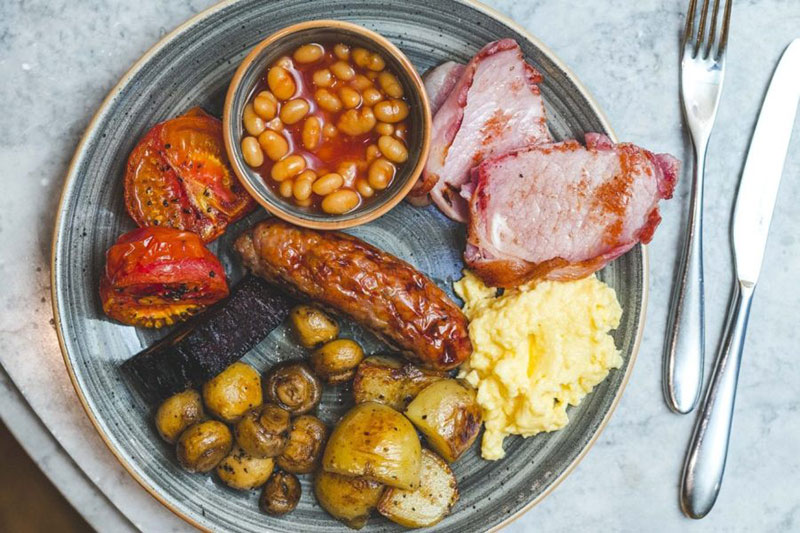 ---
York's brunch scene is a testament to the city's dedication to culinary excellence and diverse tastes. Whether you're seeking sweet indulgence, savoury delights, or vegan options, there's a brunch spot to satisfy every craving. As you embark on your journey through York's streets, take a moment to embrace the art of brunching and savour the delectable creations that await, each bite a delightful exploration of flavours and textures.