Coronado Island has been a favorite travel destination for over a century, drawing in visitors from around the world. Situated in San Diego Bay, this incredible island offers a rich history dating back to 1886 and a lively atmosphere that appeals to all travelers. Today, you can experience a list of many wonderful things to do on Coronado Island as you take in its history through museums and tours.
A once uninhabited island, Coronado Island bloomed into a vibrant destination after the creation of the Coronado Beach Company. As it developed into its current state of being a resort area and relaxing vacation spot, many prominent figures stayed on the island, helping curate Coronado Island's interesting history.
From pristine, white sandy beaches to sunken ships and water sports, this destination is jam-packed with activities for people of all ages. Below, we explore some of the many things to do on Coronado Island. This list includes fun things to do on Coronado Island and even romantic options for couples.
Things To Do on Coronado Island:

Coronado Island's Unique History
Coronado Island began as an untouched, uninhabited area until the late 1800s. Then, the Coronado Beach Company was founded and started establishing the island as a resort destination. In 1888, the Hotel del Coronado was built, featuring incredible Queen Anne architecture.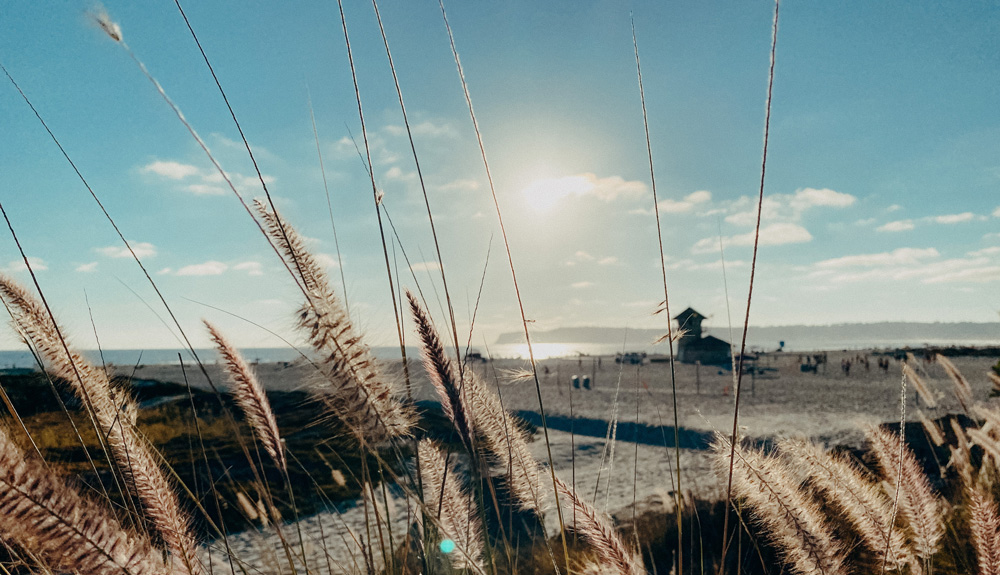 The island's population greatly increased as Tent City became established and well-known. This campground offered visitors swimming areas to utilize, a carnival with a Ferris wheel, sailing, aquaplaning, and other family-friendly activities.
As the city continued to grow in popularity, the number of celebrities and well-known visitors grew simultaneously. Everyone from presidents to actors like Charlie Chaplin has vacationed on Coronado Island. This special place has continually won over locals and visitors alike.
Things To Do on Coronado Island:

Landmarks and Attractions
The many attractions on Coronado Island help provide locals and travelers with a vast number of opportunities for entertainment between staying at resorts. There are many things to do both on land and on the water.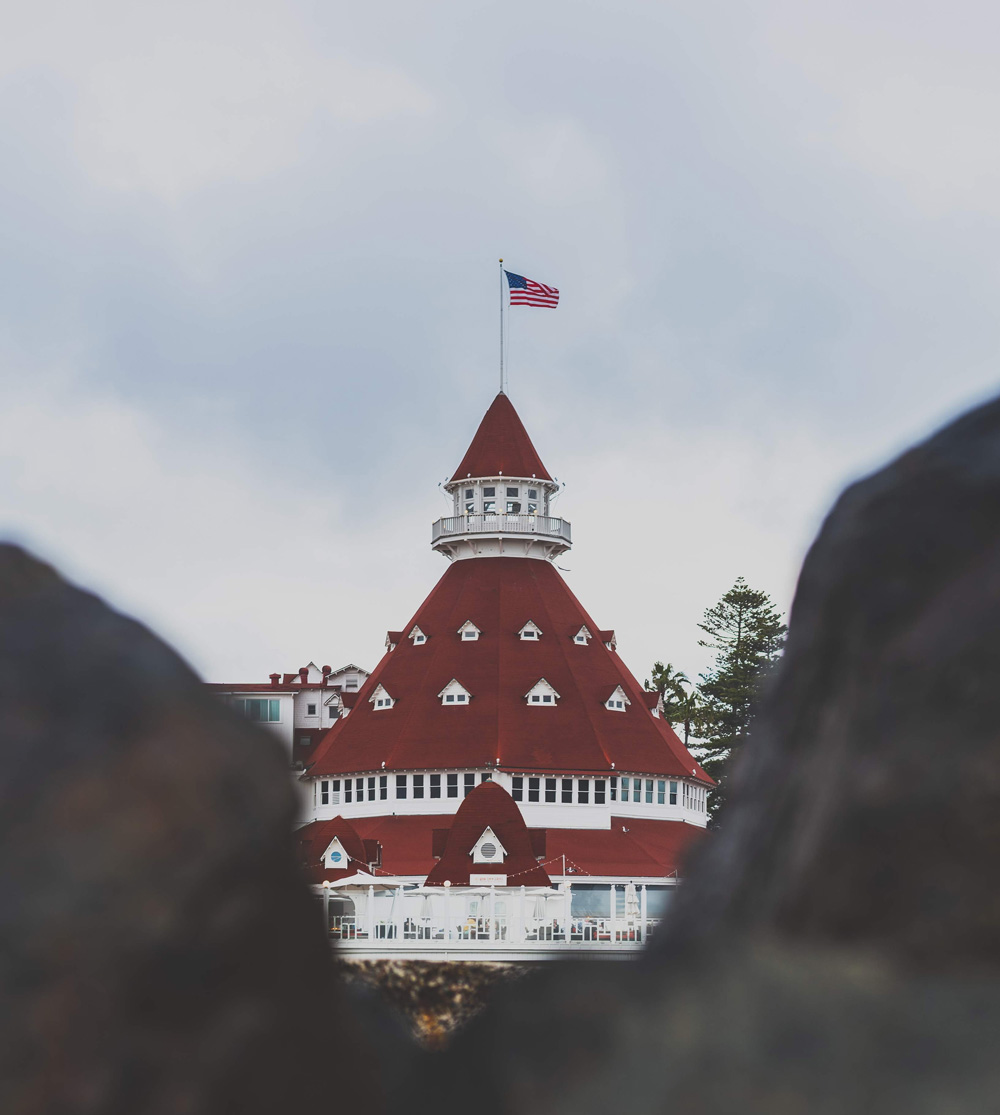 Historic Hotel del Coronado
The historic Hotel del Coronado is a must-see for anyone visiting the island. This hotel's 130-year history has helped cement the site as a National Historic Landmark. This incredible hotel has held many celebrities throughout the years, including royals.
Coronado Ferry Landing Pier
This landing pier is a top attraction, whether you choose to ride the ferry or not. At the Coronado Landing Pier, you'll find a large marketplace that offers delicious food options, incredible views of downtown Coronado, and plenty of family-friendly activities.
If you decide to partake in a ride on the ferry, you can enjoy epic views of the San Diego skyline and the infamous Coronado Bridge.
Coronado Beach
One of the most popular beaches on the island, Coronado Beach provides an ideal spot for travelers of all ages to enjoy fun under the sun. This award-winning national beach provides a glittering attraction due to the mica found in the sand. Coronado Beach is near the Hotel del Coronado, making it an easy stop after touring the historic hotel. Stay until the evening to enjoy a beach bonfire, one of the most romantic things to do on Coronado Island.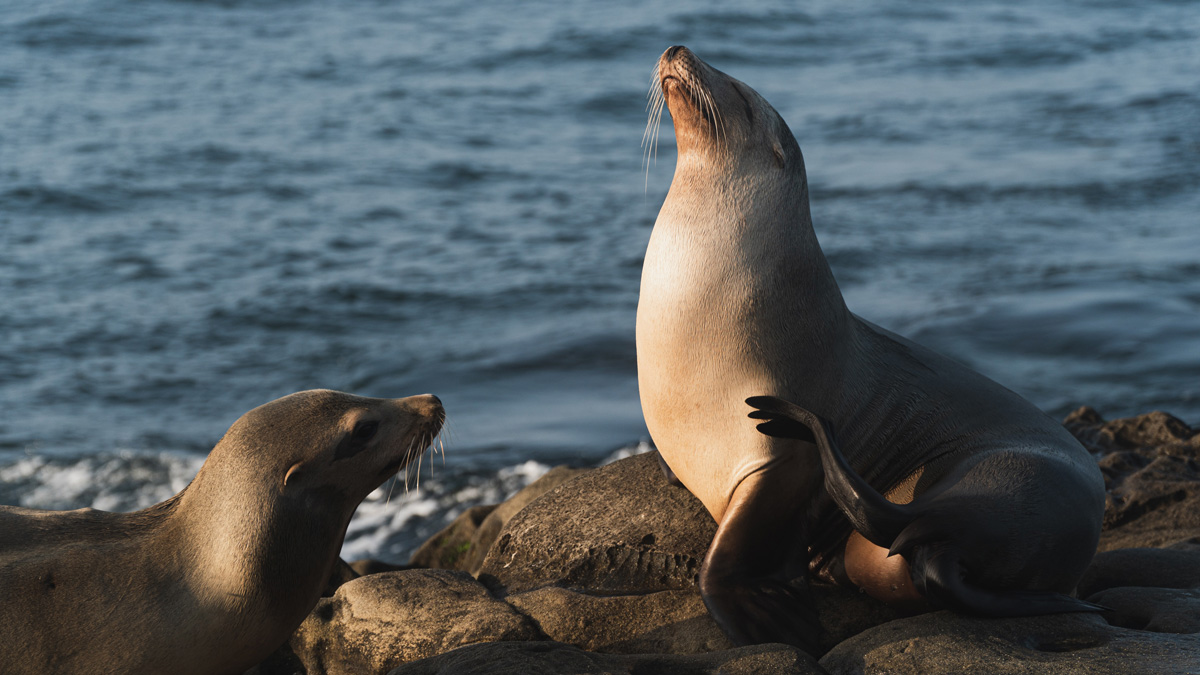 Available Tours
With downtown San Diego a short distance away, many activities like cruises provide stunning views of Coronado Island.
Premier Brunch Cruise in San Diego includes champagne and mimosas to cruise guests. Enjoy listening to live jazz as you sail near top sights like the Coronado Bridge and the Star of India. This popular cruise is a great way to spend a few hours on the sparkling waters while enjoying a delicious brunch.
You can take the Premier Dinner Cruise in San Diego for a more romantic activity with your significant other. During the cruise, you'll be served an elegant dinner at a private table aboard a yacht. The meal is created with seasonal ingredients on board, helping make any occasion special. Spend the rest of the night under the stars while experiencing views of Coronado Island.
The Two-Hour Harbor Cruise & Sea Lion Adventure in San Diego is a family-friendly option that takes you on a trip that stretches over 13 miles in the Big Bay. Views of birds and marine animals keep this harbor cruise exciting for everyone. Watch for Coronado Island and Point Loma as you travel on this adventure cruise.
Things To Do on Coronado Island:

Planning Your Visit
Planning a visit is essential because there are quite a few things on Coronado Island. Start by deciding how many days you can spend on the island. Then, determine which attractions are necessary to view during your stay. Coronado is a popular vacation spot, making it necessary to purchase tour and activity tickets in advance. 
Additional planning steps include:
Determine your travel dates: Choose the dates that work best for you and plan accordingly.
Book your accommodations: There are several options for staying on the island, including hotels, resorts, and vacation rentals. Choose the one that best fits your budget and needs.
Plan your transportation: Coronado Island is accessible via a bridge from San Diego, and there are also several parking options for those who drive. Consider using public transportation or a taxi/ride-share service if you prefer not to drive.
Choose your activities: There are many things to do on Coronado Island, including visiting the famous Hotel Del Coronado, taking a beach walk, and exploring the shops and restaurants in the town. Plan your itinerary in advance to make the most of your visit.
Pack for your trip: The island is known for its pleasant weather, but it is still a good idea to bring sunscreen, a hat, and other essentials to ensure a comfortable visit.
By following these steps, you can have a smooth and enjoyable visit to Coronado Island in San Diego.

FAQ
How Do I Spend a Day On Coronado Island? 
If you only have 24 hours to explore Coronado Island, there are a few things you must do. A visit to Coronado Island is not complete without a trip to Coronado Beach.  
Spend a few hours soaking in the sun before taking a trip to the Hotel del Coronado. Afterward, try some of the local fare and make sure to head home after the sunset, as it's known as being one of the best in the area. 
Is It Worth It To Go To Coronado Island? 
Yes, a trip to Coronado Island is worthwhile. This location's rich history is enough to create an incredible environment for travelers. Beyond its history, the lovely sunsets and incredible beaches are amazing enough to warrant a trip to the island.   
What Is Coronado Island Known For? 
This island is well-known for its incredible beaches, including Coronado Beach, Silver Strand State Beach (in front of Loews Coronado Bay Resort), Coronado Dog Beach, Glorietta Bay Beach, and Ferry Landing Marketplace.  
Is Coronado Island Walkable? 
Part of the appeal of Coronado Island is the ability to reach any attraction on the island by foot. Plus, most locations are near the water, creating a peaceful atmosphere as you walk to your next destination. 
What Are the Best Things to do on Coronado Island? 
The best things to do on Coronado Island are subjective, depending on your getaway intention. However, some of the top attractions include a visit to the beautiful Centennial Park, a trip to the Coronado Ferry Landing pier for exceptional shopping opportunities, and a stop at Tidelands Park for exceptional views of the Coronado Bridge. 
Also be sure to check out other things to do near San Diego!