Updated 9/27/22
It's no surprise that Niagara Falls is such a popular weekend getaway, especially for those living in or near Toronto. After all, how many world-renowned natural wonders are located so close to a big city? Whether you're a lifelong Torontonian, a traveller looking to explore Canada, or something in between, the two-day trip from Toronto to Niagara Falls is on almost everyone's list. Here's how to make the most of your weekend escape to 'the Falls.'
Getting to Niagara Falls from Toronto
Seasonal GO Train route from Union Station to Niagara Falls
This is the most popular transit option for weekend travellers in the summer. For $35 per person or $65 for a group, GO travellers get:
A roundtrip ticket to and from Niagara Falls
Two-day access to the Niagara Falls transit system, WEGO.
This special service is available from late June through Thanksgiving . Click here for more information.
Taking the bus to Niagara Falls from Toronto
Megabus services between Toronto and various places in the Niagara Region, including Niagara Falls bus station, with one-way tickets typically ranging from $15 to $25 CAD.
From there, visitors can take a short ride on the WEGO bus to the tourist district of Niagara Falls, Clifton Hill. The walk to Clifton Hill from the bus station is about 30 minutes on foot.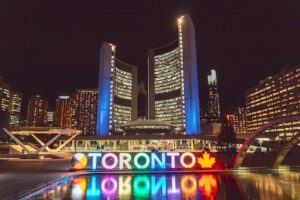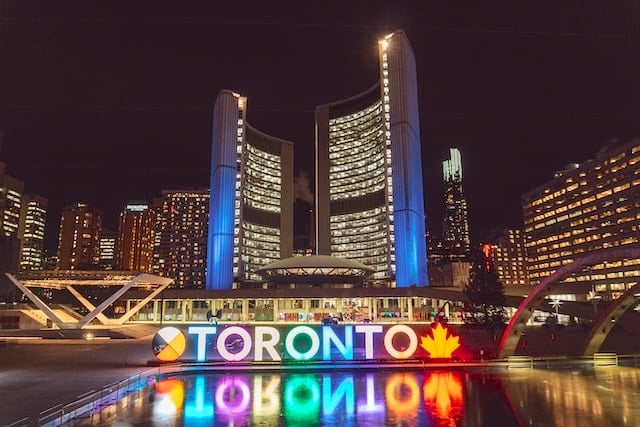 Driving from Toronto to Niagara Falls
The drive to Niagara Falls from Toronto typically takes between 1.5 and 2 hours, depending on traffic. The most direct route to Niagara Falls from Toronto is via Queen Elizabeth Way (QEW). However, adventurous road trippers may get off the highway earlier to enjoy the Niagara backroads. Once you see signs for "The Falls/Niagara Falls U.S.A," you have arrived.
Parking in Niagara Falls, Ontario
If you choose to drive to Niagara Falls for the weekend and wish to stay close to the tourist district, expect to pay for parking. Most hotels charge for overnight parking, so before you book your travel plans, check with your hotel on their overnight parking prices. Those visiting for a single day can park in Niagara Parks lots for $26.55+HST . For this reason, most Toronto visitors opt to take transit for their weekend trip to Niagara Falls. However, it could be worth having a vehicle on hand if you plan to do some hiking or visit wineries elsewhere in the region.
Top 7 Things to Do on a Weekend Visit to Niagara Falls
Niagara Falls has something for everyone, from a bird sanctuary to casinos to ziplines. For the best weekend itinerary, mix these must-see attractions with some of your personal picks: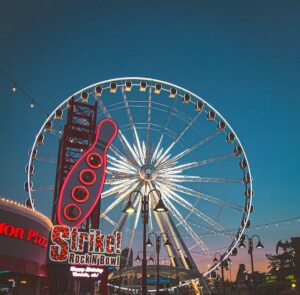 1 Ride the Niagara Skywheel:
There's nothing quite like taking in the sights of Niagara Falls from high above. The Niagara Skywheel is a 175-foot Ferris wheel that offers riders stunning views of both the American and Canadian Falls. Situated in the heart of Clifton Hill, the Skywheel is just a short walk from some of Niagara Falls' other top attractions. So, whether you're looking for a thrill or just want to take in the beauty of the Falls, be sure to add the Niagara Skywheel to your weekend itinerary.
2 Take a Tour of the Falls:
There are several different ways to tour Niagara Falls, including by boat, helicopter, and even underneath the Falls themselves. One of the most popular options is Niagara City Cruises boat tour, which gives stunning views of the Niagara Gorge, American Falls, Canadian Horseshoe Falls, and more! This 20-minute voyage leaves from the Canadian side and will bring you face-to-face with these natural wonders.
3 Visit Niagara Falls, State Park:
Niagara Falls State Park is located on the American side of the Falls and is one of the oldest state parks in the country. The park offers plenty of opportunities for hiking, picnicking, and simply taking in the incredible views. Don't miss a chance to visit some of the park's highlights, such as Goat Island and Luna Island.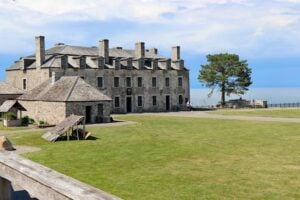 4 Explore Old Fort Niagara:
Old Fort Niagara is a historic fort located on the Niagara River. The fort has a long history, dating back to 1679, when French soldiers first built it. Today, visitors can explore the fort's buildings and grounds, which offer stunning views of Lake Ontario. The fort is open year-round and also hosts special events throughout the year.
5 Shop and Dine in Niagara Falls, USA:
Niagara Falls, USA, is home to plenty of great shopping and dining options. For shopping, head to Rainbow Boulevard, where you'll find everything from souvenir shops to higher-end retailers. And for dining, be sure to try some of the area's famous chicken wings or local ice wine. Visitors can also find plenty of other great things to do on a weekend visit to Niagara Falls, the USA, such as visiting museums or going on nature walks. No matter what your interests are, there's something for everyone in this vibrant destination.
6 Journey Behind The Falls:
Journey Behind the Falls is an attraction located on the Canadian side of Niagara Falls. The attraction allows visitors to descend 150 feet into the Niagara Gorge and then walk behind the Horseshoe Falls. Journey Behind the Falls is open year-round, but hours vary seasonally. Combination tickets that include this attraction + the famous boat cruise can be purchased here.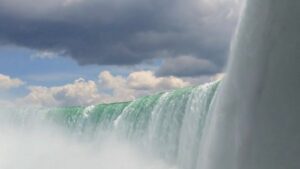 7 The Famous Fireworks Show:
Niagara Falls is treated to an incredible fireworks show every Friday and Sunday night during the summer months. The best place to view the fireworks is from Queen Victoria Park on the Canadian side of the Falls. Visitors can also get a great view of the fireworks from Goat Island or Prospect Point Park on the American side. No matter where you choose to watch, be sure to arrive early to get a good spot. The Niagara Falls Fireworks Show is always a highlight of any weekend visit to Niagara Falls.  Find a spot to watch on land, or better yet, watch the action from a Falls Fireworks Cruise.
What to Pack for a Weekend Trip to Niagara Falls
If you choose to take a transit option like the GO Train or a Megabus to Niagara Falls from Toronto, you'll have to limit your luggage. Luckily, a trip to Niagara Falls requires very little gear. Here are a few "must-haves" when packing your weekend bag:
Clothing:
Weather in Niagara Falls is remarkably similar to that in Toronto, although you may happen upon more rain and slightly warmer temperatures. In the summer, pack light clothing to wear during the day, a sweater for the evening, and an umbrella or rain jacket to prepare for the occasional drizzle. If you visit during a colder time of year, prepare for fluctuating temperatures by packing additional layers.
Food:
Niagara Falls offers plenty of food options, ranging from budget-friendly options, like Tim Hortons and the Riverside Patio, to fine dining. If you do choose to bring your own food along, be sure to pack it in a waterproof container or, better yet, leave it in your hotel room.
Electronics:
Electronics:
Your cellphone is a must for capturing photos of your experience. Be sure to protect your phone with a waterproof case and have a safe place to stow other electronics. While you are unlikely to get drenched, be prepared to face some mist when you get up close to the Falls.
Sun protection:
Save yourself from buying sunscreen at a pricey tourist shop by bringing some along for the trip. Hats, sunglasses, and other protective measures are also a good idea!
Passport and identification:
While it is definitely possible to have a great weekend getaway without visiting the American side of Niagara Falls, crossing the border on foot via the Rainbow Bridge is a pretty unique experience. This border crossing may be untraditional, but customs rules still apply – make sure to have your passport on hand and prepare to answer any questions from border security. Also, bars and casinos on both sides of the border often ask for two forms of identification before permitting entry, so be sure to bring at least multiple government-issued ID cards with your date of birth, such as a driver's license, passport, and health card.

Things to do near Niagara Falls on a two-day trip
Day one of your itinerary will almost certainly be spent in the Clifton Hill/Niagara Falls area, but what about day two? Many people will choose to venture a bit further out from the central tourist area to round out their weekend visit. Here are some of the top choices to round off a weekend trip in Niagara:
Take a Niagara wine tour:
Niagara has two distinct wine regions: Twenty Valley, which boasts over 50 vineyards, and the quaint Niagara-on-the-Lake. Companies like Niagara Vintage Wine Tours offer a variety of full and half-day tours to local wineries, including pick-up and drop-off from most Niagara Falls hotels. If you have your own vehicle, you can also name a designated driver and head to whichever wineries you fancy!
Visit a Heritage site:
WeGo's Niagara-on-the-Lake shuttle provides transit to various heritage sites, including the Laura Secord Homestead, MacKenzie Printery, McFarland House, and Fort George. Click here for more information about this fascinating but often lesser-known route.
Head to the beach:
Where there is water, beaches can't be too far away! Port Dalhousie, Lowbanks, Crystal Beach…there are plenty of spots to catch some rays and take a dip in the lake. Here is a list of some of the most popular locations for fun in the sun.
If you prefer to stay closer to Clifton Hill on day two of your trip, consider taking in a show, trying your luck at the casino, or just enjoying one of the many scenic walks available near the Niagara River.
Top Tips for Planning Your Weekend Trip from Toronto to Niagara Falls
Finally, here are some of the top overall tips we have to share about planning your weekend to Niagara Falls from Toronto: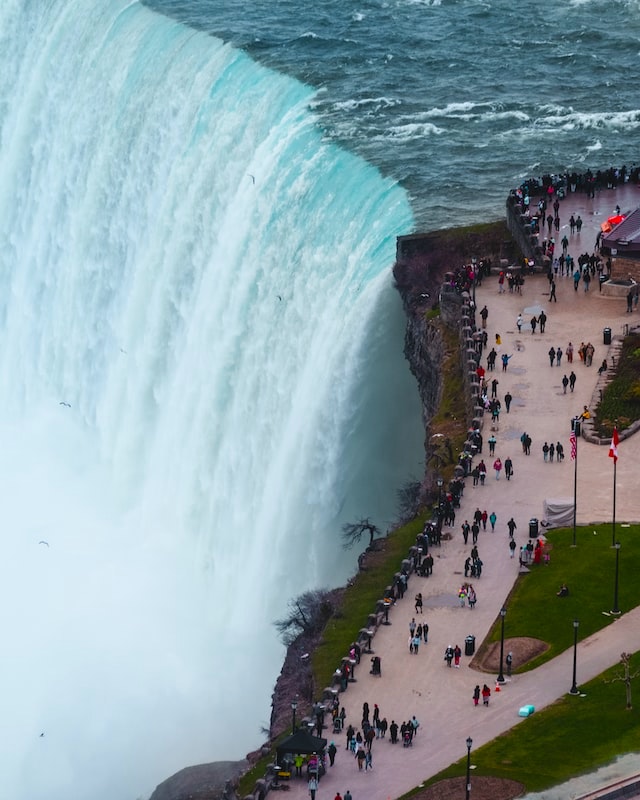 Buy package deals to save:
We recommend combining the Niagara Parks Adventure Pass with the best savings available with the Niagara Parks Travel Package.
Arrive early to popular attractions:
Lineups at Niagara City Cruises and Journey Behind the Falls can grow as the day goes on. Consider taking an earlier bus, train, or drive to beat the weekend crowds. Getting tickets online in advance is also a great idea!
Arrive well-rested:
Niagara Falls promises fun-filled days and excellent nightlife, so come into town ready to have fun!
Bring your crew:
Niagara Falls' reputation as the honeymoon capital of the world is well-earned, but the site promises a good time for larger groups, too. Consider bringing the whole family or friend group for an unforgettable weekend getaway!
Have any other tips for a weekend trip to Niagara Falls? We'd love to hear them! We're always looking for ways to help travellers enjoy the ultimate Niagara Falls experience – if you have any experiences or tips that might help our readers, let us know so we can add them to this guide!