As one of Southern California's premier cities for nightlife and entertainment, San Diego is the perfect place to bid farewell to 2023 with a lavish, exciting New Year's Eve celebration. (Plus, the warm California weather is way better than freezing in New York City to watch the Times Square ball drop.)
Whether you're looking for a fancy, elegant affair,  so you can get dressed up in cocktail attire and enjoy endlessly flowing Champagne,  or a casual place to eat, drink, and be merry with your friends while closing out the year, these spots are the best places for New Year's Eve celebrations in San Diego.
The top things to do in San Diego on New Year's Eve 2023
Celebrating New Year's Eve in San Diego is a treat for families, couples, and singles alike, as this party-loving city has something for everyone. Go all out and ring in 2023 with these San Diego New Year's Eve events.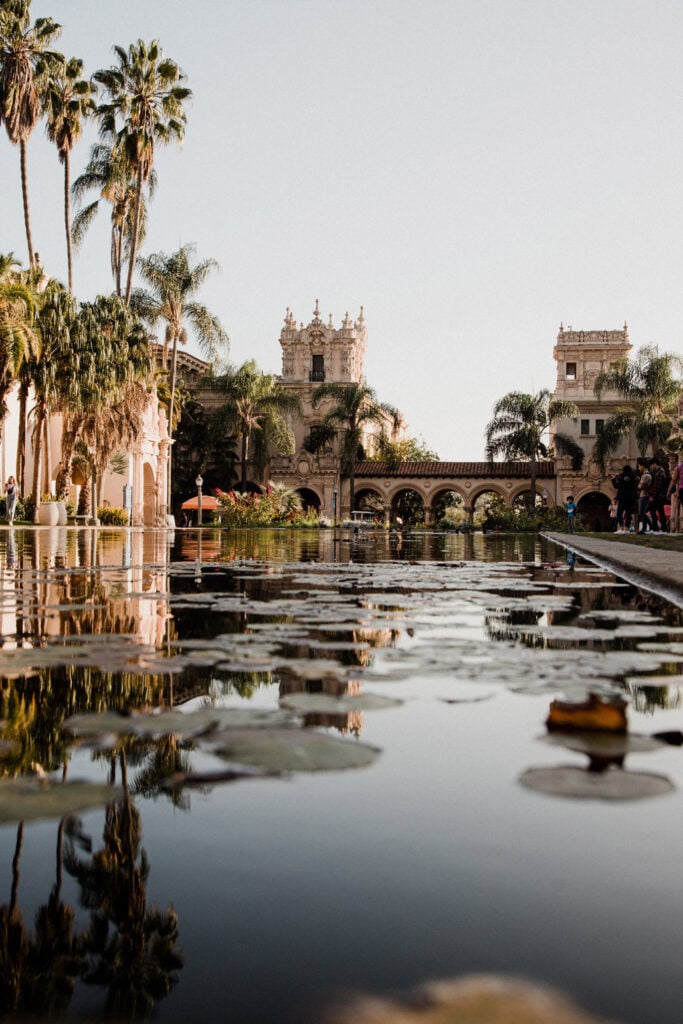 1. Celebrate with a cruise around San Diego Bay
To ring in 2023 in style, climb aboard a New Year's Eve cruise around San Diego Bay! Along with incredible views of the fireworks and the lit-up San Diego skyline, you'll be treated to a glamorous evening of gourmet meals, DJ music, party favors, and a champagne toast at midnight.
Locals and visitors love celebrating New Year's Eve in San Diego with a luxurious dinner cruise, so a good rocking time is guaranteed. And if you don't like staying up late, you could take a NYE brunch cruise instead.
Why not start your countdown a little earlier in the evening and take a New Year's Eve Early Buffet Dinner Cruise? Ring in the new year in style on the San Diego Bay with a festive atmosphere and the best city views and countdown a little earlier. You can be home by midnight to watch the ball drop and you won't miss out on any of the fun!
Taking a cruise on the San Diego Bay will provide you with cherished memories for years to come. Avoiding traffic and crowds is an added bonus!
2. Take the family to the San Diego Zoo
If you're looking for a family-friendly New Year's Eve activity that wraps up at a reasonable hour, consider taking the kids to the world-famous San Diego Zoo for the day.
Home to more than 12,000 animals representing more than 650 species, you'll come face-to-face with lions, cheetahs, polar bears, koalas, penguins, and so much more. Plus, the zoo's seasonal Jungle Bells festivities give a holiday twist to the experience, with lights, decorations, and special events.
3. Find a party in the Gaslamp Quarter
Where's the party? If you're in San Diego on New Year's Eve, the Gaslamp Quarter downtown is the place to go. As San Diego's nightlife capital, the clubs, bars, restaurants, and lounges of this lively district are absolutely hopping on NYE. Drink, eat, hit the dance floor, and celebrate all night long.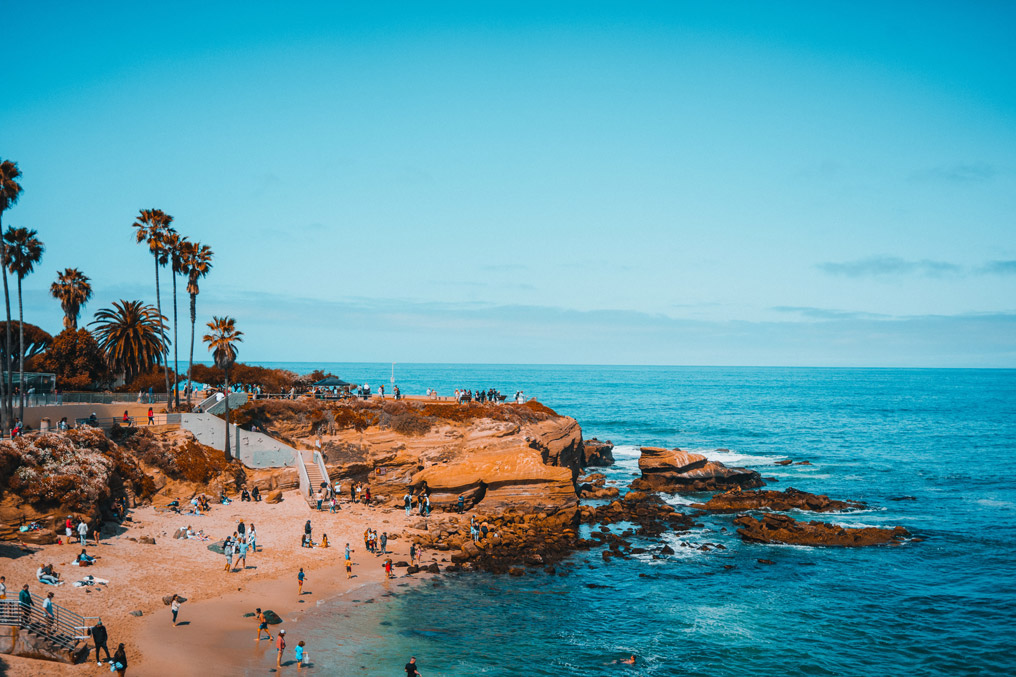 4. Watch the fireworks from one of San Diego's scenic beaches
If you're looking for a free or low-budget way to celebrate NYE, head to one of San Diego's sandy, picturesque beaches to watch the fireworks displays for free.
Mission Beach, Silver Strand State Beach, and the parks around the Convention Center, like Embarcadero Marina Park South, are several prime options for viewing the fireworks and listening to the ocean waves. At some beaches, like Mission Beach, you can even build a bonfire!
5. Keep things open-ended in downtown San Diego
If you like to play it by ear and go with the flow, you'll want to hang out in the downtown area. Staying in this central area gives you easy access to everything from partying in the Gaslamp Quarter to attending private parties.
6. Hit one of San Diego's grand hotels
One popular way for San Diegans to celebrate NYE is by going to extravagant parties held at upscale local hotels. You'll find these hotel parties all over town, but the famous beachfront Hotel del Coronado is an especially hot ticket, thanks to its fantastic fireworks-viewing location.
Have the ultimate New Year's Eve party in San Diego, CA
From celebrating on the beach to cruising around the bay, one of America's finest cities is party central at New Year's Eve—and the fun doesn't have to stop there.
Keep the party rolling with City Experiences San Diego tours and activities, like spotting marine life on a whale and dolphin–watching cruise or drinking cocktails while taking in the views on a Sights & Sips cruise.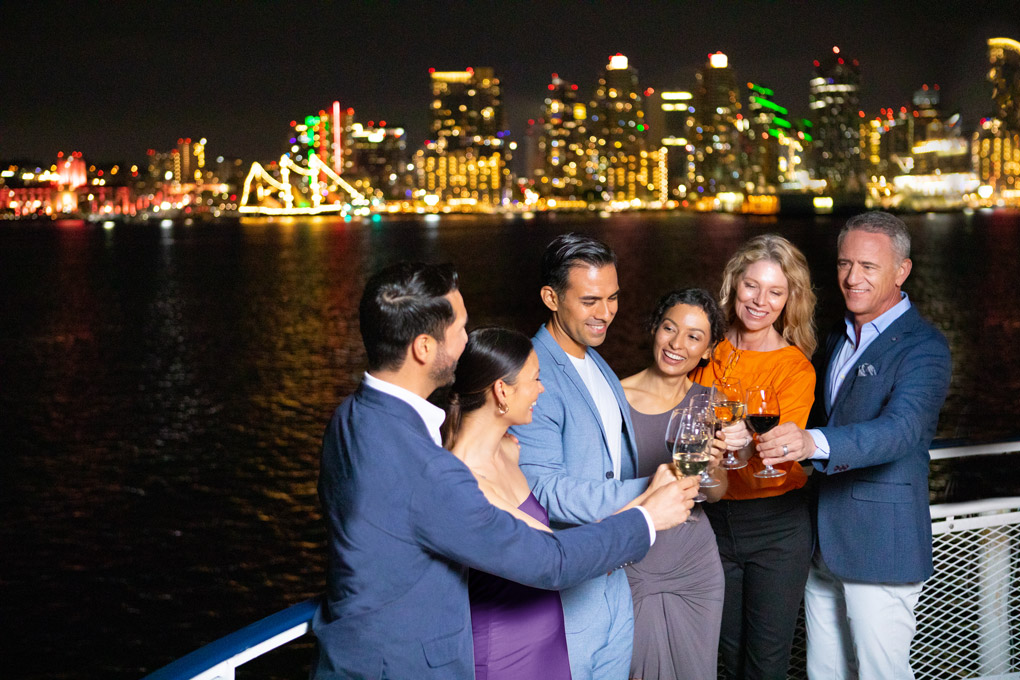 FAQ
Is San Diego a good city to celebrate New Year's Eve 2023-2024?
There is no shortage of events for New Year's Eve in San Diego if you are looking to get festive. From beach parties to counting down the ball drop to rooftop parties, dinner cruises, and much more. San Diego will not disappoint when ringing in the New Year.
What time are the New Year's fireworks in San Diego?
San Diego has an impressive fireworks display taking place each New Year's Eve at midnight and this event is completely free!
Where can I watch the ball drop in San Diego for New Year's?
There are many places to watch the ball drop in San Diego. Glorietta Bay Beach Park, Moonlight State Beach in Encinitas, Ocean Beach City Beach in Ocean Beach, and Oceanside Harbor Beach located in front of Oceanside City Harbor are just a few of the spots to watch the ball drop but many restaurants and hotels have viewing parties as well.
What are some kid-friendly events in San Diego on New Year's Eve?
Hotel Del Coronado, Legoland, New Children's Museum, and Corvette Diner offer something fun for the entire family with shows, dinner, ice skating, games, a midnight toast with sparkling cider and so much more.
Are there any themed parties or events in San Diego for New Year's Eve?
Yes, many venues in San Diego host themed parties for New Year's Eve. City Cruises, for instance, offers NYE party boats, making it a unique and festive experience on the water. Aside from cruises, venues on land range from Roaring '20s soirees to masquerade balls. It's best to check in advance with local venues and cruise operators for their specific themes and requirements.
Can I book a New Year's Eve cruise in San Diego?
Absolutely! San Diego's picturesque harbor is perfect for a memorable New Year's Eve celebration. City Cruises offers special New Year's cruises complete with dinner, dancing, and a spectacular view of the fireworks. Booking in advance is recommended as these cruises tend to sell out quickly.
Are there any special New Year's Eve concerts or performances in San Diego?
San Diego frequently hosts musical and theatrical performances during New Year's Eve. Popular venues include the Balboa Theatre, Humphreys Concerts by the Bay, and House of Blues San Diego. If you're looking for a combination of music and the sea, City Cruises' NYE party boats often have live entertainment onboard to elevate the experience. Always check schedules in advance.
What's the weather like in San Diego on New Year's Eve?
San Diego typically enjoys mild weather even in December. While daytime can be warm, evenings get cooler. If you're considering a New Year's cruise with City Cruises, remember to wear layers to stay comfortable on the water.
Are there any exclusive New Year's Eve dining experiences in San Diego?
Yes, many top-tier restaurants in San Diego offer special New Year's Eve menus. If you're looking for a dining experience with a view, City Cruises offers a unique dinner cruise experience with specially curated menus for the occasion. It's a good idea to make a reservation in advance to secure your spot.
How early should I arrive for New Year's events in San Diego?
Given the popularity of New Year's events, especially those at prime locations like City Cruises' NYE party boats, it's recommended to arrive at least 1-2 hours before the event starts.
Do venues in San Diego have any dress codes for New Year's Eve parties?
Dress codes can vary. While some events and venues might have a specific dress code, many places simply encourage festive attire. For instance, City Cruises often suggests semi-formal to formal attire to make the most of the night out on the water.
Original post date: October 19, 2022