There is no shortage of options when it comes to finding a place to hang your hat while visiting the City of Light. Paris is chock-full of firmly established hotels for every taste and pocketbook, and some travelers will relish the old-school flair of the many renowned grandes dames among the ranks.
The Paris hotel scene is constantly changing, however, and other travelers may be more keen to check out the bevy of spots continually cropping up across the city — there's a veritable embarrassment of riches for those looking to try out new hotels in Paris. These are the best Paris hotels that have just opened their doors to guests (or are about to do so).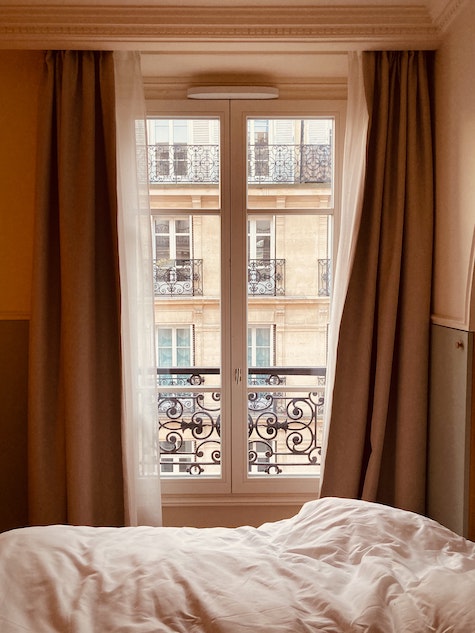 1. Hôtel du Sentier – 2nd arrondissement
Located right smack in the middle of Paris's chic 2nd arrondissement, just shy of the Louvre Museum, Hôtel du Sentier opened its doors in 2021 and immediately made a splash.
This classy boutique hotel is situated at the entrance to the Passage du Caire, the oldest covered arcade in Paris and many of the hotel's guest rooms situated on upper levels overlook its elegant glass roof.
The 30 stylish, airy guest rooms are flooded with light, featuring crisp and cheery decor with exquisite wooden floors, luxe bedding, and tasteful marble bathrooms. The property also houses a traditional Parisian bistro that's well worth a visit, even if you're not a hotel guest.
2. Bulgari Hotel – 8th arrondissement
Situated on Avenue George V in the well-heeled 8th arrondissement, the Bulgari Hotel opened in December of 2021. The Bulgari Hotel chain has a cluster of luxury hotels in most of the world's major cities, including Beijing, Rome, Los Angeles, and now Paris.
The Parisian iteration of the Italian brand sits next to some of the city's most sumptuous (and expensive) hotels, including the grand Plaza Athénée and Le Bristol. Located on the so-called Golden Triangle, which covers sections of avenue Montaigne, avenue des Champs-Elysées and avenue George V, this new hotel is cushioned between some of the city's most exclusive addresses, including upscale boutiques such as Chanel, Louis Vuitton, Valentino, and Armani.
This luxury hotel possesses an Italian flair, with artwork by Gio Ponti and sumptuous Maxalto furniture — not to mention the overall architectural design, which comes as no surprise given that renowned Italian architectural firm Antonio Citterio Patricia Viel conceived it.
The hotel has 76 luxurious residencies and a penthouse complete with a private roof garden. Each of its residencies have phenomenal views over Paris, many with an eye on the Eiffel Tower. The hotel also boasts a prodigious luxury spa, a 25-meter indoor swimming pool, an elegant cocktail bar, and an excellent Italian-inspired on-site restaurant, helmed by chef Niko Romito.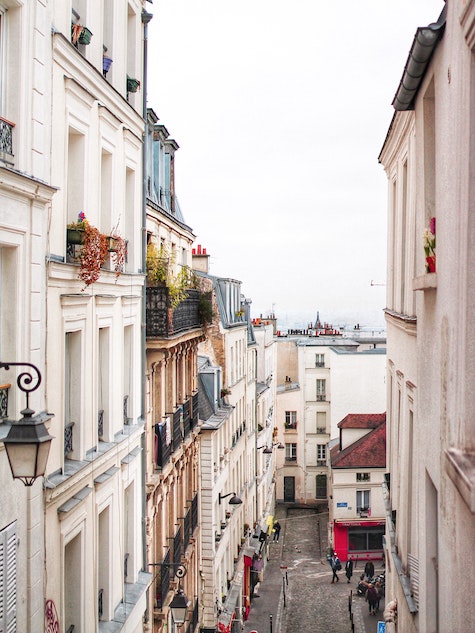 3. Hôtel Madame Rêve – 1st arrondissement
Housed in what was once a big post office in central Paris, ideally situated just a stone's throw from the old-school Samaritaine department store and the Bourse du Commerce in the city's 1st arrondissement, Hôtel Madame Rêve is a welcome addition to the Parisian hotel scene.
This five-star hotel offers fantastic views of Paris landmarks, such as the Eiffel Tower, from both its rooftop-terrace bar and its 82 stylish rooms and spacious suites, each of which is outfitted in warm, golden earth tones.
The hotel houses a wellness center with a sauna and fitness room, as well as two dining areas. On the top story is the Japanese-inspired restaurant La Plume and the Mediterranean-style Madame Rêve Café.
4. Hotel les Deux Gares – 10th arrondissement
Named for its location, sandwiched between Paris's Gare du Nord and Gare de l'Est, the quirky Hotel les Deux Gares is a fantastic, 40-room boutique hotel that features colorful and eccentric interiors, designed by the young British artist and interior decorator Luke Edward Hall.
The hotel opened its doors in autumn 2020 to much acclaim. Its charming bistro, the Café Les Deux Gares, is an extension of the hotel in terms of design and is a great little spot to tuck into some classic Parisian bistro fare.
5. Hotel Paradiso – 12th arrondissement
Hotel Paradiso is a fun new concept hotel located on Boulevard Diderot, near Place de la Nation in Paris's 12th arrondissement. The hotel is an homage to all things cinematic and features guest rooms and suites that are meant to be enjoyed while paying said homage.
Each of the hotel's 34 guest rooms has a giant screen for enjoying films and its two suites feature private screening rooms. The hotel also has a nice café and a rooftop bar with great views of Paris, where you can also take in an outdoor film from time to time, even if you're not staying on the premises.

6. Airelles Château de Versailles – Le Grand Contrôle, Versailles
Opened in June of 2021, the Airelles Château de Versailles features hospitality quite literally fit for royalty. Located just a short train ride away from central Paris, this much-anticipated hotel lets you step back in time into a world of decadent luxury.
Housed inside three 17th-century buildings just outside the palace, the hotel features 14 regal guest rooms, including a 120-square-meter suite, a superb restaurant run by world-famous French chef Alain Ducasse, and a spa by Valmont, complete with a 15-meter indoor pool.
If you want to go all out, you could pair your already over-the-top hotel stay with City Experiences's signature Closing Time at Versailles: Small-Group Palace Tour. On this tour you'll take in important historical areas, such as the King's State Apartments, the Queen's Apartments, the War and Peace Salons and the world-famous Hall of Mirrors.
And along the way, you'll have the chance to take in the palace's magnificent gardens and interiors with an expert guide after the crowds have thinned out.